ABOUT
About Lisa
Hello and welcome to my online office!
I am pleased to make this website available for Alaskans and others interested in my activities as a U.S. Senator. I hope you find the website helpful and informative. I appreciate your suggestions and invite you to email me to share your opinions.
Please visit often since we're frequently updating our site with new information on events in Alaska, Washington, D.C. and the 116th Congress!

Biography
Senator Lisa Murkowski is the first Alaskan-born Senator and only the sixth United States Senator to serve the state. The state's senior Senator, Lisa Murkowski is a third-generation Alaskan, born in Ketchikan and raised in towns across the state: Wrangell, Juneau, Fairbanks and Anchorage. Since joining the Senate in 2002, Senator Murkowski has been a strong advocate for Alaska on the important issues facing the state, including energy, health care, education, military/veterans' affairs and infrastructure development.
Only the 32nd female to serve in the United States Senate since its founding in 1789, Senator Murkowski has assumed leadership roles quickly. She is the Chairman of the Senate Energy and Natural Resources Committee and also serves on the Senate Appropriations Committee, where she is the Chairman of the Interior and Environment Subcommittee. Senator Murkowski is a member of the Senate Health, Education, Labor and Pensions Committee – the first Alaskan to serve on that panel – and also is a senior member of the Senate Indian Affairs Committee.
She earned a B.A. in economics from Georgetown University in 1980 and a law degree from Willamette University in 1985. Prior to her appointment to the United States Senate, Senator Murkowski practiced commercial law in Anchorage and was elected to three terms in the Alaska State House of Representatives. She was elected to a full six-year U.S. Senate term in 2004, and was re-elected in 2010 in a historic write-in campaign, the first successful write-in effort to the Senate since 1954. Senator Murkowski is now in her third full term as Alaska's senior senator after being re-elected, once again, in 2016.
Senator Murkowski is married to Verne Martell and they have two sons. She enjoys spending time with her family in the Alaska outdoors.
Quick Facts About Lisa
Born:
Ketchikan, AK
Husband:
Verne Martell
Children:
Two sons, Nicolas and Matt

High School: Monroe High School, Fairbanks, AK
University: Economics Degree, Georgetown University
Post-Graduate: Juris Doctor, Willamette College of Law
Committee Assignments
Chairman, Senate Energy and Natural Resources Committee
Member, Senate Appropriations Committee
Chairman, Interior-Environment Subcommittee
Member, Senate Health, Education, Labor & Pensions Committee
Member, Senate Indian Affairs Committee
About Alaska
State Facts
Statehood: January 3, 1959, the 49th state
Capital: Juneau
Total Land Area: 571,951 square miles (as of 2000). The largest state in the country, Alaska is one-fifth the size of the combined lower 48 states.
North America's Tallest Mountain: Denali at 20,320 feet
Total Population: 710,231 (as of 2010 census report)
Largest cities: The Municipality of Anchorage has 291,826 residents or 42 percent of Alaska's population. The Fairbanks North Star Borough has 97,581 residents. The Matanuska-Susitna Borough has 88,995. The Kenai Peninsula Borough has 55,400 residents. The City and Borough of Juneau has 31,275 residents.

State Bird: Alaska Willow Ptarmigan
State Dog: Alaskan Malamute
State Fish: King Salmon
State Insect: Four-spotted Skimmer Dragonfly
State Flower: Forget-me-not
State Tree: Sitka Spruce
State Song: Alaska's Flag Song
Motto: North to the Future
Nickname: The Last Frontier

Alaska has 22 indigenous languages spoken by the Alaskan Native peoples.

Alaska harvests 62% of all fish caught in the United States. If Alaska were a country, we would be 9th in the world in seafood harvest by volume.

The famous Iditarod Trail Sled Dog Race is a 1150-mile race from Anchorage to Nome every year in Alaska.
Alaska's Delegation
United States Senate
Senator Lisa Murkowski
Senator Dan Sullivan
U.S. House of Representatives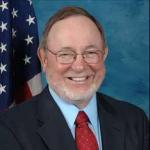 Representative Don Young
Office of the Governor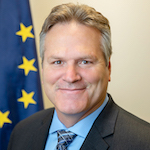 Governor Michael J. Dunleavy