02.19.10
Sen. Murkowski's Education Newsletter for the week of February 19, 2010
All of last week's Education News You Can Use in one place
Nation Financial Capability Challenge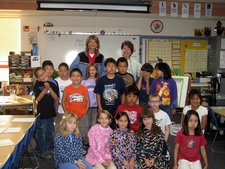 Sen. Murkowski with Josie Burton's 4th Grade Class in Nome, Alaska.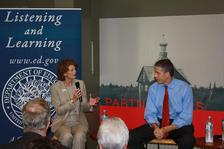 Sen. Murkowski "tells it like it is" to Education Secretary Duncan in Anchorage.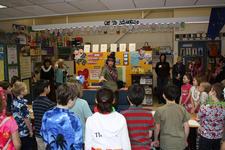 Sen. Murkowski tells stories with Bear Valley Elementary students in Anchorage.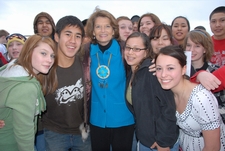 Sen. Murkowski with students of Galena Interior Learning Academy
The U.S. Department of Education and the U.S. Treasury have partnered to expand a program begun under the previous Administration to help more youth be competent about personal finance-the National Financial Capability Challenge (http://challenge.treas.gov/index.htm). The Challenge is an awards program for teachers and high school students that is intended to encourage the teaching of personal finance. Teachers can sign up at http://challenge.treas.gov/educator_SignUp.aspx by March 14th to receive a free toolkit (comes with registration), teach financial education lessons between March 15th and April 8th, encourage students to take a voluntary online exam on April 9th, and hand out awards to students who do well. This Challenge is a completely voluntary opportunity that is open to classroom teachers, after school programs, librarians, youth group leaders, and others who work with kids age 13-19.
FCC Allows All Schools to Permit Access to E-Rate Computers to the Public

The FCC (Federal Communications Commission) voted unanimously to permit all schools to let the public use their E-Rate funded computers for personal use after school, during weekends, on school holidays, and during summer vacation at the school's discretion. The FCC also will take public comment on making this change permanent. Currently, the FCC requires most schools (except very remote Alaskan schools) to certify that E-rate funded services will only be used for "educational purposes" that are "integral, immediate, and proximate" to the education of students. This change is subject to the following conditions: (1) schools participating in E-rate are not permitted to request more services than are necessary for "educational purposes"; (2) any community use of E-rate funded services at a school facility is limited to non-operating hours; and (3) schools may not resell discounted services or network capacity. This order and notice do not permit or require any changes to E-rate applications due on February 19, 2010."
Deadline to Submit Appropriations Requests Extended

Senator Murkowski has extended the appropriation requests deadline in order to accommodate technical issues related to the Senate server until midnight DC time (8pm Alaska Time) February 24, 2010.


---