01.22.10
Sen. Murkowski's Education Newsletter for the week of January 18, 2010
Listening Session on Employment Issues for People with Disabilities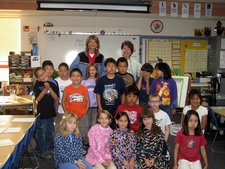 Sen. Murkowski with Josie Burton's 4th Grade Class in Nome, Alaska.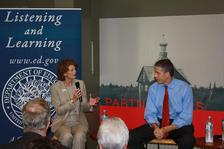 Lisa "tells it like it is" to Education Secretary Duncan in Anchorage.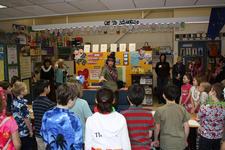 Senator Murkowski tells stories with Bear Valley Elementary students in Anchorage.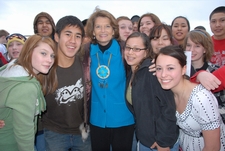 Sen. Murkowski with students of Galena Interior Learning Academy
The U.S. Department of Education's Rehabilitative Services Administration and the Office of Disability Employment Policy at the Department of Labor will hold Listening Sessions on employment issues for people with disabilities in the context of the Workforce Investment Act. The session for Region VI, which includes Alaska, will be in San Francisco on February 16th. Registration for submitting written and/or in-person comments can be completed at https://www.disabilitylisteningtour.com/register/index.php?cityclicked=San Francisco. The following people and entities are encouraged to comment: Individuals & Consumers: youth and adults with disabilities, parents and caregivers; Employers: public and private; Service Providers & Advocacy Organizations (such as Employment Services and Partners): Independent Living Centers, One-Stops, State Vocational Rehabilitation Programs. The goals of these Listening Sessions will be to: (1) find more effective ways to increase the employment of women, veterans and minorities with disabilities; (2) identify Federal and state systems that are effectively collaborating to achieve successful employment outcomes for people with disabilities; and (3) identify three top focus issues for the Federal government to support an increase in labor force participation for people with disabilities.
Update on WIA Reauthorization

On a related note, Senator Murkowski received recommendations from the following Alaskan groups for the reauthorization of WIA, which includes the Rehabilitation Act: the State of Alaska, the Governor's Council on Disabilities and Special Education, Nine Star, Cook Inlet Tribal Council, the Alaska Literacy Council, and a parent of an adult with disabilities. She has communicated all Alaskan recommendations to her colleagues on the Senate Health, Education, Labor, and Pensions Committee. Staff level discussions on the reauthorization are occurring; we are hopeful that significant progress will be made over the course of the next month or two.
2010 Summer Food Service Program Reimbursement Rates

The U.S. Department of Agriculture has published the 2010 reimbursement rates for the Summer Food Program. They went into effect on January 1st. You can access these rates at http://edocket.access.gpo.gov/2010/2010-978.htm.
Students are Invited To Apply For the Spring Break Alaska Points of Light Youth Leadership Institute (PYLI )

The Alaska Points of Light Youth Leadership Institute invites students in grades 8-12 to participate in a week of community leadership training in volunteer service, community engagement, creative leadership, and work/career preparation.
Training Dates: Monday - Friday March 8 - 12, 2010
Times: 9:00 a.m. - 5:00 p.m. Daily
Location: Salvation Army Office, Anchorage, Alaska
Cost: $100 (partial assistance available based upon need) Checks should be made out to: Alaska Youth Development Fund
Application Deadline: Friday, February 26, 2010. Students will be notified of acceptance by May 2.
For more information email alaskayouthasresources@alaska.net
News from the U.S. Department of Education
USED regularly publishes a newsletter, Ed Review (www.ed.gov/news/newsletters/edreview/index.html). Some of this week's topics include:
Changes to the School Improvement Grant Program - The omnibus appropriations bill signed into law on December 16, 2009 includes two critical changes to the School Improvement Grant (SIG) program. For more information: www.ed.gov/programs/sif/.
The Flu Vaccine Locator, at www.flu.gov/, identifies where to get vaccinated by state and zip code.
President Obama will deliver his State of the Union address on January 27 and release his FY 2011 budget on February 1.
---