01.29.10
Sen. Murkowski's Education Newsletter for the week of January 25, 2010
Summer Internship for Recent High School Graduates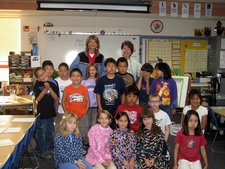 Sen. Murkowski with Josie Burton's 4th Grade Class in Nome, Alaska.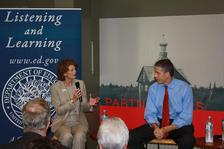 Lisa "tells it like it is" to Education Secretary Duncan in Anchorage.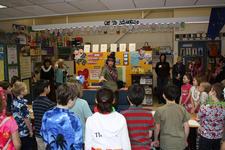 Senator Murkowski tells stories with Bear Valley Elementary students in Anchorage.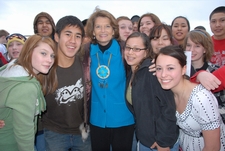 Sen. Murkowski with students of Galena Interior Learning Academy
Senator Murkowski is now accepting applications for the 2010 High School Intern Program (https://www.murkowski.senate.gov/public/index.cfm?p=Internships). This internship is an opportunity for graduating seniors to learn about the United States Senate while gaining experience in a professional office. The deadline for all applications is March 15, 2010. Applications should be sent via fax if possible. If you have any questions, please feel free to contact Rochelle Hanscom at (202) 224-6665.
Alaska Native Educational Equity Grant Program Lives

Senator Murkowski has heard from several people that there is concern that Alaska Native Educational Equity (ANE) grants are going away. This rumor is incorrect.
At Senator Murkowski's request, ANE received $33,315,000 in the FY10 appropriations bill that was recently signed into law. That's the same level of funding as in previous years. In addition, Senator Murkowski led the successful effort to stop the President's proposal to end the directed grants. While we are awaiting the President's budget proposal for FY11, you can be sure that Senator Murkowski will continue to be a strong advocate for ANE appropriations.
It is, however, true that USED will not open a grant competition this year. That's because there were so many grantees last year who will receive continuation grants, and many of those grants were so large. In addition, funding will be provided for continuation grants for the grantees from FY08 and FY09 as well as to two grantees that only got partial funding last year. The directed grantees will also be funded. The remaining funds will stretch to provide partial grants to the next two applicants on the slate from last year.
Secretary Duncan to Hold Conference Call with Educators

The Department is continuing to host monthly calls with education stakeholders in the states. Folks from the Governor's office, Chief State School Officers, state legislators, county officials, mayors, city council members, state and local school board members and superintendents have been invited to join Secretary Duncan and Assistant Secretary Carmel Martin to discuss the FY2011 budget proposal. Dial in info is below...
DATE: Wednesday, February 3
TIME: 2:30-3:30 p.m. ET / 1:30-2:30 p.m. CT / 12:30-1:30 p.m. MT / 11:30 a.m.-12:30 p.m. PT / 10:30-11:30 AK Time
Call-In #: 1-800-857-9825
Passcode: EDUCATION (given verbally)
RSVP: Please e-mail Jodie Fingland at USED (Jodie.Fingland@ed.gov) by COB Tuesday, February 2, if you or a designated representative will join the call.
NOTE: In order to accommodate a large number of participants, please only use one line per office. Also, please call-in 10-15 minutes early. There will be time for questions.
Arts Grants Application Available

The National Endowment for the Arts has opened the grant application period for several grant programs geared to education. Applications for the Access to Artistic Excellence, Challenge America Fast-Track, and Learning in the Arts for Children and Youth are listed by discipline and are available at http://www.nea.gov/grants/apply/index.html. To learn more about each of these grants, go to http://www.nea.gov/Grants/apply/Artsed.html. Application Deadlines are as follows:
Access to Artistic Excellence: March 11 and August 12, 2010
Challenge America Fast-Track: May 27, 2010
Learning in the Arts for Children and Youth: June 10, 2010
Additionally, nominations are now being accepted for the 2010 National Medal of Arts. The deadline to nominate a person or organization for this the Nation's highest honor in the arts is March 17, 2010. For more information on the National Medal of Arts or to nominate, please visit http://www.nea.gov/honors/medals/index.html.
Three More Tools from the What Works Clearinghouse (WWC)

1. Intervention Report on Connected Mathematics Project:
A new intervention report released this week looks at the research on the Connected Mathematics Project (CMP). This curriculum is designed for students in grades 6-8. Each grade level of the curriculum is a full-year program and covers numbers, algebra, geometry/measurement, probability, and statistics. The curriculum uses an investigative approach, and students utilize interactive problems and everyday situations to learn math concepts. The WWC review found that CMP has no discernible effects on mathematics achievement. This rating is based on one study that meets WWC evidence standards with reservations. The study included more than 12,000 students from grades 6-8 in Texas. In the study, 23 CMP schools were matched with 25 comparison schools that did not implement CMP. Read the full WWC report now at http://ies.ed.gov/ncee/wwc/reports/middle_math/cmp/.
2. Quick Review on Achievement Effects of Four Elementary School Math Curricula:
The WWC also released a new quick review this week. These reviews give timely guidance about whether education research in the news meets standards.
See how the WWC rated the following study: Achievement Effects of Four Elementary School Math Curricula: Findings from First Graders in 39 Schools - This study examined the relative effectiveness of four widely-used early elementary school math curricula: Investigations in Number, Data, and Space; Math Expressions; Saxon Math; and Scott Foresman-Addison Wesley Mathematics. The study included about 1,300 first graders from 39 schools in four school districts in Connecticut, Minnesota, New York, and Nevada.
http://ies.ed.gov/ncee/wwc/publications/quickreviews/QRReport.aspx?QRID=117
3. Archived Webcasts and Transcripts of WWC Events
The What Works Clearinghouse (WWC) hosts a number of events related to the use of evidence in education decision making. Archived multimedia files and transcripts from these events are available at http://ies.ed.gov/ncee/wwc/publications/multimedia/#data:
WWC Webinar: Using Data to Improve Student Achievement
WWC Webinar: Helping Students Navigate the Path to College
Response to Intervention (RtI) in Early Reading and Mathematics
Education Research: Moving Evidence on What Works into Practice
---