02.26.10
Sen. Murkowski's Education Newsletter for the week of March 1, 2010
The latest Education News you can use in one place.
Senate Indian Affairs Committee Solicits Comments on Indian Education and NCLB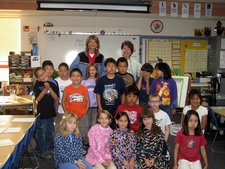 Sen. Murkowski with Josie Burton's 4th Grade Class in Nome, Alaska.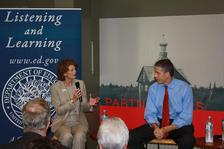 Sen. Murkowski "tells it like it is" to Education Secretary Duncan in Anchorage.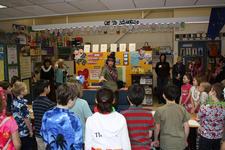 Sen. Murkowski tells stories with Bear Valley Elementary students in Anchorage.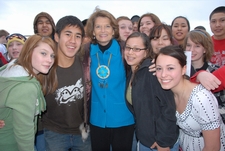 Sen. Murkowski with students of Galena Interior Learning Academy
The Senate Indian Affairs Committee is soliciting comments regarding Indian education issues for a Listening Session on March 3rd. While many of you will not be able to attend the Listening Session, you may submit written comments by March 31st to denise_desiderio@indian.senate.gov or via fax at 202-228-2589. Comments should include the subject line, "Indian Education Legislation". If you have thoughts that you'd like to share with Senator Murkowski, a member of the Committee, either prior to the Listening Session or by the deadline, please contact her via https://www.murkowski.senate.gov/public/index.cfm?p=EMailLisa.
What Works Clearinghouse Announces Webinar and New Quick Reviews

WWC Webinar: Reducing Behavior Problems in the Elementary School Classroom

-

March 3, 2010 from 3:00 - 4:00 p.m. EST
Authors of the WWC practice guide, Reducing Behavior Problems in the Elementary School Classroom, will discuss how educators and administrators can develop and implement effective strategies that promote positive student behavior in the elementary school classroom. The Practice Guide is available at http://ies.ed.gov/ncee/wwc/publications/practiceguides/?pgid=4. Click here to sign up for the event. Select "Register" on the upper left or bottom of your screen and follow the registration instructions.
Quick Review of the Report "Multiple Choice: Charter School Performance in 16 States"
The study examined the effect of charter school attendance on annual student achievement growth in math and reading by analyzing data on a large sample of students in grades 1 through 12. Charter school students' reading and math test score growth was slightly lower than that of similar students attending traditional public schools. The study also found substantial variability in charter school performance. You will find the Quick Review at http://ies.ed.gov/ncee/wwc/PDF/quickreviews/charterschools_021710.pdf.
WWC Quick Review of the Report "Effectiveness of Selected Supplemental Reading Comprehension Interventions: Impacts on a First Cohort of Fifth-Grade Students"
This Quick Review provides information about a study that examined the effects of four supplemental reading comprehension curricula: (1) Project CRISS, (2) ReadAbout, (3) Read for Real, and (4) Reading for Knowledge. The study found that students using the supplemental curricula did not score higher in reading comprehension than students who did not use these curricula. You will find the Quick Review at http://ies.ed.gov/ncee/wwc/PDF/quickreviews/readcomp_021710.pdf.
WWC Analysis of Recent Studies

The New York City Aspiring Principals Program: A School-level Evaluation - This study examined the effectiveness of the Aspiring Principals Program on student achievement. The study included New York City principals who were hired in 2004 or 2005 and had served as principal for three consecutive years. The analysis, based on a quasi-experimental design, looked at 86 schools that were assigned a principal trained through the program and 319 schools whose principals did not participate in the program. http://ies.ed.gov/ncee/wwc/publications/quickreviews/QRReport.aspx?QRID=140
Evaluation of the DC Opportunity Scholarship Program: Impacts After Three Years -This study examined whether the Opportunity Scholarship Program, which offers scholarships of up to $7,500 to students to attend private schools, improved the reading and math achievement of low-income students. The study used an experimental design and analyzed data on about 1,500 K-12 students in the District of Columbia who applied for vouchers through the program in either 2004 or 2005. http://ies.ed.gov/ncee/wwc/publications/quickreviews/QRReport.aspx?QRID=128
Deadlines Approach for USED Grants
Arts in Education Model Development and Dissemination Program (closes 3/16):

supports the enhancement, expansion, documentation, evaluation, and dissemination of innovative, cohesive models for integrating into and strengthening arts in the core elementary and middle school curricula. Estimated awards: 28. http://www2.ed.gov/programs/artsedmodel/.
Teaching American History Grant Program (closes 3/22):

supports projects that aim to raise student achievement by improving teachers' knowledge, understanding, and appreciation of traditional American history. Awards assist districts, in partnership with entities that have extensive content expertise (colleges and universities, history and humanities organizations, and libraries and museums) to develop, implement, document, evaluate, and disseminate innovative, cohesive models of professional development. Estimated awards: 120-125. http://www2.ed.gov/programs/teachinghistory/.
School Leadership Grant Program (closes 4/6):

supports the development, enhancement, or expansion of innovative programs to recruit, train, and mentor principals (including assistant principals) for high-need districts. A high-need district is one that (1) either serves at least 10,000 children from low-income families or serves a community in which at least 20% of children are from low-income families and (2) has a high percentage of teachers teaching either outside of their certification or with emergency, provisional, or temporary certification. Estimated awards: 15-20. http://www2.ed.gov/programs/leadership/.
Department's Fiscal Year 2010 Grants Forecast (as of January 29)

, which lists virtually all programs and competitions under which the agency has invited or expects to invite applications for awards and provides actual or estimated dates for the transmittal of applications under these programs. http://www2.ed.gov/fund/grant/find/edlite-forecast.html.
---