06.16.13
Senator Murkowski E-Newsletter for the week of June 16, 2013
A Glorious Week Home in Alaska
Dear Friends,
We are so blessed to live in Alaska, and I am reminded of this each and every time I am home. With the sun shining across the state, I traveled Southcentral and Kodiak at the end of May, and visited places I've never been to before. I am so grateful to have shared boat rides, hikes, meals, and conversations with you. My time with you grounds me in the issues that matter to Alaska, and set my priorities straight during the times that I can't be with you.
Kodiak Island Trip
I have been to Kodiak many times, but never to the outlying villages on the rest of the island. During this past state work period, I made it a priority to visit the communities of Ouzinkie, Port Lions and Old Harbor – traveling by fishing boat, skiff and airplane - to visit with the gracious residents of Kodiak Island.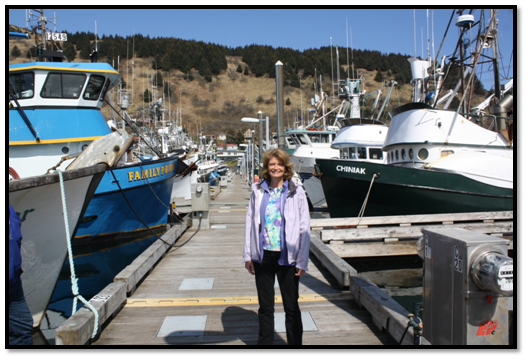 I stopped by the docks in Kodiak to speak to fisherman about the issues they face with NOAA's observer program.
From the City of Kodiak, I traveled by fishing boat to Ouzinkie where I met community members, ate great food and toured the village. We hiked to Ouzinkie's dam and I got to see first-hand the disrepair of the community's water and hydropower supplier. I am looking into how we can help here in Congress, and what federal agencies Ouzinkie may be able to partner with to solve this important matter for the community.
Overlooking the deteriorated Ouzinkie Dam, this is where the community gets its drinking water and power for its hydroelectric plant. Click Here to watch a video of me explaining the situation at the Ouzinkie Dam.
Following Ouzinkie, I traveled by boat to Port Lions for a community potluck and a tour of the town. Afterwards, I stopped by the home of John Pestrikoff - Kodiak Island's oldest resident at 102-years-old. It was an honor to spend some time with him and hear his stories. He says he has seen more changes during his lifetime than most of us could have ever dreamed. Our time together was certainly a highlight of my visit to Kodiak Island.
John Pestrikoff will turn 103 in August and has some great stories to share. He had me laughing during our entire visit!
After Port Lions, it was off to Old Harbor where, among other projects, they are expanding their airport. As part of the project, the Alutiiq Museum is partnering with archeologists to excavate ancient subterranean structures on an island near the runway. It was amazing to see some of the artifacts they had unearthed just the day before, and the work they do to piece together snapshots in time. Among their finds: a 7,200-year-old smoke house and a house they think was used as a hunting camp 6,100 years ago. Exciting stuff!
Archeologists think this site was used as a seal smokehouse some 7,200 years ago. This find is absolutely amazing and has major implications for Alutiiq history in the area.
I was also able to spend a day in Kodiak visiting at the Navy Seal facility, Coast Guard Station, Kodiak Electric Association, UAF's Fishery Tech Center, meetings with Kodiak native groups and a community "meet and greet" at the Kodiak Island Brewery. Every day and every town on my island visit was filled with great people and great weather. It is so important for me to get out across the state to see Alaskans in their home communities and talk with you about what is truly important. I met some amazing people and I returned to D.C. with a pile of follow-up work I will be tackling over the next few months. Thank you Kodiak and the surrounding communities for your hospitality!
Washington, D.C. Summer Interns
Each summer, I select 20 high school seniors to serve as interns in my Washington, D.C. office. I was pleased to welcome my first group of interns last week and excited for them to get working. These interns will spend 4-weeks taking part in everything there is to offer in Washington, D.C., working throughout the halls of the U.S. Capitol and taking part in the many traditions and customs of our nation's capital. This group of young Alaskans is enthusiastic and full of energy, and both my staff and I are very appreciative of the contributions they will provide to my office over the summer.
My first group of summer interns is Duncan Brewer of Kenai; Sara Gomez of Ketchikan; Zachary Minster of Anchorage; Elisha Fields of Kodiak; Sydney Laudon of Anchorage; Kayla Dunham of North Pole; Jackson Landis of Ketchikan; Bradley Bourdon of Anchorage; Ariana Swan of Deering; and William Treadwell of Anchorage.
In addition to the work the interns do in my office, each day I invite two of them to serve as "shadows" – attending meetings, hearings, and votes with me. This is a great opportunity for them to get up close and personal perspectives on the duties of a U.S Senator. The interns tell me their shadow day is one of the best parts of their internship.
My interns and I sat down this week to talk about what they should expect over the next four weeks. I told them about my time serving as a High School Intern for Senator Stevens when I was 18-years-old.
My first session summer interns pictured from left to right: Zachary Minster, Corey Hester (Intern Coordinator), Kayla Dunham, Ariana Swan, Elisha Fields, Sara Gomez, William Treadwell, Duncan Brewer, Jackson Landis, Sydney Laudon, Bradley Bourdon, Ayla O'Scannell (Intern Coordinator).
Alaska and Hawaii Delegations Join Efforts
I was proud to carry on the tradition of an Alaska-Hawaii partnership in a meeting earlier this month between our two states and congressional delegations. Decades ago Senator Ted Stevens and Senator Daniel Inouye paved the way for bipartisan support for issues across the Pacific, especially those for Alaska Natives and Native Hawaiians. The Alaska Federation of Natives and the Council for Native Hawaiian Advancement encouraged the delegation to continue the same type of working relationship Ted and Dan worked so hard to achieve during their time in the Senate. Together, our delegations can present a unified effort of seven working for all of Alaska and Hawaii. Quyana and Aloha!
I joined my colleagues from Alaska and Hawaii to discuss the many issues affecting our respective states. The group included Congresswoman Tulsi Gabbard, Congressman Don Young, Congresswoman Colleen Hanabusa, Senator Mark Begich, Senator Brian Schatz, Senator Mazie Hirono, and me.
Time for a Change of Culture in our Military
Many of you have seen in recent news the reports regarding growing concerns of sexual assault within our military. Earlier this month, the Joint Chiefs of Staff and other top military officials sat down to discuss these troubling issues. Many of the proposed solutions have been said to be unacceptable – as too radical and too dramatic of a step by our military leaders. I have suggested the real failure to address these growing concerns year after year, in branch after branch – is what's truly unacceptable.
The current rates of sexual assault among military men and women are a shame to the nation's defense – made worse by the reality that the reports of sexual assault are likely a fraction of the actual number of offenses. In fact, according to the Department of Defense, an estimated 26,000 cases of sexual assault occurred in 2012, with only 3,374 cases being reported. That means thousands of military sexual assault victims are left to face the aftermath of their assault alone, while their attackers may never face justice. I have co-sponsored five separate bills to change the culture in our military.
In a recent speech to the National Network to End Domestic Violence, I spoke about the topic of domestic violence and how the contributing factors leading to it also overlap with the crisis of sexual assault within the military. Click Here to view my speech.
Veteran Spotlight: Ron Travis
Last month, in honor of Memorial Day, I released my 12th Veteran Spotlight featuring Ron Travis of Big Lake. Travis is a U.S. Navy veteran who served in Vietnam and has devoted his life to serving his fellow veterans. These days, Travis is working to start the Last Frontier Honor Flight, the first non-profit in Alaska dedicated to bringing veterans to Washington, DC to visit the memorials dedicated to their service.
During his Veteran Spotlight interview, Travis talked about the Navy as a family business; both his father and brother had served, and said it was the driving force that led him to join the Navy in 1961. Travis discusses his life after Vietnam, using the GI Bill to attend college and standing up for America's Veterans in the face of protesters.

Ron Travis, U.S. Navy Veteran
(Click on image for excerpt of Travis talking about standing up for his fellow veterans during the Vietnam War and today, CLICK HERE for the extended interview)
I invite you to watch Ron Travis tell his story and what his newest adventure has led him to, devoting his life to organizing the first Honor Flight in Alaska – setting a goal to bring 25 Alaskan WWII veterans to Washington, D.C. this fall.
My "Veteran Spotlight" project is a monthly focus on an Alaska veteran of American conflicts worldwide to honor and draw well-deserved attention to Alaska's men and women who served. You can watch them all by clicking here. If you have a family member or friend in the community you think has a story to share, email me at Spotlight@Murkowski.Senate.Gov.
Photos From Around Alaska
I toured the NOAA National Weather Service Forecast Center in Anchorage to get an update on the flooding and storms around the state.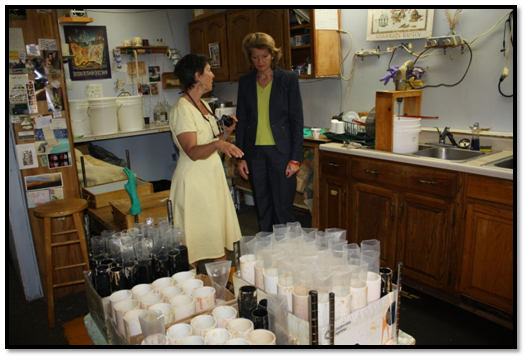 I learned all about the art of soap making at the Denali Dreams soap company on Spenard in Anchorage. I have never come out of a tour smelling better than I did that day. Good soaps and a great business; Denali Dreams won the Made in Alaska Manufacturer of the Year award this year.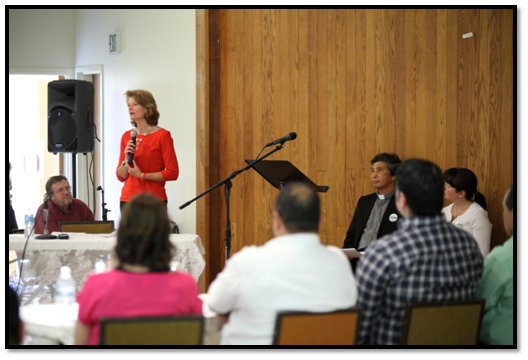 I spoke briefly at the Catholic Hispanic Ministry, a member of the Anchorage Faith and Action - Congregations Together, at Our Lady of Guadalupe in Anchorage after listening to the heartfelt words of community members on the issue of immigration reform.
I had a great meeting with Native leaders in Kodiak during my visit.

I met the scientists at the UAF Fishery Industrial Technology Center in Kodiak where they are working on important issues like our declining salmon numbers, Paralytic Shellfish Poisoning and trying to find out what causes the phenomenon known as mushy halibut.
The Ouzinkie Alutiiq dancers after their performance at the community potluck.
While in Port Lions, I met with community members, and once again, had some delicious food.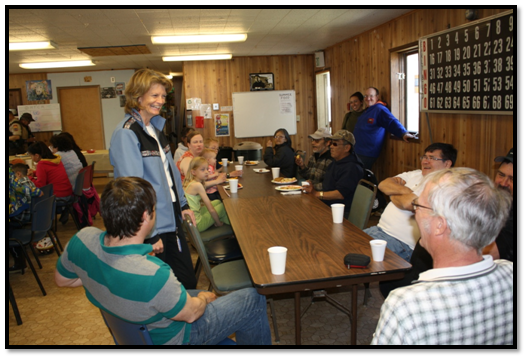 Sharing a laugh with residents of Old Harbor during a community gathering.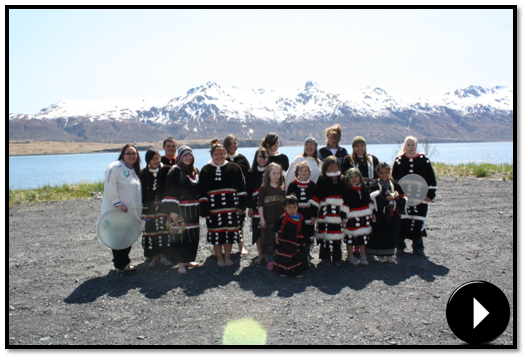 The Naniaq Alutiiq Dancers in Old Harbor performed beautifully, and we couldn't have asked for a more beautiful backdrop for their dancing and singing. CLICK HERE to watch one of their songs.
I toured the Kodiak Electric Association's Pillar Mountain Wind project and found out that 18.1 % of their power comes from wind, helping reduce costs to ratepayers with no bird strikes at all since the turbines were installed in 2009.
Catching up with Alaskans and some good brew at the Kodiak Island Brewing Company. Owner Ben Millstein came to DC last month advocating for the Small BREW Act and invited me to visit his small business.
I spent some time in the woods with Navy SEALs at the Navy Special Warfare Center in Kodiak. These SEALs showed me a basic shelter they built in the woods, which was almost unnoticeable when I first walked up.
Navy SEALs are the best of the best – highly skilled and knowledgeable to what it takes to survive in any condition. I shared with them some of my local knowledge by introducing them to Fiddlehead Ferns. Bon Appétit!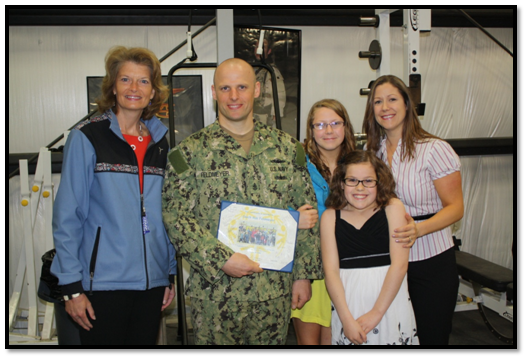 While at the SEAL training facility, I was honored to present this Special Olympics, Alaska award to Chief Robert Feldmeyer for all his hard work and volunteering for the organization. It is men and women like Chief Feldmeyer that make our state a better place. His wife and daughters were there for the presentation.
I believe it is important for Alaska and the Arctic to have a Coast Guard National Security Cutter home ported in Kodiak, but that means extra people on the CG base there. I took a tour of the available base housing to better understand the housing needs of the future.
While waiting for my flight from Kodiak to Anchorage, I caught up with the Kodiak Lady Bears and wished them luck on their Softball State Championship.
Photos From Around Washington, D.C.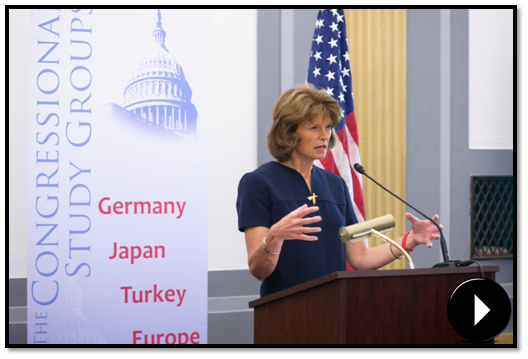 I recently spoke to the Congressional Study Group on Japan to discuss my visit to the country earlier this year to review recovery efforts from the 2011 Earthquake and subsequent Tsunami. Click Here to watch my presentation.
I spent some time with an amazing group of veterans who were on Capitol Hill for a sneak preview of National Geographic's new documentary "American Heroes Fishing Challenge." I thanked these Wounded Warriors for their service to our country at a reception Senator Mary Landrieu of Louisiana and I hosted for them.
Katie Robinson of Fairbanks and I took a photo on the Capitol as I thanked her for her service this semester as part of the United States Senate Page Program. As one of 30 Senate pages from across the country, Katie was my first selection since earning the seniority to sponsor a page every semester. Katie did an excellent job representing our state.
---