11.03.13
Senator Murkowski E-Newsletter for the week of November 3, 2013
Dear Friends,
Last week was a full one back in Alaska. I would like to say thank you to all those who welcomed me throughout my travels. It is your willingness to show me pieces of your daily lives that keeps me connected with the beautiful state we call home.
Over the weekend I had the privilege to speak at the Alaska Federation of Natives (AFN) Convention in Fairbanks where I caught up with old friends and made a few new ones. As I returned to Anchorage, I shared stories with a woman about how great AFN had been. She said "being at AFN fills me up in places I never knew were empty." I share her sentiment. I am returning to DC filled up and ready to work for Alaskans.
Alaska Federation of Natives Convention:
Once a year, Native people from across Alaska come together for the largest gathering of indigenous peoples in the country. For three days we join to exchange information, share ideas, discuss community issues and learn from each other. It is through these discussions that the AFN delegates are able to enhance and promote the cultural, economic and political voice of the entire Alaska Native community. This is one of my favorite events of the year because it draws so many wonderful people together. I truly appreciate the embrace and response I was given when I spoke in front of the attendees.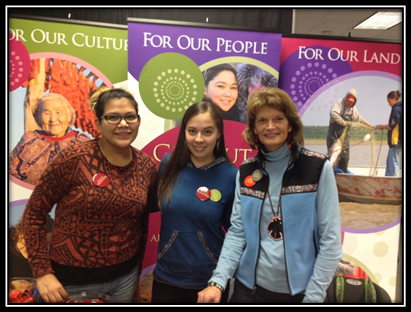 I visited with two young women who are working on the Native Vote Program.
This year was especially inspirational due to the number of great speeches. In particular, the amazing job by the young people from the Tanana 4-H club demonstrated real courage in speaking about domestic violence and suicide. These young people helped shine a light on the tough conversation ahead of how to keep our young people in Alaska safe and healthy.
Tyrel Gusty visited my booth at AFN. He is one of the students raising money to keep his school open in Stony River, AK.
This week, Senator Heitkamp (D-ND) and I introduced the Alyce Spotted Bear and Walter Soboleff Commission on Native Children Act. This Commission is a way for us to focus on native children through the lens of the education, justice and healthcare system and be the voice of change for those who need it.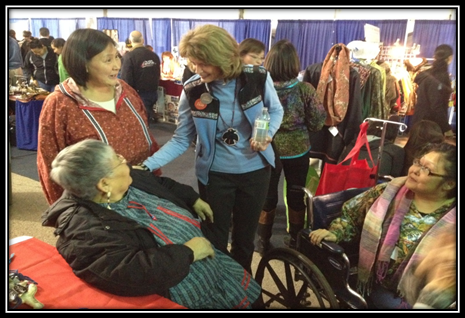 Visiting with Martina John and her family from Tooksok Bay who makes beautiful wearable art with seal skin.
Alaska Women's Summit:
While in Anchorage, I co-hosted the first ever Alaska Women's Summit with State Senator Lesil McGuire of Anchorage. We gathered some of Alaska's most passionate and intelligent women to discuss various issues such as healthcare, education, domestic violence, housing and childcare. I look forward to working with so many Alaskan women to help advance the action items stemming from the summit.
At the Women's Empowerment Summit in Anchorage with Juneau Rep. Cathy Munoz and State Sen. Lesil McGuire.
Last Frontier Honor Flight:
This past week, the Last Frontier Honor Flight made its inaugural trip to Washington, DC. There were 29 Alaskan veterans of WWII who got to tour the monuments and memorials. This trip is at no cost to them, and it is a true honor to welcome these veterans to our nation's capital. I met them at the Ted Stevens International Airport, shook their hands and gave them a proper send off. I have been working on getting these heroes to Washington for some time and finally seeing them make the once-in-a-lifetime trip was rewarding and inspiring. This was a very special homecoming for our veterans.
Visiting with Juliana Wilson and Ellen White at the Ted Stevens International Airport send off.
The Last Frontier Honor Flight Group at the WWII Memorial in Washington, DC.
(Click here or on the photo above to view video of the Last Frontier Honor Flight at the WWII Memorial.)
Veteran Spotlight- U.S. Marine John Pollock:
I am proud to introduce the most recent edition of my Veteran Spotlight featuring Soldotna resident John Pollock. John served in the U.S. Marine Corps for 25 years and has devoted himself to helping young veterans make the most of their military benefits at Kenai Peninsula College.
Throughout his long career, Pollock did tours in Somalia and Kosovo as well as three tours in Iraq. A month after his 'retirement' in 2010, Colonel Pollock was back serving our nation in Afghanistan working for General David Petraeus in the Counterinsurgency Advisory and Assistance team. Pollock would spend the next two years traveling throughout Afghanistan perfecting intelligence operations and technologies for the U.S. Military. Today, Pollock works as the Veteran Services Coordinator for Kenai Peninsula College – a job he says is more fulfilling than he could have imagined.
"I understand the veteran students who walk through my door. I spent the last 25 years with them so I think I read them better than most just because we have a shared foundation and some shared experiences," said Pollock. "Being able to help them with their benefits, understand their benefits and get access to their benefits has been a really nice way to close out my professional military career."
Click Here or on the image above for the interview of John.
I invite you to hear John's story – how he proudly stepped up to serve our country and the devotion he has for helping his fellow soldiers and veterans. If you have a family member or friend in the community you think has a story to share about their military service, email me at Spotlight@Murkowski.Senate.Gov.
The Shutdown and Federal Workers:
While traveling through both Juneau and Anchorage, I had the opportunity to meet with some federal workers to hear about how the 16-day federal government shutdown impacted them. Of course, it was not just federal employees that were affected. Whether you're an air taxi operator waiting on a permit from the FAA, a crab fisherman awaiting allocation limits from NOAA, or a forester in the Tongass told to shut down logging operations, a government shutdown benefits no one and causes turmoil and chaos across the spectrum. I heard very clearly from Alaskans that they felt the shutdown was a bad outcome. I absolutely agree. This week I co-sponsored the bipartisan "No More Shutdowns Bill" (S. 29) which would take the option of a government closure off the table and push lawmakers to complete timely funding bills.
Meeting and touring the NOAA facility in Juneau where we spoke about their research on salmon bycatch.
Senate Page Program: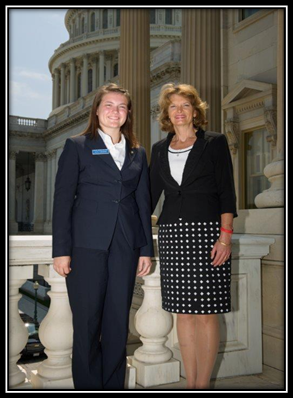 With one of my pages Katie Robinson from Fairbanks. She served as a page during the Spring of this year and did a fabulous job representing Alaska.
The Senate Page program is an amazing opportunity for students approaching or in their Junior year of high school. Students play an active role in the day to day operations of the Senate. With duties, assisting members with a wide variety of tasks.
I am able to assign one page slot each session of the school year. The student must be 16 or 17 on or before the date of Page appointment, and have a minimum 3.0 GPA. For more information please Click Here.
Around Alaska:
Joining with fellow Girl Scouts at the dedication of Camp Singing Hills in Chugiak.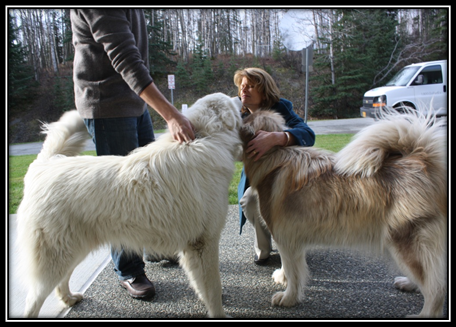 There is nothing better than being greeted by some furry friends Mao Jr. and Neena after a hard day's work, even if they aren't mine.
---