09.02.13
Senator Murkowski E-Newsletter for the week of September 3, 2013
Back Home and Loving It!
Friends,
As I travel across the state, I'm hearing so many of you boast about our gorgeous Alaskan summer but then conversations quickly turn to issues like energy, the cost of living, and infrastructure. Whether it's the need for roads, building supplies for homes and communities, or affordable energy – I am always listening. Alaska is where I recharge my battery, and each of you plays a part in inspiring me to keep working hard for our state's unique needs. From King Cove to Barrow, Ketchikan to Galena and dozens of points between, it's been a great month to reconnect on a one-on-one basis with as many Alaskans as possible.
As I return to the Senate after Labor Day, we will be faced with the very difficult issue of Syria and how the United States should respond to the horrors inflicted upon innocent civilians by the Syrian government. As Congress debates this issue, I ask that Alaskans weigh in by contacting me through my website by clicking here or by sending me a note at one of my offices.
Napaskiak: Hardships and Big Hearts
When the Indian Affairs Committee Chair, Maria Cantwell (D-WA), came to Alaska in August, I urged her to visit rural Alaska to see firsthand the issues and concerns facing people not connected by roads, apart from the transportation grid, and lacking basic infrastructure. Senator Cantwell and I traveled to Bethel and then took a 15-minute boat ride to the community of Napaskiak. We visited with the kids on their first day of school, and toured the public safety building, the village store and the water treatment plant.

Walking the boardwalk in Napaskiak, which like many other Alaska villages is their road system.
Unfortunately, Napaskiak and several other communities in the region are stepping back in time in terms of basic needs and sanitation. While many homes had plumbing systems installed a number of years ago, many community members have had to revert back to hauling honeybuckets because of costly system repairs.

This box of Tide costs $49.91 in Napaskiak, and that's with the support of bypass mail.
The high cost of living and the price of goods was another major concern for those who call Napaskiak home. While in rural communities, I make a point of visiting the store to see what they pay for basic groceries: eggs and milk (if they even have it), flour, sugar, and laundry detergent. In Napaskiak, a box of Tide sells for $46.94. While laundry detergent may seem like a luxury to some, I see it as one of those basic sanitation items that help keep our families healthy. I will continue to educate my colleagues whenever the opportunity arises about the reality so many Alaskans face on a daily basis.
Fun with Kids on the Kenai
I spent an afternoon on the Kenai visiting with a wonderful group of 8 to 16 year-olds who took part in the Kenai River Jr. Classic. This annual event gathers the sons and daughters of our deployed military, along with Boy and Girl Scouts, for a day long learning experience on the river that includes workshops, boater safety, and of course fishing!
Click the HERE for a video of me discussing how important a day on the water at the Kenai River Jr. Classic is to many of these children.
For many children, this was their first experience fishing and the joy in their eyes as they raised their salmon over their head was priceless. I am so grateful to be able toparticipate in this great event every year because not only are these kids learning about things like safety and patience, but also about a love for our state and her resources.
A young angler proudly showing off the salmon he caught earlier in the day.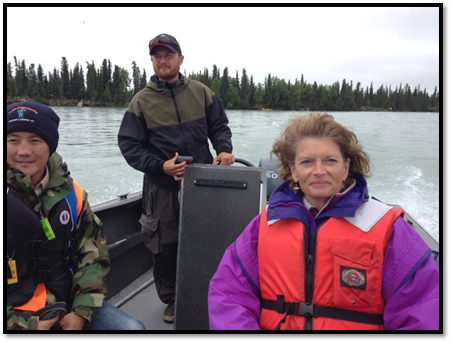 I spent the afternoon visiting from boat to boat with more than 100 military youth and scouts during the 7th Annual Kenai River Jr. Classic.
Galena: Still a Long Way to Go
With the end of summer in sight and winter quickly approaching, I visited Galena to see firsthand the communities' rebuilding efforts as they work to recover from the devastating flood waters and ice that tore through the area earlier this spring. The cleanup and rebuild is complicated by logistics, bureaucracy and the calendar; and despite the efforts of federal, state, and local officials – reinforced by the good work of the many volunteers including the Red Cross, AmeriCorps and the United Methodists – it is still slow going.
I spoke with one of the volunteer teams from United Methodists about their work in Galena. This home was hopefully going to be ready to go by winter.
The bottom line is that a lot of work needs to be done in a very short amount of time. As Alaskans, we know all too well that when winter comes it hits us hard. We need to have the plans in place to deal with this reality. I can't help but feel a real sense of obligation to push federal, state and local partners to work together as quickly as possible because there's still a lot more to be done.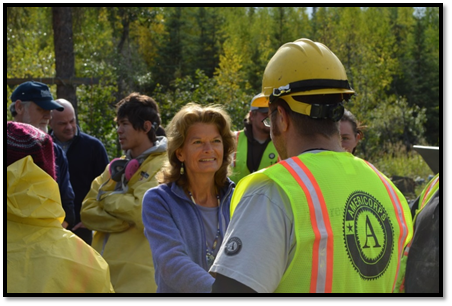 Numerous groups and organizations have lent a helping hand to ensure the people Galena have places to return to this winter, including those at AmeriCorps. I took a quick moment to express my sincere gratitude to a group of volunteers helping with the rebuilding efforts.
Coast Guard Admiral's Maiden Voyage to Homer
Every Alaskan appreciates what our military men and women bring to our state and our nation's defense. Recently, I was honored to accompany the Commandant of the U.S. Coast Guard, Admiral Robert J. Papp, on his first ever trip to Homer as we visited the crew of the USCG Cutter Hickory.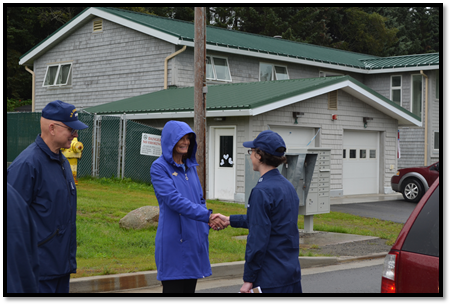 Admiral Papp and I met with Coast Guardsmen and women during our recent visit. Visits like this are extremely important because of the large role the Coast Guard plays in Alaska. 2,500 active duty, reserve, auxiliarist and civilians support operations across Alaska, including 3.8 million sq. miles and 44,000 miles of coastline.
Admiral Papp, Rear Admiral Thomas Ostebo (Commander, Coast Guard 17th District) and I toured the 225-foot cutter and recognized several members of the crew for their service. We also took time to inspect the housing available to our Coast Guard in Homer, making sure they have quality homes to return to after working on the water – and that their families are secure and comfortable.
Click HERE for a video with Coast Guard Commandant Papp on board the Hickory, as we visit with community leaders from Homer.
Admiring the view from the bridge of the U.S. Coast Guard Cutter Hickory in Homer, AK.
Top of the World Health Care for Alaskans
It was an honor to join the Barrow community at the opening ceremony of the impressive Samuels Simmonds Memorial Hospital that will provide health care services for the people of the Arctic Slope for years to come.
Representatives from across the state joined together for the grand opening of the Samuels Simmonds Memorial Hospital in Barrow, AK.
This facility is bringing 21st century technology to Barrow from diagnosis to data processing, so that Alaska Natives will get the best care possible – and roughly eighty jobs will be created, too.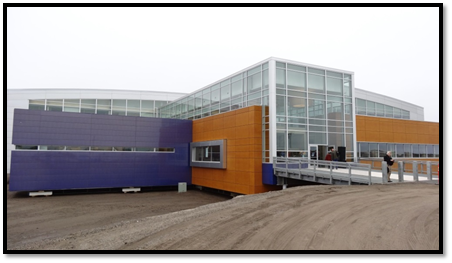 The new Samuel Simmonds Memorial Hospital has the ability to change the way healthcare is provided above the Arctic Circle.
As I stood there with so many dozens of friends, celebrating the opening of the facility, I have to admit I was struck by the absence of someone who was not there: our dear friend Senator Ted Stevens. When I began my service in the U.S. Senate, one of the first things he and I discussed was the Barrow hospital – so to see our work and energy evolve from legislation to reality was a meaningful accomplishment for our entire state.

Click HERE for video of me talking about my friend Ted Stevens and his legacy across Alaska.
Chena Renewable Energy Fair Innovations
I say it all the time: energy is good. Alternative energy – whether non-traditional or renewable – plays a role in the future of lower bills in Alaska, which is why I always make it a point to visit the Chena Renewable Energy Fair at Chena Hot Springs.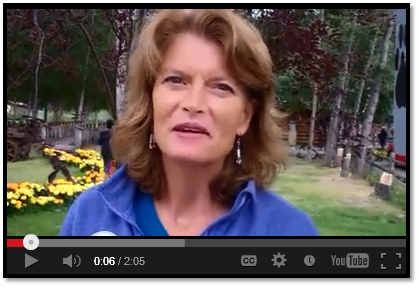 Click HERE for a video at the Chena Renewable Energy Fair.
Events like this really stretch your imagination about the renewable energy potential in Alaska. Whether it's biomass, solar, wind, hydro or geothermal, the potential is there. Our challenge has always been how we harness it in a way that is cost effective; and as the top Republican on the Energy and Natural Resources Committee, I am motivated every day by the possibilities.
Food sustainability and food security is also a huge focus of the Chena Renewable Energy Fair. Growing food year-round in an Arctic environment has been a priority for the owner of Chena, Bernie Karl, and this year he is working with the students in Glennallen to inspire them to grow their own lettuce.
This ChenaGro unit is an old refrigerated trailer that will allow students in Glennallen to grow lettuce year-round for their community.
Solving our energy problems in Alaska is not just about engineers, it's also about imagineers. We need people like Bernie Karl to dream big and I truly believe if we harness both good ideas and great technology, amazing energy things can happen in Alaska.
Alaska State Fair
In the shadow of Pioneer Peak at the end of each summer, thousands of families and friends gather to take part in one of our very own Alaskan traditions – the Alaska State Fair in Palmer. Just like many of you, the Fair has long been an annual fall tradition of mine. This year, I was extremely excited to return to see some old and new faces, visit my favorite vendors, eat some delicious fair foods, and take a photo in front of the giant pumpkins.
Working off some of the fair food by visiting the Hula-Hoop station at the Alaska State Fair.
The "cabbage fairies" and I stopped to pose for a quick picture and talk about the Midnight Sun Giant Cabbage Weigh-Off taking place later in the week.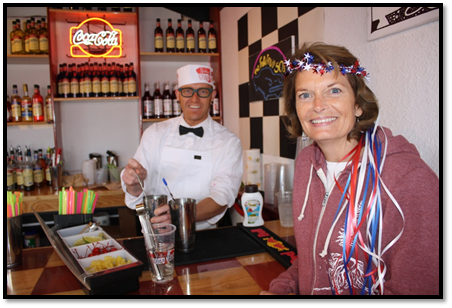 The folks at the Alaska Soda Jerk know how to have fun while serving up a quality root beer float.
I learned everything there is to know about raising pigs and the 4-H program from 10-year-old Temujin Horsey during my visit to the farm exhibits at the Alaska State Fair. This young man really knew his stuff!
Road to King Cove
I took Interior Secretary Sally Jewell to King Cove last week to give the residents there a chance to explain directly to her why it's so critical to build a one-lane gravel road from their community to Cold Bay – allowing them access to the all-weather airport there. I hope
the Secretary's eyes were opened by the stories she heard and the people she met. Beyond direct feedback from those impacted, we also visited the local clinic where caring for patients is made exponentially harder without the road.

Click HERE for a video of Secretary Jewell and me visiting the health clinic in King Cove.
Around Alaska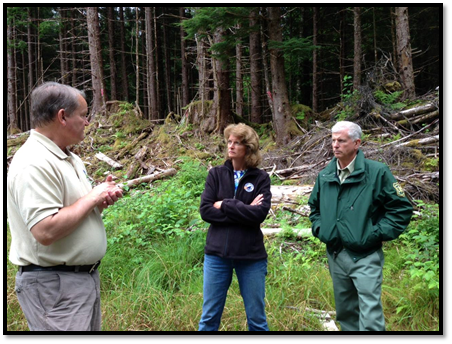 I hosted U.S. Forest Service Chief Tom Tidwell in Southeast to show him just how incredibly important the Tongass is to the region. Forest Service policies that work in other parts of the nation just don't work here. We made a stop by the Hollis Commercial Thinning Young Growth study site in the Tongass, where an experimental section of the forest is being used to measure the effect of commercial thinning on young growth stands.
The USFS ChiefThomas Tidwell and I visited the Viking Lumber Mill in Klawock, AK during our joint visit to the region.
A big "Thank You" to the crew of the M/V Fairweather for getting us to Juneau when the planes were weathered out. An amazing example of how important Alaska's Marine Highway System is to our travel in Southeast!
This group of amazing youth dancers performed for me during my visit to Angoon.


Southeast Alaska was more than generous to me during my visit earlier this month including this bountiful harvest of Huckleberries I was able to pick as I waited for my flight.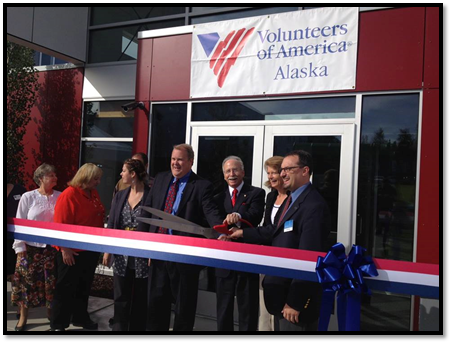 Affordable housing is incredibly important, and here in Alaska there are far too many communities that don't have it. In Anchorage, the new Trail Side Heights Town Homes complex is providing 66 new, low income, rent controlled units and more are scheduled to be built. I was proud to play a small part in making these new homes a reality and we couldn't have asked for a more beautiful day for the ribbon cutting.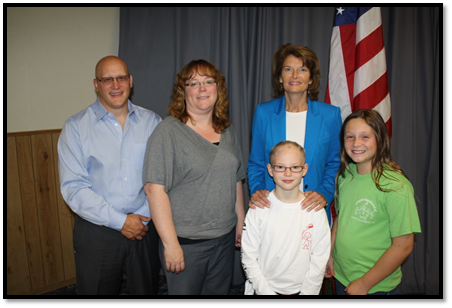 I met with a very inspirational young woman, Megan Traxinger, who is working hard to raiseawareness in her school and community for Alopecia Areata, an autoimmune disorder that mistakenly attacks and destroys hair follicles. Even at her age, 7-year-old Megan is already an extremely poised young lady.
---