04.15.13
Senator Murkowski's E-Newsletter for the week of April 15, 2013
Alaska,
After a busy Easter work period back home in Alaska, I'm now back in Washington, D.C. I would like to thank the hundreds of Alaskans I was able to personally speak to and work with while home – your time and input is truly appreciated. While I was able to visit and discuss issues and policies with folks from across the state, I did unfortunately have to miss a few scheduled events due to an awful bout of the flu. I'm glad to be back to full speed!
Here's a quick look-back at some of the issues and events from around the state the past two weeks.
Choose Respect
I joined Alaskans from all across the state – in over a hundred communities – to participate in Governor Parnell's "Choose Respect" movement. From Klawock to Kaktovik, Shishmaref to Adak, Alaskans marched in unity to stand up against sexual assault and domestic violence in Alaska. The March is one way to raise awareness and give Alaskans the strength to speak out against domestic violence – a cause we must all be committed to ending.
I participated in the Choose Respect march in downtown Anchorage, alongside Lt. Governor Mead Treadwell and hundreds of fellow Alaskans. We marched from the Delaney Park Strip to town square.
spoke in downtown Anchorage on the many issues surrounding domestic violence, and the necessary efforts to protect our women, our children, and our families. CLICK HERE to view my address.
It comforted me to know that 4,000 miles away, Alaskans in Washington, D.C. gathered with Congressman Young's and my office to choose respect and stand together to speak out against domestic violence.
Bethel Subsistence Listening Session
Last fall, I made a commitment at the Alaska Federation of Natives Convention to hold hearings on the concerns surrounding subsistence in Alaska.
I am planning to call a full committee oversight hearing on the issues of subsistence this fall in Washington, D.C. as the top Republican on the Energy and Natural Resources Committee.
To get things started in Alaska and to get as many people involved, I am holding two public listening sessions to discuss these crucial issues. I want these sessions to provide a forum for Alaskans to be heard on this important cultural and food security issue, and for their testimony to be taken back to Congress. Last week, I hosted the first listening session in Bethel and live-streamed the entire event on my website. The turnout was incredible and the input was well taken. I continue to ask for your comments and concerns on these issues, and encourage you to visit my website by clicking here to make your concerns known on subsistence issues.
My next listening session is currently being planned for May 2 in Glenallen. I look forward to seeing and hearing your concerns.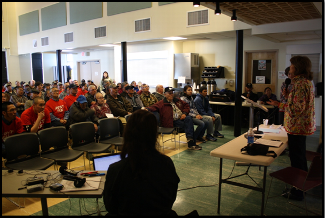 Hundred of Alaskans from the Bethel region gathered at the Yuut Elitnaurvait, Inc. Training Center to discuss their concerns on issues surrounding subsistence. CLICK HERE to watch the full listening session.
Veteran Spotlight
Jim Vance, U.S. Marine Corps Veteran, Vietnam War
(Click on image for excerpt of Jim Vance talking about visiting Vietnam after the war and his healing process, CLICK HERE for the extended interview)
In March, I released my tenth Veteran Spotlight to honor Vietnam War veteran, United States Marine and Purple Heart recipient Jim Vance. A visible and active member of the veteran community in Alaska, Vance shared his life-changing confrontation with sniper fire on the morning of April 30, 1970 - a firefight he still remembers today as when "all hell broke loose."
In this Veteran Spotlight interview, Vance recalls his unit coming under fire for the first time, the loss of close friends, numerous injuries suffered by mortar blast and machine gun fire, as well as his daily battle with Post Traumatic Stress Disorder (PTSD). Vance says his struggles with anger lasted for over a decade until counseling and a return visit to Vietnam helped heal old wounds. These days, in times of acute stress, he says he finds relaxation by spending time with his dogs.
My Veteran Spotlight is part of a monthly project in conjunction with the Library of Congress' Veterans History Project. I invite all Alaskans to nominate a veteran from the 49th state to be featured in the Veteran Spotlight project. If you have a family member or friend in the community you think has a story to share, email Spotlight@Murkowski.Senate.Gov. You can watch them all by clicking here.
North Korea Update
Like all Alaskans, I am concerned about the rising rhetoric coming out of North Korea and its leader Kim Jong-un. I continue to closely track the fast-evolving developments coming out of that region. I encourage you to visit my website by clicking here for updates on the issue.
North Korea's actions are a direct reminder to the Department of Defense that Alaska is uniquely and strategically positioned to defend our nation from threats arising in the Asia-Pacific region. Our state's proximity to that area is one of the key arguments I have raised while fighting to ensure that the capabilities of Eielson are not weakened. Defense Secretary Hagel recently announced that missile capabilities in Alaska's Fort Greely will now ramp back up to levels proposed during the Bush administration. While this is a critically important decision, it is frustrating that this Administration put the build out on hold for the past three years, despite concerns that I had raised about the continued threats from North Korea and Iran.
While the Pentagon's recent decision is positive for our state and our nation, the United States cannot afford a reactionary defense strategy that focuses solely on newly emerging challenges while ignoring known rogue states like North Korea.
Revenue Sharing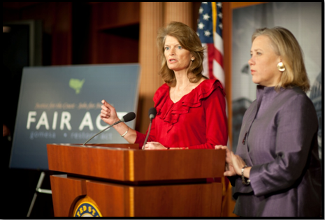 Senator Landrieu of Louisiana and I held a press conference to introduce the FAIR Act, bipartisan legislation that ensures coastal states receive a fair share of the revenue from energy production on federals lands and waters. CLICK HERE to watch the press conference.
I have been working for many months now on a major piece of bipartisan legislation that would give coastal communities a fair share of the revenues produced off their shores regardless of the type of energy production – oil, gas, wind, or tidal energy. I proudly introduced the Fixing America's Inequities with Revenues (FAIR) Act, alongside Senator Mary Landrieu (D-LA), as an effort to ensure coastal communities that shoulder increased demands on their roads, docks, hospitals, schools and other infrastructures from offshore development have a similar revenue sharing structure as communities with onshore developments.
The Fair Act would give 27.5 percent of revenue from offshore energy development, including oil, gas, wind and other renewable energy sources, to coastal states, plus another 10 percent if the state creates a clean energy or conservation fund for a total of 37.5 percent.
While ideas have been floated for an Alaska-only bill, I believe by purposely expanding the scope of the Fair Act to include states across the country, we will gain the support to successfully pass this legislation.
Alaska Report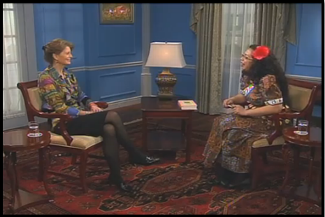 Kato Ha'unga, the founder of the Northern Lights Library, discusses what it took to make her dream of bringing Tonga its first public library a reality. CLICK HERE to watch the full Alaska Report.
I recently had the pleasure of sitting down with Kato Ha'unga. Some of you may remember her story from the local news, about collecting and gathering nearly 45,000 books to build the first public library on the Island nation of Tonga.
After I read about Kato's story last year, I decided to lend her a helping hand with her mission to get these books across the Pacific Ocean and into the hands of those in need. My staff and I found a U.S Navy humanitarian program that focuses on delivering aid across the globe in unused space aboard their vessels, known as Project Handclasp. Under this project, we were fortunate enough to secure space for Kato's books on a Navy ship leaving out of San Diego. This left only one problem for the Northern Light Library – finding a way to transport the books 3,500 miles south from Anchorage to the port of San Diego.
Please take a moment to listen to my interview with this very inspirational young woman, and find out where the books are in their journey across the globe.
Easter State Work Period
A joint initiative between the United Way and the Anchorage Downtown Rotary, the "90by2020" program at Central Middle School is looking to achieve a 90% graduation rate by the year 2020. I stressed the importance of high school graduation with a group of 7th graders.
Thousands of women and children each year are provided a fresh start through programs run by the Abused Women Aid in Crisis shelter in Anchorage. I toured the AWAIC facilities, where donations are gathered from throughout the community.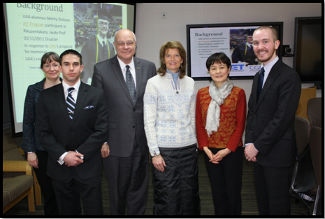 After the tragic death of a 26-year-old Alaskan teacher in the 2011 Japanese tsunami, the University of Alaska Anchorage renamed their Japanese language center in honor of alumnus Monty Dickson. I met with students and faculty at the Montgomery Dickson Center for Japanese Language & Culture to discuss this young Alaskan who gave his life doing what he loved.
As some of you may know, my two boys were in a language immersion program at Government Hill Elementary, so the Japanese program at Sand Lake Elementary School brings back some great memories. Here I am with a group of first graders, using flashcards to learn different emotions.
I met with a group of Air Force spouses in Eagle River to talk about the many concerns that face our military families.
Eklunta, Inc. and I met to discuss how their Native Corporation is focusing on local business ventures and projects here in Alaska.
Visitors in Washington, D.C.
I met with a group of students from Juneau and Unalaska this week during their Close Up trip to Washington, D.C.
Alaskans Madison Manning of Port Heiden and Thomas Krasnican of Anchorage were recently honored as part of the Senate Youth Program here in Washington, D.C.
For the sports fans out there, I recently had Olympic Soccer legend and FIFA World Player of the Year Mia Hamm in my office to discuss initiatives to increase physical activity.
The Native American Youth Champions for Change paid me a visit in early March. I was pleased to be able to personally congratulate these fine champions.

---