04.25.12
Senator Murkowski's E-newsletter for the week of April 23, 2012
Murkowski Visits Homer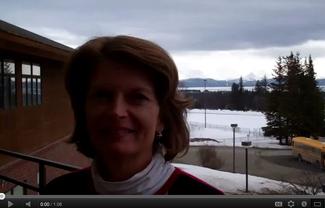 During the Easter recess, I had the opportunity to spend April 4th in Homer and visited a variety of local attractions. The day was jam-packed with events, including visits to Homer High School, Seldovia Village Tribe Wellness Center and the Homer Chamber of Commerce. At the Chamber, I shared with the community my thoughts and views about work in Washington, D.C. and touched on a number of issues that hit home for every day Alaskans – from partisanship in Congress and the state of economy, to high gas prices and the prosecutorial misconduct in the Ted Stevens trial. I also had the chance to meet with the Homer Peony Growers as well as local farmers who are benefiting from the USDA Soil & Water Conservation grant program for high tunnels.
My visit to Homer left me with a great sense of pride and motivation as I head back to D.C. for the next work period.
Murkowski Hosts Breakup Forecast Roundtable
(Click on the picture above to view the Roundtable PowerPoint presentation)
During the first full April weekend, it became official: southcentral Alaska had record-breaking snow this year. Now, as the mercury tops 50 degrees, spring break-up is in full swing and we're keeping a close eye on the water levels in communities across Alaska. To address some of the concerns Alaskan communities face during this time, I recently held a "Break-Up Forecast Roundtable Discussion" in Anchorage and invited representatives from the Alaska Department of Homeland Security and Emergency Management, National Weather Service and FEMA to share with Alaskans their knowledge of the issue and provide some additional insight into the flood potential for 2012. We live-streamed the event over the web so that every Alaskan could watch the event and ask questions via Facebook or Twitter.
Over the coming weeks, the National Weather Service's River Watch program will monitor Alaska's waterways and will provide a good resource for concerned residents. With this year's winter's temperatures fluctuating rather dramatically from month to month, hydrologist Scott Lindsey from the National Weather Service said that forecasters are calling for "above average flooding."
To watch the breakup roundtable click here.
Renaming Mt. McKinley and the Talkeetna Ranger Station
On March 29, I introduced legislation to return Mt. McKinley to its proper name of Denali and to officially rename the Talkeetna Ranger Station in honor of Walter Harper, a local Athabascan from the Koyukuk region, who was the first person to summit Denali nearly 100 years ago.
For the past 40 years, Alaskans have petitioned the U.S. Board on Geographic Names to officially rechristen the 20,322-foot peak its original Athabascan name, "Denali." I'm hoping we will be able to officially rename both of these important Alaska landmarks.
ANILCA Local Hire
Earlier this month, the Interior Department announced it will re-implement the Alaska National Interest Land Conservation Act (ANILCA) local hire authority (language I inserted into last year's Interior Appropriations bill) which authorizes federal land management agencies in Alaska to resume hiring local residents, including longtime seasonal workers, without having to go through federal competitive hiring requirements. The updated local hire language also allows the agencies to continue converting seasonal employees to permanent status.
The local hire program is important to Alaskans throughout the state who will now be eligible for many job opportunities in federally managed conservation units. Since it's Alaskans who best know their own backyards – even if it's under federal management – it's only logical that Alaskans should fill those positions. The more Alaskans and federal land managers work together, the better their relationship will be. This program has been a priority for me, and I'm pleased to see it implemented as this summer's seasonal hiring begins.
Photos from Easter Recess: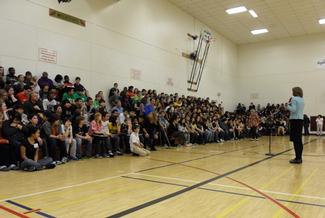 Sen. Murkowski speaks with Ryan Middle Schoolers at a packed gymnasium in Fairbanks.

Sen. Murkowski is presented with a t-shirt from the Ryan Middle School Wolverines.

Sen. Murkowski with Anchorage Fire Department Chief Mark Hall and Assistant Fire Chief Jodie Hettrick. Murkowski toured the AFD's new Firefighter Training Center in Airport Heights.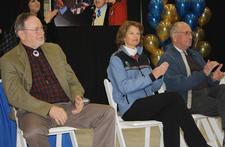 Sen. Murkowski, Con. Young and Orin Seybert at the "Alaskans For Justice" Ted Stevens Rally in Anchorage. To view Sen. Murkowski's remarks click here.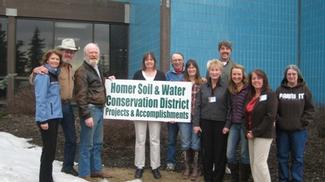 Members of the Homer Soil and Water Conservation District with Sen. Murkowski in Homer.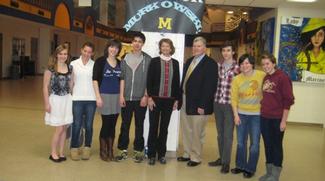 Sen. Murkowski with students from Homer High School.
From DC:

The Space Shuttle Discovery flew over Washington, D.C. last week, piggybacked on a customized NASA 747. The Space Shuttle Discovery was headed for its permanent retirement at the Smithsonian's Steven F. Udvar-Hazy Center in Chantilly, Virginia.
---