12.05.11
Senator Murkowski's E-newsletter for the week of December 5, 2011
"Arctic Tough" 4/25th Deploys to Afghanistan
Last week, I had the honor of attending the deployment ceremony of the 4th Airborne Brigade Combat Team, 25th Infantry Division from Joint Base Elmendorf-Richardson. As 3,500 soldiers prepare to spend up to a year in Afghanistan, I joined with our Alaskan community to thank them for their service and wish them success in their upcoming mission.
Below are some excerpts from my remarks to the Spartans.
"Every American soldier is an ambassador of American exceptionalism. You are a cut above the rest. Arctic tough, resilient and brave. Blessed with strong officers and NCOs, you fight with your hearts and you fight with your brains."
"I have a few words for our Spartan families. We all appreciate that life does not stop while your loved ones are on deployment. Over the next year you will have your share of blessings and your share of challenges. Sometimes these challenges will seem overwhelming. But there's help at hand no matter how great the challenge seems.
To watch my full remarks click here, for pictures from the deployment ceremony click here.
Senate Oceans Caucus Holds First Meeting with Presentation from UAF Expert
As co-chair of the Senate Oceans Caucus, I was pleased to invite Dr. Jeremy Mathis, a leading expert in ocean acidification at the School of Fisheries and Ocean Sciences at the University of Alaska Fairbanks, to brief members and Senate staff last month.
Dr. Mathis shared with us some of the changes scientists are seeing in our oceans, and the possible impacts of those on Alaska and the rest of the country. The insight gained from Dr. Mathis's presentation was important, and I'm proud that our state continues to lead the way on many issues facing our waters.
So many discussions in Washington are partisan and political, but through the work of the Oceans Caucus, I hope to find bipartisan solutions to some of the oceans' new problems.
To watch an interview with Dr. Mathis click here.
Award Winning Websites Bring Information Directly to Alaskans
For the second Congress in a row, my personal website (www.murkowski.senate.gov) has been recognized by the Congressional Management Foundation, as one of the best websites in the U.S. Senate. This Congress, I am also pleased to announce that the Senate Energy and Natural Resources Committee website (www.energy.senate.gov), which I share as Ranking Member of the committee with Chairman Sen. Jeff Bingaman (D-NM), also received the honor.
I am proud that my websites have been recognized as high quality services for the Alaskans that visit them. Keeping connected with my constituents back home can be challenging due to the distance, but having a resource that is easily accessible, user friendly and up-to-date helps bridge the gap. Whether it's utilizing the website as a news source during the recent storm, as an easy gateway for constituent communications, or for sharing important information from Capitol Hill – I want my sites to be one-stop shops for Alaskans.
Concern About Proposed Rules from the Department of Interior
Last month the Interior Department proposed a rule that threatened to restrict recreational shooting and hunting opportunities on public lands. This proposal concerned me quite a bit, due to the negative effects it could have on Alaskans' Second Amendment rights. After receiving much criticism from myself and others, Secretary Salazar decided to put off any action regarding public land access for recreational shooters.
At a hearing last month, I expressed concern and frustration over Interior Secretary Ken Salazar's decision to consolidate the Office of Surface Mining (OSM) within the Bureau of Land Management (BLM). The proposed merger would unnecessarily complicate the regulatory environment for Alaska's job creators. Alaskan coal production provides 375 full-time, quality jobs with significant opportunities for growth given Alaska's 6.1 billion tons of coal reserves. Shortly after I and others raised objections, Secretary Salazar announced he was delaying the merger in order to gather more information. I will continue to make sure that Alaskan perspectives are taken into account so that responsible production of coal and other minerals can continue to create jobs in the state.
Alaska's Hidden Gems
To close out this e-news letter, I am debuting a new feature: Alaska's Hidden Gems – where I'll spotlight some of the 'lesser known' locations that surround us in our vast state. Sometimes we think about traveling, trying someplace new, without realizing we haven't seen all there is to see in Alaska.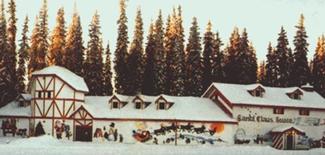 (Photo from Fairbanks-alaska.com)
I'm starting off with one most of us know. But with holiday season in full swing, I thought it would be appropriate to highlight North Pole's Santa Claus House. Located in North Pole, the Santa Claus House has been around since 1952 and is one of interior Alaska's most visited and famous attractions. It also generates an enormous amount of post office traffic, with Americans in the lower 48 sending letters up just to receive a North Pole postmark. For more information on the Santa Claus House, visit http://www.santaclaushouse.com
Murkowski School Visits

Sen. Murkowski visited Polaris K-12 School in Anchorage, where she spoke with high school government students about the economy and issues facing all Alaskans.

Sen. Murkowski visited classrooms at Aquarian Charter School in Anchorage before taking questions from members of the Student Government about civic duties.

---