01.30.12
Senator Murkowski's E-newsletter for the week of January 27, 2012
Reaction to President Obama's State of the Union Address
(At this year's State of the Union address, I was proud to wear a Sunflower to Defeat ALS pin in an effort to raise awareness for ALS. To learn more about Sunflower to Defeat ALS, and to join the cause against this debilitating and life-taking disease, click here)
During this year's State of the Union address, I led an effort with Democratic Senator Mark Udall of Colorado to permanently end partisan seating during the annual address, and this year over 200 members of Congress joined our efforts to come together on a bipartisan effort. To watch a recent interview with Sen. Udall and I, click here.
This year's State of the Union address by President Obama was a bit of a mixed bag. There were aspects of his address that I was pleasantly surprised with. I had assumed there would be more of a campaign tone and campaign pitch, but I think he took a pointed effort to spell out what he hoped to see in this next year. He shared some aggressive proposals, along with some unrealistic proposals, but I think it was important he laid forth a vision.
However there were some missed opportunities; in terms of addressing our nation's tremendous 15 trillion dollar debt, energy issues, and job creation projects such as the Keystone XL pipeline. To watch my full remarks on the State of the Union address click here.
Murkowski Personally Thanks U.S. Coast Guard in Visit to Nome
Earlier this month, I had the opportunity to fly to Nome to meet with Coast Guard Rear Admiral Ostebo, Lt. Governor Mead Treadwell, Nome Mayor Denise Michels, and other local, state and federal agencies to observe the fuel transfer operation and personally thank everyone involved in the U.S. Coast Guard Cutter Healy's mission to aid the community's winter fuel needs.
Alaskans have a close relationship with the United States Coast Guard, and this gesture by the Coast Guard shows the feeling is mutual. I considered a trip to Nome a top priority to personally express my appreciation to the crew that selflessly gave up their holidays for the Seward Peninsula region's needs.
During the course of this mission, Alaska has been thrust into the national spotlight for something other than reality TV shows, and it is my hope that this event draws the attention of leaders back in Washington to the Coast Guard's need for additional ice breakers.
I continue to work to educate my colleagues back in Washington, D.C. about the strategic need for these ice breakers as transportation lanes, tourism, and resource development continue to grow in the Arctic.
To watch my recent speech on the Senate floor thanking the U.S. Coast Guard as well as the Alaska National Guard for their efforts this winter, click here.
Murkowski Visits Alaska National Guard Unit Preparing for Afghanistan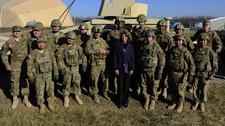 During the January recess, I visited Alaska National Guardsmen of Company B, 1st battalion (Airborne) of the 143rd Infantry Regiment at Camp Atterbury Joint Maneuver Training Center in Edinburgh, Indiana, who are preparing for a year-long deployment to Afghanistan.
These brave Alaskans are from places such as Fairbanks, Kongiganak and Wrangell – and I wanted to personally thank them for their service to our nation. But before they shipped out and left American soil, I also wanted to give them a special delivery and a taste of home – some silver salmon.
To the families of these guardsmen, I can't tell you not to worry about your loved ones. But I can tell you that with the level of training they are receiving they will go to Afghanistan with a level of professionalism, and skill, and a level of confidence that they need in a difficult environment over there.
When I got back from Indiana, I shared details from the trip with family members throughout Alaska, telling them they can count on me to be their advocate in Washington, DC.
Senator Murkowski meets with members of the Alaska Army National Guard from Bravo Company, 1st Battalion, 143rd Airborne Infantry Regiment, during a training exercise at Camp Atterbury, Indiana. The deploying Soldiers hail from Anchorage, Bethel, Chevak, Delta Junction, Dillingham, Eagle River, Ekwok, Emmonak, Fairbanks, Fort Greely, Hooper Bay, Houston, Juneau, Kipnuk, Kodiak, Kongiganak, Kwethluk, Little Diomede, Marshal, Nikiski, Nome, North Pole, Palmer, Port Graham, Quinhagak, Scammon Bay, Shishmaref, Sitka, Tuluksak, Upper Kalskag, Valdez, Wasilla, and Wrangell. (Photo courtesy of U.S. Air Force Photo by Staff Sgt Jonathan Lovelady)
Senator Murkowski meets with members of the Alaska Army National Guard from the Yukon Kuskokwim Delta Region (Photo courtesy of U.S. Air Force Photo by Staff Sgt Jonathan Lovelady)
Alaska Army National Guardsmen Staff Sgt. Matthew Armstrong, of Bethel, meets with Senator Murkowski (Photo courtesy of U.S. Air Force Staff Sgt Jonathan Lovelady)
Calling All Alaska Women Vets!
Another of my highlights from January was meeting members of the Alaska Veterans Organization for Women. Created in 2011, AVOW is a partnership with the Alaska Veteran's Foundation, a non-partisan, non-profit foundation, and is dedicated to connecting Alaska's women veterans to each other and their communities, to honor their service and achievements, and to empower women veterans to reach their highest potential. Whether you are a 20 year military veteran, or the family member of a servicewomen, I encourage you to visit AVOW's facebook page and sign up for their e-mail list at alaskawomenvets@gmail.com.
Lisa's January Photo Album
On Dr. Martin Luther King Jr. Day, Senator Murkowski stopped by the 50 Bikes/50 Kids event in Anchorge. 50 Bikes/50 kids is in its 3rd year, and is a partnership of the Anchorage Park Foundation, the Parks & Recreation Department and Anchorage businesses to provide deserving youth with their first bicycle.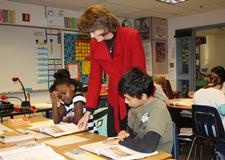 Senator Murkowski visits with students from Orion Elementary School on Joint Base Elmendorf – Richardson
Senator Murkowski at the Carlile Transportation yard in Fairbanks
Senator Murkowski met with military retirees over coffee in Fairbanks, where she listened to their comments and concerns about the military retiree benefit system

---