05.13.13
Senator Murkowski's E-Newsletter for the week of May 13, 2013
Friends,
I had such a great time in the state last week. It's always good to be home and though the calendar shows that spring is on its way, the snow throughout the state reminded us that we live in an Arctic nation. Here are some of the highlights of my visit to Fairbanks, Anchorage, Ketchikan, Delta and Glennallen.
Congratulations Graduates of 2013
It's that time of year again, when we salute our family members and neighbors for crossing that significant and meaningful threshold of graduation. Whether it's elementary, high school, college or vocational training, I want to wish all of our graduates the very best as they enter into their next phase of life.
Click here to watch my message to the graduates of the Class of 2013
As you graduate, I offer some advice to consider. First, don't be afraid to take risks. When Eleanor Roosevelt was a young woman she was terrified of public speaking but eventually went on to speak to almost every American in her time as the First Lady and the Chairman of the United Nations Commission on Human Rights. Her advice – "Do one thing every day that scares you."
Now this doesn't mean that you go out and do something senseless and stupid. I encourage you to journey through life guided by this thought: the idea that those who sail close to shore and those who sail out to sea and return both have arrived at their destination, but the men and women on the second ship have had a much more interesting trip.
Finally, I will share the words from the graduation card that I gave my oldest son at his graduation from college last week that made us both smile. It reads– "Go forth. Act decent. Call your mother from time to time." My best wishes and congratulations to you all.
Commissioning of USS Anchorage

Last weekend, Alaskans embraced the United States Navy by welcoming the USS Anchorage with open arms. With a little help from Mother Nature and an enthusiastic crowd, we showed the Navy our true Alaskan way of life with a cold, snowy, and wet celebration. Alaskan hospitality is well known among our Armed Forces, and the crew of the USS Anchorage were shown exactly why the men and women stationed in our great state always leave considering Alaska home.
The USS Anchorage, the Navy's newest state-of-the-art San Antonio class amphibious transport dock ship, commissioning in the Port of Anchorage was certainly a few years in the making. It could not have happened without the support or hundreds of organizers and volunteers, and of course our service men and women.
When I first wrote Secretary of the Navy Ray Mabus in 2011 to encourage him to commission the USS Anchorage in its namesake city, I reminded him of the critical role Alaska plays as the US presence in the Arctic develops. The USS Anchorage will now become an integral part of our nation's fleet.
I was honored to speak at the commissioning ceremony of the USS Anchorage on a snowy Alaskan Spring morning (Click here to watch my full speech)
I ran into a few Navy officers from the USS Anchorage while their ship was docked in preparation for the official ship commissioning.
I met with an Alaskan Navy family, the Browns, in Anchorage during the USS Anchorage commissioning celebration.
Glennallen Subsistence Listening Session
Last Thursday in Glennallen, I hosted my second public listening session on the many concerns surrounding subsistence. This discussion was an important forum for Alaskans from all across the interior, and followed the listening session I held in Bethel in early April. This fall, I plan to call a full Energy and Natural Resources Committee oversight hearing in Washington, D.C. on the issues of subsistence.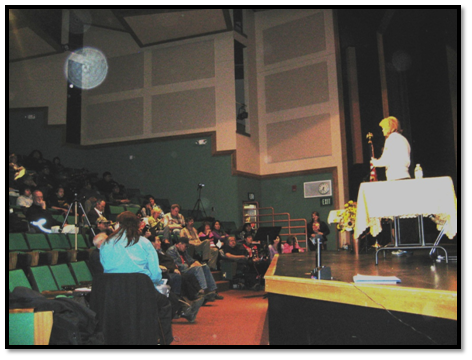 My second subsistence listening session at Glennallen High School was an incredible opportunity to take back comments and concerns as part of the record to be considered in oversight hearings later this year. More than 150 people attended and hundreds of others viewed on my live web stream. If you missed the event, you can watch it in its entirety by clicking here.
Veteran Spotlight
Recently, I released my 11th installment of the Veteran Spotlight featuring U.S. Army Vietnam Veteran Jim VanOss, who was drafted as a 20-year-old college student and served as a military police officer and an embassy guard in Saigon during the Tet Offensive. Jim counts himself as "one of the lucky ones" for he was never injured and never had to take a life.
Immediately following his 15 months stint in Vietnam, Jim returned home to Wisconsin to finish college – making use of the GI Bill. Once he graduated, Jim hitchhiked to Alaska, where he worked on the construction of the TransAlaska Oil Pipeline before homesteading in Homer, where he raised bison and European wild boar. Now, 40 years later, Jim says he's not quite sure if the Agent Orange from the war caused his Parkinson's disease conditions, but he is still incredibly appreciative of the help he has received from the Veterans Administration.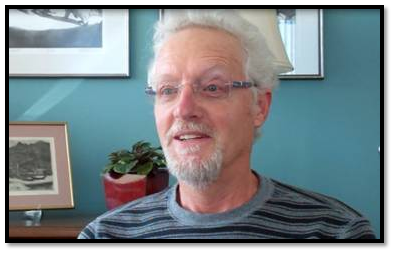 Jim VanOss, U.S. Army Veteran
(Click on image for an excerpt of VanOss talking about tense times during the Tet Offensive and care at the VA; CLICK HERE for the extended interview)
I invite you to watch VanOss' compelling story about close calls, untamed adventures, and continuous optimism. Jim VanOss' life story is one of an Alaskan pioneer who sees the good where he can. We owe it to veterans like Jim VanOss to honor them through sharing their stories, while we learn from the high levels of patriotism, commitment and service they demonstrate for us.
My Veteran Spotlight is part of a monthly project in conjunction with the Library of Congress' Veterans History Project, and was recently recognized as a model of the "Best Practices." Dr. James H. Billington, Librarian of Congress, offered the following words in recognition of our Alaskan "Veterans Spotlight" project.
"The Veterans History Project at the Library of Congress has truly resonated with the American people – not only veterans themselves but their spouses, their children, their grandchildren and their compatriots in military service. We are pleased to be working with Senator Murkowski's office whose Veterans Spotlight honors Alaska's veterans and also serves as a model for others in Congress and across the nation as they participate in the Veterans History Project."
I invite all Alaskans to nominate a veteran from the 49th state to be featured in the Veteran Spotlight project. If you have a family member or friend in the community you think has a story to share, email Spotlight@Murkowski.Senate.Gov. You can watch them all by clicking here.
Alaska Report
Charlie Huebner, Chief of Paralympics for the USOC, joined me for my latest edition of the Alaska Report to discuss some of the services and programs available to our wounded warriors and disabled Alaskans. CLICK HERE to watch the full Alaska Report.
I recently sat down with Charlie Huebner, the top executive at the Paralympics for the United States Olympic Committee (USOC). We talked about the extraordinary work being done by numerous Alaskan businesses and private organizations in coordination with our military, veterans, and Paralympics organizations to provide sport and physical activity for the physically disabled across our state.
With over 40,000 injured members of our Armed Forces in the last decade, we must not forget about the extraordinary men and women who are overcoming physical or visual disabilities to compete like the true athletes they are. This is in large part due to organizations like USOC, who are working to enhance the availability of physical activity and sports programs for people with physical disabilities at every level.
Alaska Snapshots
While in Ketchikan I toured the Alaska Ship and Drydock with Adam Beck and Doug Ward where over 150 Alaskans are employed in this exceptional maritime facility.
I addressed the Alaska Native Village CEOs Association in Anchorage to give an update on what's happening in Washington, D.C. including my efforts to defend the 8(a) program.
Food Bank of Alaska in Anchorage has worked extremely hard to feed the nearly 105,000 Alaskans who don't know where their next meal will come from. I was able to meet with the Director of Agency Relations Mary Sullivan, Executive Director Michael Miller, and Food Bank of Alaska's Board President Mike Sobocinski, to talk about how they are assisting the rising number of folks in need. CLICK HERE to watch a video of my visit.
During my visit to Inlet View Elementary School in Anchorage, I met a group of 2nd graders and watched them perform their class play.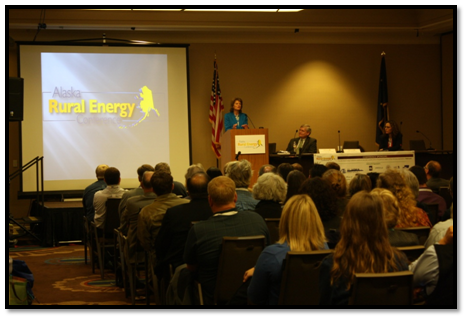 I spoke to the Alaska Rural Energy Conference in Anchorage about our opportunities for more renewable energy projects throughout the state.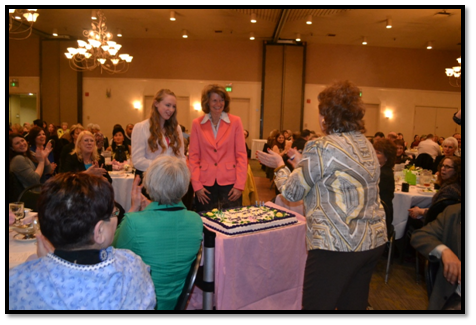 I was presented with an early birthday cake at the Fairbanks 10th Annual Spring Luncheon.
The community of Delta Junction gathered to share with me their concerns and questions.
The students of Academy Charter School in Palmer kept me busy with questions about national and local issues.
I met with some of Alaska's aspiring young women. Alexandra and Kara Butler, sisters from Mat-Su, both plan on attending the United States Naval Academy. Kara (right) is headed off to Annapolis this fall as part of the Class of 2017, and Alexandra ( left) plans to apply when she graduates from High School.
The leadership at The Children's Place in Wasilla spoke to me about the increasing number of child abuse cases being seen at the facility. The organization's goal is to provide "a place to be heard", and "a place to be helped" while preventing abuse.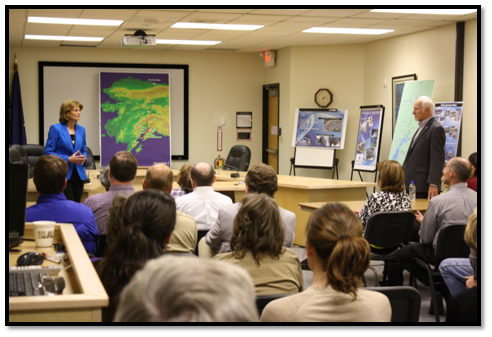 I spoke with employees of the Matanuska Electric Association about upcoming projects and new, renewable energy sources for the Mat-Su power company.
During my visit to the Ketchikan Medical Center I test-drove the facility's "laparoscopic arcade". Loved the scrubs!
Visitors in Washington, D.C.
Students from Anvil City Science Academy Middle School in Nome stopped by the office on their 8th grade class trip to Washington, D.C.
Matthew Perry, or as many of you know Chandler Bing from Friends, paid a visit to my office to talk about drug courts and the National Drug Control Policy program he's involved with.
The Prudential Spirit of Community Awards honored Shaylee Rizzo, 18, of Kenai and Samuel Allred, 13, of Wasilla as Alaska's top two middle and high school volunteers. I was so proud to meet these two very inspirational young Alaskans.
---