11.17.13
Senator Murkowski's E-Newsletter for the week of November 17, 2013
Wrap up from Alaska to DC:
Veterans Day:
Veterans Day is a day the nation sets aside to reflect, honor and appreciate those who have put their lives on the line for our country and our freedoms. Here in Alaska, we have the highest concentration of vets in America. Seventy-seven thousands of our neighbors, co-workers and best friends have answered the call to serve. It is important to recognize not only their sacrifice, but also the sacrifice of their families, not just once a year, but every day. Words cannot express the appreciation I and so many Alaskans feel for our warriors and veterans. From the bottom of my heart: Thank you.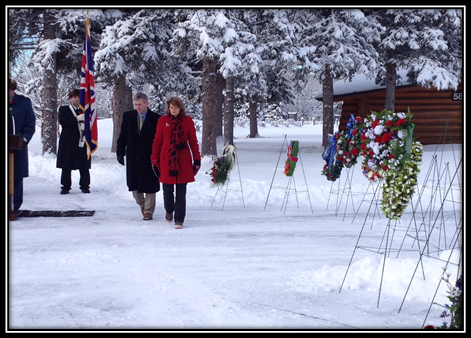 I had the honor of placing a wreath at the National Cemetery on JBER at a Canadian Remembrance Day ceremony. The annual Veterans Day event at JBER is a ceremony that also acknowledges the contributions of Canadians who have fought with us.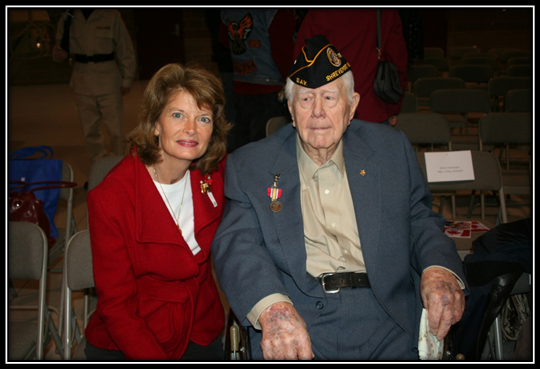 Thomas Struth celebrated his 100th birthday on Tuesday, 11-12-13. It was an honor to meet this WWII and Korea war veteran.
Veteran Spotlight- Korea Veteran Herb Stettler:
I am pleased to share the most recent edition of my Veteran Spotlight featuring Kenai resident Herb Stettler, who served in the U.S. Army during the Korean War. These days, Stettler is an active member of the Kenai Peninsula veteran community, supporting his fellow veterans and honoring their sacrifice at local events and ceremonies.
Stettler enlisted in the Army at age 20 and his superior officers capitalized on his farm-honed strength by making him a machine gun operator. During his 13 month Korean War tour, Stettler says there were some "hairy times" and he was often called upon to provide machine gun cover for his fellow soldiers to escape enemy fire.
Today, at 82 years old, he is an active officer for the Veterans of Foreign Wars Post 10046 and the American Legion where he works to honor veterans, their service, and our country. It's a commitment the Kenai community returned in an overwhelming way last year, when his home burnt to the ground and the community came together to help him rebuild.
Click on the image above or CLICK HERE to hear Herb's story of the Korean War, and how the Kenai community recently rallied around him and helped him back on his feet.
I invite you to hear Herb's story – how he proudly stepped up to serve our country and the devotion he has for helping his fellow veterans in the Kenai area. If you have a family member or friend in the community you think has a story to share about their military service, email me at Spotlight@Murkowski.Senate.Gov.
Food Bank Visit:
Last weekend in Anchorage, some of my staff and I helped pack Thanksgiving Blessing food boxes at the Food Bank of Alaska. The project is an interfaith collaboration with Food Bank of Alaska to provide the groceries a family needs to prepare a Thanksgiving meal. The Food Bank distributes the boxes to over 10,500 families in need in Anchorage and the Mat-Su Valley each year and 150 of those meals are delivered to Alaskans confined to their homes. Helping pack the boxes was a way for us to lend a helping hand and give back to our Alaskan community as we head into the holiday season.
Byron Washington, a United States Air Force airman, stopped by the Food Bank while we were working. With 28 pounds of food in his refrigerator and about to be deployed for seven months, this conscientious Alaskan donated what he didn't want to leave behind. Here we are with Mike Miller, Executive Director of the Food Bank.
Helping out at the Food Bank of Alaska. (Right to left: Christy O'Brien, Robin Phillips, Sherry Edwards, Mary Sullivan, Angelina Burney, Mike Miller)
Healthcare Frustrations:
Many Alaskans have reached out to me in the last few weeks about the botched healthcare website roll-out. Thousands have been notified that they will no longer be able to keep their health insurance. The website enrollment process has been a continuous disappointment to the nation, and downright frustrating for anxious Alaskans. On Wednesday the enrollment numbers for Alaska were a dismal 53 people.
Last week I spoke with the Administrator for the Center for Medicare and Medicaid Services over the problems facing Americans when trying to enroll. Having had only three Alaskans successfully enrolled in the first month via Enroll Alaska, Administrator Tavenner did little to prove these problems were being properly addressed.
When 5,400 Alaskans were kicked off of their current insurance, this came as a surprise given the President's repeated promises that "If you like your health care, you can keep it." It was a pretty simple promise that the President failed to deliver on. This past Thursday, in response to a spectacular failure of a rollout of the exchange and the outrage of millions of Americans, he has recalibrated and has announced that the insurance companies have the option to reinstate the millions of Americans back to their previous plans – but for only a year. So that promise has been downgraded to "You can keep your health care coverage at least for the next year if your provider will reissue it." This does not keep the promise made to Alaskans, and it does not fix the problem.
I did not support the Affordable Care Act (ACA) as I did not believe that it would effectively reduce healthcare costs and increase access to care. I remain unconvinced and continue to work towards solutions that will reform healthcare in this country.
Sexual Assault in the Military:
Having heard stories from various constituents, who have put on our nation's uniform only to be victimized; it is clearly past time to do something about Military Sexual Assault. For 20 years, we have heard the same story from the officials at the Department of Defense, that they say they are working towards a "Commitment to Zero Tolerance" when it comes to sexual assault. Their words aren't solving the problem. There are still people suffering in silence, oftentimes believing that the military chain of command is working against their pursuit of justice.
I have joined a bipartisan coalition spanning the political spectrum to make a final push to create an independent, objective and non-biased military justice system – through the Military Justice Improvement Act – with the Senate expected to debate the 2014 National Defense Authorization Act (NDAA) in the coming days before Thanksgiving. I hope we do more than speak. We need to have real teeth when dealing with Military Sexual Assault, and the time to do it is now.
At the press conference for the Military Justice Improvement Act with Senators Gillibrand, Paul, Cruz, Grassley, Boxer and Hirono.
Sochi Send-off:
With under a hundred days until the 2014 Olympics in Sochi, Russia begin, Alaskans gathered in Anchorage's Town Square to wish the athletes good luck before they leave our state to train with the rest of the U.S. Olympic Team. It was great to spend some time with athletes like Kikan Randall, Keegan Messing and Holly Brooks. Representing America, as well as Alaska, is such an honor. I am proud of our athletes and look forward to watching them compete in February.
Meeting the Olympic athletes headed to train for Sochi!
I also got to spend time with my Special Olympic athlete friends who have always represented Alaska well.
Few can top Olumpic champion Rosey Fletcher or Callan Chythlook-Sifsof on the snowboard but it was fun to pretend we were on the slopes.
BP and the Olympics:
BP has very generously donated $1 million to the new Ted Stevens Sports Services Center at the U.S. Olympic Training Center in Colorado Springs and to existing U.S. Paralympic programs. This new facility will help athletes train, recover, and learn to be the best athletes they can be. Senator Stevens was a champion for the Olympics. As we mark his 90th birthday next week, Ted would be humbled to know that his efforts live on through this amazing facility that help develop our athletes.
Brad Snyder, a paralympian, who was injured by an IED in Iraq and is now permanently blind, shared his story to an enthusiastic crowd. I was honored to be able to speak with him about his journey to London last year.
Visiting with Catherine Stevens, wife of the late Senator Stevens, and Greg Chapodos, former chief of staff to Stevens (as well as my classmate from High School in Fairbanks).


Out and About: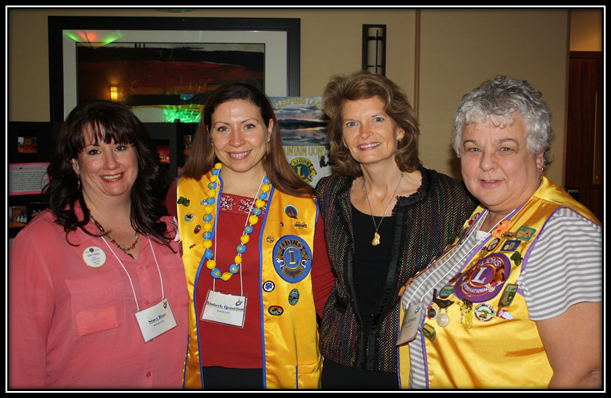 I met with Stacy Ross, Kimberly Quintilani and Joyce Gregory at the International Association of Lions Clubs District 49A Mid-Winter Conference in Anchorage.
I recently did an interview about "Veterans Spotlight" for Town Square 49 on Alaska Public Radio Network - you can listen to the interview here.
This past weekend I presented Suellyn Novak of the Alaska Veterans Museum a Congressional statement marking the 70th Anniversary of the Battle of Attu. Suellen has been a tireless advocate on behalf of veterans and has done an amazing job building support for the veterans museum. Check out the display honoring our veterans at 344 W. 4th Ave in Anchorage.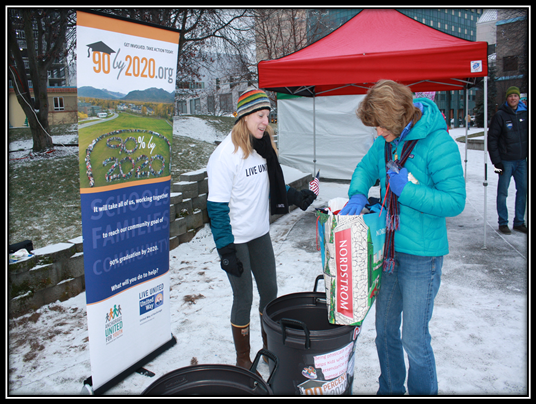 The United Way was having a coat drive during the Sochi Send-off so I donated some of my winter gear to help the cause.
Visiting with Maryann Mills, Katherine Gottlieb, Gail Alstrom, Dr. Angela Michaud, Jaylene Peterson-Nyren, at the White House Tribal Summit in Washington, DC just before the President's address.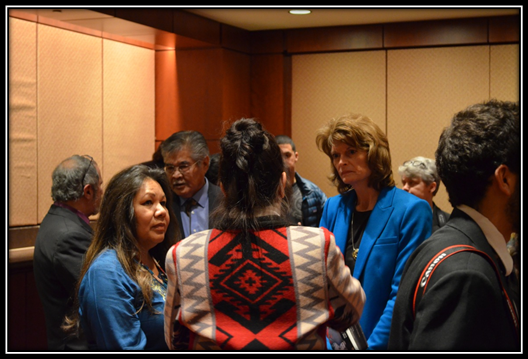 Catching up with Camille Ferguson and Rachel Moreno of the Sitka Tribe back in DC at a constituent coffee I hosted with the other members of the delegation at the conclusion of the White House Triabl Nation Conference.
---