11.21.19
Senators' Legislation to Address Crisis of Missing, Murdered and Trafficked Native Women Advances in Senate
Murkowski and Cortez Masto Applaud Committee Passage of Not Invisible Act and Savanna's Act
Legislation addressing the crisis of missing, murdered, and trafficked Native women, passed out of the Senate Indian Affairs Committee with strong, bipartisan support—heading to the full Senate for consideration. The bills, Savanna's Act and Not Invisible Act, are both led by U.S. Senators Lisa Murkowski (R-AK) and Catherine Cortez Masto (D-NV) and aim to combat the epidemic by improving the federal government's response to the crisis.
CLICK HERE for video of Senator Murkowski's remarks.
Savanna's Act, sponsored by Senator Murkowski and co-led with Senator Cortez Masto, increases coordination among all levels of law enforcement, increases data collection and information sharing, and empowers tribal governments with access to law enforcement databases they need in cases involving missing and murdered indigenous women and girls, wherever they occur. The legislation, originally introduced by former U.S. Senator Heidi Heitkamp of North Dakota with Murkowski as a cosponsor, is named for Savanna LaFontaine-Greywind, who was abducted and killed in 2017 in Fargo, North Dakota.
Not Invisible Act, sponsored by Senator Cortez Masto and co-led with Senator Murkowski, engages law enforcement, tribal leaders, federal partners, and service providers and improves coordination across federal agencies. The bill designates an official to coordinate efforts across agencies and also establishes a commission of tribal and federal stakeholders to make recommendations to the Department of Interior and Department of Justice on best practices to combat the epidemic of disappearances, homicide, violent crime and trafficking of Native Americans and Alaska Natives.
"I've heard far too many horror stories about the issues women in our communities face when it comes to the need for law enforcement and the response. Through our bills, Savanna's Act and Not Invisible Act, we have been working to bring attention to this issue nationwide. The statistics are shocking how quickly vulnerable, Native women are being swept into a net of violence that is devastating. They go missing, are trafficked, and some to the point of being murdered. Families have experienced an unspeakable loss and felt let down by a system that has failed and not protected them," said Senator Murkowski. "Today was an important step and I thank my colleagues on the Indian Affairs Committee for recognizing the importance of these legislative efforts. We must improve coordination among law enforcement and provide the necessary resources so that these families have a fighting chance. My hope is that we can advance these bills quickly and have them signed into law."
"We're staring down a crisis of missing and murdered indigenous women and girls, and Congress has the moral responsibility to act to stop these mothers, sisters, and daughters from becoming another statistic," said Senator Cortez Masto. "I'm proud to lead this bipartisan effort with Senator Murkowski to empower our communities and law enforcement to protect Native women. I know we won't stop fighting to end this crisis, and I call on all of our colleagues on both sides of the aisle to join with us and pass these bills out of the Senate."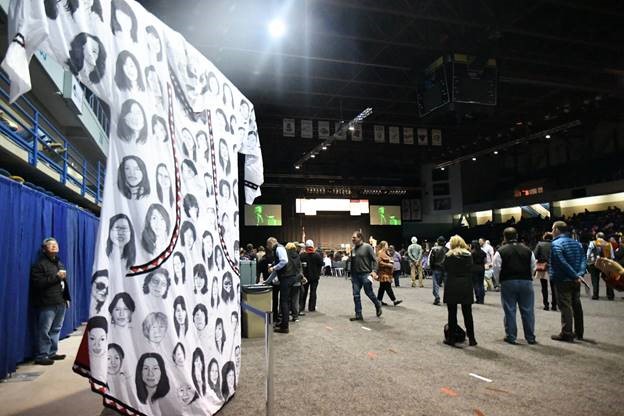 (A qaspeq displayed at the Alaska Federation of Native Convention, made by artist Amber Webb as a powerful symbol to honor many of the far too many lives lost to the MMIW epidemic.)
Savanna's Act bill highlights:
Improves tribal access to certain federal crime information databases and mandates that the Attorney General and the Secretary of the Interior consult with Indian tribes on how to further develop these databases and access to them.
Requires the creation of standardized guidelines for responding to cases of missing and murdered Native Americans, in consultations with tribes, which will include guidance on inter-jurisdictional cooperation among tribes and federal, state, and local law enforcement.
Requires statistics on missing and murdered Native women, and recommendations on how to improve data collection, to be included in an annual report to Congress.
Not Invisible Act bill highlights:
Requires the Secretary of the Interior to designate an official within the Office of Justice Services in the Bureau of Indian Affairs to coordinate violent crime prevention efforts across federal agencies.
Requires the Secretary of the Interior, in coordination with the Attorney General, to establish a commission on violent crime composed of members including law enforcement, service providers, representatives of relevant federal agencies, tribal leaders, survivors and family members.

The Commission will identify legislative, administrative, training, and staffing changes to increase reporting and prosecutions of relevant crimes.
The Commission will make recommendations to the DOI and DOJ on what more the department can do to combat violent crime against Native Americans.
Tribal communities across the country are experiencing an epidemic of violence. In tribal villages and Native communities, domestic violence rates are up to 10 times higher than the rest of the nation. Alaska Native women in particular are 2 and a half times more likely to be a victim of domestic violence. More than 80 percent of Native men and women will experience violence in their lifetimes, and 34 percent of Native women will experience sexual violence or assault.
Additionally, Native women and girls are disproportionately likely to become victims of sex trafficking, contributing to the crisis of missing and murdered indigenous women and girls. The rate of sexual violence victimization among Alaska Native women is at least seven times greater than non-Native females.
BACKGROUND:
The Senate Indian Affairs Committee held a legislative hearing on both Savanna's Act and Not Invisible Act in June of 2019.
In September of 2019, the Senate passed a funding package which included the Appropriations bills for Fiscal Year 2020 on Interior, Environment, and Related Agencies; and Commerce, Justice, Science. As chairman of the Interior Subcommittee, Murkowski crafted a bill which provides for the first time, funding to address the crisis of missing, trafficked, and murdered indigenous women. Specifically, $6.5 million is included for the Bureau of Indian Affairs (BIA) to take a comprehensive look at the issue across the BIA and Indian Health Service (IHS), which includes funding for cold case work, background checks, equipment needs, training, and a directive for the IHS regarding forensic training. The bill also includes language directing coordination and data collection among Tribal, local, state, and federal law enforcement. Additionally $1 million is provided and a directive for the Department of Justice to improve coordination—including training and technical assistance, data sharing, and other resources—with the BIA, to better address violent crime in Indian country.
In November of 2019, Senator Murkowski spoke on the Senate floor to highlight the growing crisis of missing, trafficked, and murdered indigenous women across the nation and the need to both understand the scope of the problem and address coordination between our state, federal, and tribal governments. Senator Murkowski emphasized how Native women are victims of violence in unprecedented proportions, the lack of updated data, her legislative efforts to address the epidemic, and urged her colleagues to move beyond awareness to action by taking up Savanna's Act and Not Invisible Act.
---