04.11.14
Alaska Senators Congratulate 2014 Cherry Blossom Princess
Begich Staffer Chelsea Marlow Representing Alaska in Princess Program
WASHINGTON, DC – Alaska's United States senators were thrilled this week to congratulate Anchorage born-and-raised Chelsea Marlow for being this year's Alaska representative in the Cherry Blossom Princess Program. Senator Mark Begich was pleased to nominate Marlow, who works in his Washington, DC office, to represent Alaska in this week's festivities. Senator Lisa Murkowski – a former Cherry Blossom Princess herself, served as an honorary Chair of the Cherry Blossom Congressional Reception this year.
Chelsea was selected for her leadership skills, academic achievement, interpersonal communications skills and interest in civic, community, and world affairs. Throughout the week she attended community outreach initiatives, social functions and volunteer events hosted by the National Conference of State Societies.
The program, "Aspiring Leadership and Empowering Young Women," ran throughout the week with young women representing all 50 U.S. states, territories and various countries coming together to volunteer in the community and network in Washington, D.C..
Chelsea Marlow is the daughter of Mark and Brenda Marlow of Anchorage. Chelsea currently works as Deputy Scheduler in Begich's Washington, D.C. Office. She graduated from Robert Service High School in 2009 and studied political science at the University of Alaska Anchorage. She currently volunteers for the Everybody Wins Children's Literacy Program.
"Chelsea is a wonderful asset to my office and has been an excellent representative for the state of Alaska all week at the Cherry Blossom events," said Begich. "Her hard work and professionalism will serve her well in all of her future endeavors."
"It is always exciting to meet the next generation of Cherry Blossom Princess," said Senator Murkowski. "Chelsea is doing a great job representing Alaska both as a princess and an Ambassador for our state. She is a bright and motivated young woman who I look forward to seeing do more good for the community."
Senator Begich escorted Chelsea at the National Conference of State Societies (NCSS) Cherry Blossom Congressional Reception, an annual event since the 1950s, drawing numerous members of Congress and foreign diplomats. Featured guests included Japanese Ambassador and Mrs. Kenichiro Sasae.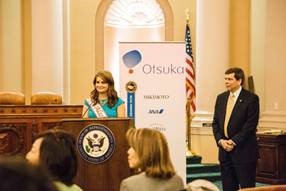 About the Cherry Blossom Program: More than 3,000 young women have participated in the NCSS Cherry Blossom Princess Program - "Aspiring Leadership and Empowering Young Women" since 1948, including daughters of presidents, congressmen and senators. The princess program continues to inspire women of accomplishment. The Pi Alpha Kappa Cherry Blossom Princess Sorority includes Congresswoman Shelley Moore Capito of West Virginia, U.S. Senator Lisa Murkowski of Alaska, and Shannon Vinson, a Captain in the USAF.
---