06.27.18
Alaskan Communities to Receive Economic Boost
PILT Program, Fully Funded by Murkowski, to Support Vital Services in Local Governments
U.S. Sen. Lisa Murkowski (R-AK) announced today that the Department of the Interior is distributing more than $32.3 million to eligible local governments across Alaska through the Payments in Lieu of Taxes (PILT) program. The funding, which is allocated to local governments that contain non-taxable federal lands, provides for essential services in Alaskan communities such as firefighting and police protection, search-and-rescue operations, and the construction of public schools and roads.
"With the federal government controlling the vast majority of land in Alaska, the PILT program is critically important to communities across our state," Senator Murkowski said. "We worked hard in the appropriations process to ensure it received full funding, and now, as the Department of the Interior disburses these payments, we are enabling our communities to provide for first responders, roads, and other critical services."
Through her role as chairman of the Senate Interior, Environment, and Related Agencies Appropriations Subcommittee, Murkowski worked to ensure the PILT program received $530 million nationwide in FY 2018, an increase of $65 million above last year's funding level.
PILT provides annual payments to local governments, including counties, boroughs, and parishes, across the United States that contain federal lands. These payments help offset the cost of maintaining a variety of community services. Unlike private lands, federal lands are not subject to local taxes, often making it difficult for rural communities to budget for these essential services.
Click here for a link to the 2018 payments to individual Alaskan communities.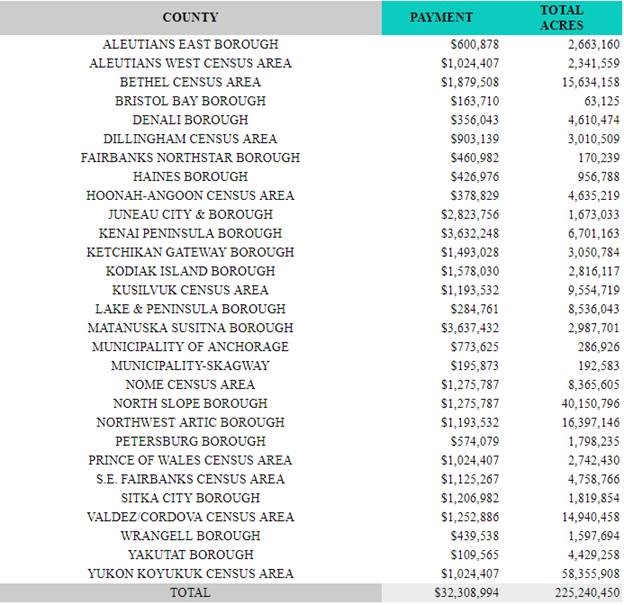 ---