09.06.17
First Full Committee Health Care Hearing on Stabilizing Premiums in the Individual Insurance Market
Series of Health Care Hearings Underway
Today U.S. Senator Lisa Murkowski (R-AK) participated in a Health Committee hearing to address stabilizing premiums and helping individuals in the insurance market. Senator Murkowski was joined by Alaska State Insurance Division Director, Lori Wing-Heier, who testified before the committee about Alaska's efforts to address rising premiums, the results of those efforts, and the current need for market stability. The committee also heard from state insurance commissioners from Oklahoma, Pennsylvania, Tennessee, and Washington.
"We took an important step today – the beginning of a good and constructive dialogue in addressing health care reform through an open process and in a bipartisan way. The work we're doing is crucial in assuring Americans in the individual market are able to afford purchasing insurance. We have a lot of work to do and these endeavors will take time, but my hope is that these efforts to stabilize and strengthen the individual market will not only help the most urgent and immediate needs, but also lead us towards a path of enduring policy," Senator Lisa Murkowski said, "I thank the state insurance commissioners, including Lori Wing-Heier, for their time and testimonies today. They've helped us to focus on the problems and potential solutions, what's working and what's not working."
During Lori Wing-Heier's statement, she spoke about specific steps the state of Alaska has taken to stabilize the volatile market, such as Alaska's reinsurance program and the successful approval of the federal ACA Sec 1332 state innovation waiver. The reinsurance program provides stability to the individual health insurance market by mitigating rates through the removal of high cost claims. Wing-Heier explained that the program had an immediate, positive impact on lowering premium rates and also had potential to attract healthier members to the individual market, further reducing premiums.
"As you consider congressional action to stabilize premiums across the country in 2018 we offer the following perspectives. We urge Congress to not disrupt the health insurance market but instead focus immediately on stabilization. Any decision made after the filings are approved could cause unintended, unfavorable disruption to insurance markets," said Lori Wing-Heier, "Uncertainty destabilizes the market. Committing to funding cost-sharing reduction payments through at least 2019 will keep premium rates from increasing at even higher rates. We support collaborative reforms developed in consultation with state regulators that strengthen markets with a goal of health insurance not only being accessible but affordable. Programs that allow states to address the needs of their citizens, such as the section 1332 waivers, are vital to the long term stability of health insurance markets."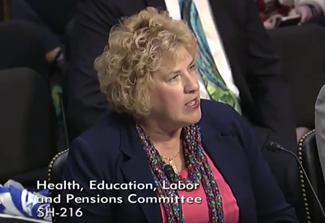 (Click image to watch Lori Wing-Heir's full opening statement.)
Today's hearing with state insurance commissioners is the first in the series of hearings. September 7 the HELP Committee will hold a hearing to hear from Governors, September 12 to hear from health policy experts on state flexibility, and September 14 to hear from a state insurance commissioner, doctors, and patient advocates.
---