11.13.13
Flawed Eielson F-16 Proposal Suggests Sequestration Driving Military Strategy
Senator Questions Strategy When Making Cuts - "What is the Target Here?"
Lower 48 Mayor Agrees With Need for Discretion When Seeking Savings
WASHINGTON, DC — Senator Lisa Murkowski today seized an opportunity during a Capitol Hill hearing to continue pressing for agencies to have discretion when making mandatory, across-the-board sequestration cuts – using the example of the recently-scuttled proposal to transfer F-16 aircraft from Eielson AFB to Joint Base Elmendorf Richardson. Calling it an "eye opener," Murkowski lamented the fact that the cuts are driving strategy instead of the other way around.
During a Senate Defense Appropriations Subcommittee hearing focused on "Sequestration Impacts on Defense Programs," Senator Murkowski began with an opening statement focusing on the flawed reasoning of the United States Air Force proposal, forced upon them by the blind cuts imposed by sequestration on all programs. "Are we really working towards a strategy, or is the strategy being driven by sequestration," asked Murkowski, before reminding her Senate colleagues that this transfer proposal had been made amid a heightened Pentagon focus on the Pacific region, closing with "Don't you need to have these assets here?"

(Eielson was "a real eye opener for us." – Click image to watch except cited below.
Click here to see Murkowski share how the Eielson proposal originated.)
Excerpt:
"It was a real eye opener for us in the sense that what was happening was this decision was being driven by a request to drive costs down: a budget request. In the long run it was going to be a bad move for the Air Force and the Air Force changed their position – not without a little encouragement from the delegation, I might add. But it was an opportunity to focus and force that conversation about "well what was the strategy here." Mr. Chairman, I am so concerned that in an effort to chase the dollars – in an effort to drive down costs – we are putting our country and national defense in jeopardy because decisions are being driven by sequestration and we are not keeping our eye on the bigger picture."
Towards the end of her questioning period, she heard agreement from an Illinois mayor. Rockford, Illinois Mayor Larry Morrissey responded to her open-ended question seeking his view. Morrissey then proceeded to make his case that more flexibility would allow him efficient discretion, since he knows best what programs are most needed in his community.

(Murkowski inquires about the needs of those on the ground seeing sequestration first-hand)
Murkowski:
"We are coming to the end of 2013 pretty quickly. The challenges that our military services will face in 2014 as they deal with this frontloaded sequestration requirements are staring us in the face. There is a concern that we may be in a situation where we don't see sequestration going away. What would you do if you were sitting in our shoes? Mayor [Morrissey], you complimented the Chairman and all of us, saying we have a hard job here. What would you do in the remaining few weeks of this year to lead our nation away from this crisis that we are currently facing with sequestration?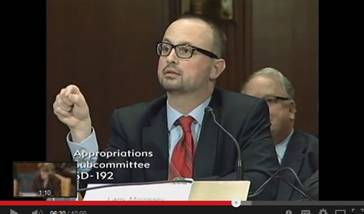 (Mayor Morrissey testifies that he is seeking flexibility.)
Mayor Larry Morrissey:
Here's the final deal that I'd take in an instant: I know we have to take cuts. But instead of just coming at it with an axe for an unintelligent whack, let's talk to local governments about what they're willing to trade off. I'll tell you what I'd cut off – you want to cut my budget, give me flexibility and hold me accountable for results and don't micromanage the process.
Backgrounder on Flexibility: Earlier this year, Senator Lisa Murkowski voted in support of the Sequestration Flexibility Act that would allow each federal agency to determine where to prioritize the cuts. She has frequently used the example of a Super Bowl flyover by the U.S. Navy that cost $450,000 – when the roof of that stadium was closed – to illustrate what would be smarter cuts to make than others.
###
---