05.16.12
General Odierno Commits to "Alaska Future" With Murkowski
U.S. Army Chief of Staff Maps Out Critical Need for Alaska, Praises STOMP Parade
WASHINGTON, D.C. –Senator Lisa Murkowski today met with United States Army Chief of Staff General Raymond T. Odierno, discussing Alaska's unique advantages that will benefit the U.S. Army as the Pentagon moves forward with an Asia-Pacific focus. During the meeting, Odierno emphasized the pivotal role Alaska plays – from a geographic perspective, as well as a training ground – and said that he will put together an "Alaska Future" team to work with her on the path forward.
General Odierno said that the United States Army will continue to sustain two brigades in Alaska (~7,500 soldiers) even as the military downsizes its forces in other parts of the country. He cited the unique tactical advantages found in the climate and terrain of Alaska, when it comes to training soldiers for warfare in wintry conditions – adding "Alaska is closer to the Pacific than most of our posts … it gives us an advantage."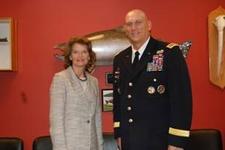 General Odierno also told Senator Murkowski how impressed he was with this past weekend's Salute To Our Military Personnel (STOMP) parade in Fairbanks, saying "I can't tell you what it means that the community would sacrifice to make such an event happen" and telling her it illustrates the unique military community engagement in Fairbanks.
###
---