07.17.13
Greely Missile Defense of "Paramount Importance" to Nation
MDA Head Tells Murkowski Missile Errors Fixed, More Missiles Being Considered Due to Iran
WASHINGTON, DC — Senator Lisa Murkowski received assurance from the head of the Missile Defense Agency today the errors that led to a recent ground-based interceptor missile test failure have been resolved, in his responses to her questions in a hearing of the Senate Defense Appropriations Subcommittee.
Murkowski also reminded the MDA that she had found the 2009 decision to cut Alaska's Fort Greely missile capacity "short-sighted" – a decision reversed four months ago – to which the MDA head responded that Greely continues to be of "paramount importance" to America's safety, especially given the threat levels being raised by North Korea.
Interestingly, MDA Head Vice Admiral James Syring repeatedly indicated more missiles may be needed beyond the 44 active ground-based interceptors envisioned by 2017, depending on whether Iran's nuclear ambitions reach a point where America needs a more robust defense.
(Click images to view excerpts)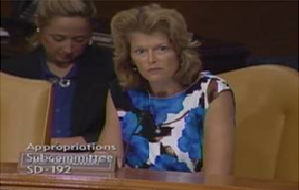 ("Paramount importance" 2:34 mark)
(Missile test failure resolved)
(Iran aggression could require more missiles)
Greely's Continued Importance:
Murkowski: I'm pleased to see the building out of the missile fields. It was absolutely my view that this was short-sighted of the administration with the previous decommissioning of missile field one at Greely. I look at this, particularly given the view of increasing threats coming out of North Korea and Iran. We cannot leave Greely at less than full capacity.
Vice Admiral Syring: The first step is for us to complete on schedule the field one refurbishment and to get those silos ready for the GBIs we're going to buy. There would be growth possibilities beyond that if we decided to go beyond 44 missiles. 44 gives us a fifty percent increase in the defense of our homeland, against a ballistic missile attack. So completing our testing, completing the missile field modifications, being ready for the reload of the missile field up to 44 [missiles] is of paramount importance to our strategy.
On the recent failed missile test:
Syring: "The newest missile will be missile tested in March of 2014. We have had two failures of that missile. We understand what the problem is through ground testing of that, it's been completed and adequately addressed. We look forward to the next test, which is on schedule."
Could more missiles be needed in the future, beyond the planned 44 by 2017?
Syring: "The 44 is important, it addresses what we are seeing from North Korea today… what you'll see is the department evaluate the need or the requirement to go beyond the 44 as we evaluate the threat from Iran."
###
---