05.22.14
Happy Birthday, Senator! Murkowski's Frankenfish Labeling Amendment Wins in Committee
Senator: Why Would We Mess With Mother Nature Like This?
WASHINGTON, DC — Senator Lisa Murkowski today received a memorable birthday present: Senate Appropriations Committee approval of her amendment requiring that genetically-engineered salmon be labeled if the Food and Drug Administration makes the "wrong-headed" decision to approve it. After Murkowski's lengthy defense and explanation of the need for her amendment and the risks posed by GE salmon, the Senate Committee approved it via voice vote and it will now be in the Senate version of the 2015 Agriculture spending bill.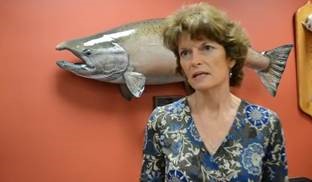 (Murkowski discusses her Frankenfish amendment passing afterwards – Click to view.)
"Why would we be messing with Mother Nature like this?" Murkowski asked her colleagues before the vote. "Why would we put so much at risk? Why would we invent a species that will outgrow our healthy natural stocks? This Frankenfish experiment puts at risk the health of our fisheries not only in Alaska, but our fisheries nationwide. I don't even think we should call this science experiment a salmon at all."
Senator Murkowski has long been a vocal opponent of GE salmon – or "Frankenfish" – due to serious concerns surrounding the science behind gene splicing of two distinct species for human consumption, but also the risks of those creatures potentially breeding with wild Alaska salmon and putting the fish industry at great risk. Murkowski is dead-set against FDA approval of these products – and lauds the retailers nationwide who have already said they won't sell GE salmon – but presented her amendment as a safety net for consumers to avoid the fish if the FDA decides to advance the fish to market.
"If the FDA continues with what I consider is a flawed approach, then they should be required to add a label that says 'this is a genetically-modified fish," concluded Murkowski.
Audio of Senator Murkowski's remarks asking for support of her amendment can be heard here.
Audio of Senator Jeff Merkley defending her bill and the committee vote
can be heard here
.
---