11.05.21
Historic Infrastructure Package Heading to President's Desk
Big Wins for Alaska in Infrastructure Bill that will Create Jobs & Boost our Economy
Today U.S. Senator Lisa Murkowski (R-AK) applauded the House passage of the Infrastructure Investment and Jobs Act, legislation she and a bipartisan group of ten Senators worked for months to negotiate, draft, and pass through the full Senate.
The bipartisan bill will upgrade and modernize our core infrastructure—making critical investments in roads, bridges, rail, ferries, ports, airports, energy, water systems, and broadband. The landmark legislation also strengthens electric grid resiliency and minerals supply chains (including for clean energy technologies), while reforming the permitting process and providing for wildfire mitigation. In total, it provides $550 billion in new spending over five years, without raising taxes, and will grow America's economy, create jobs, and push against inflation. The infrastructure package passed the Senate in August with a strong bipartisan vote and will now head to the President to be signed into law.
"This bipartisan infrastructure bill is one of the most consequential legislative efforts I have worked on in my Senate career. I am incredibly proud and humbled to have played a leading role in the creation of this legislation. The Infrastructure Investment and Jobs Act recognizes that Alaska is decades behind in having the basic infrastructure which many states in the Lower 48 take for granted. It addresses that gap by sending billions of dollars back home to put Alaskans to work building roads and wastewater systems, fixing bridges, and pioneering innovative transportation and energy technologies, all of which will benefit generations to come," said Senator Murkowski. "I want to thank the many Alaskans who worked with me in writing provisions that address the needs of both our urban and rural communities. And a big thank you to my friend and colleague Congressman Don Young, for using his influence and platform in the House to garner support to get this across the finish line. As this historic legislation now heads to the President for his signature, I look forward to working with our federal partners to make these visions on paper become a reality."
Background: Senator Murkowski recently penned an op-ed highlighting how Alaska will greatly benefit from this historic infrastructure bill. Click here for a list of Alaska highlights contained within the infrastructure bill.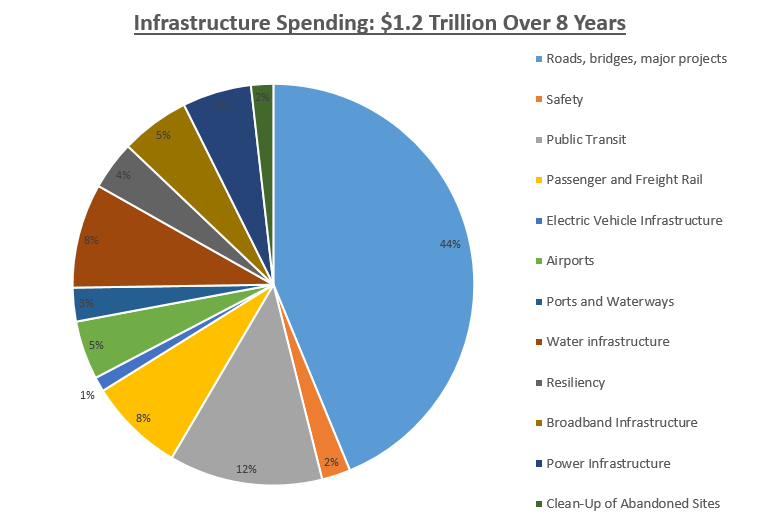 ---