02.29.12
Interior Secretary Sees "Synergies" in NOAA Restructuring
Murkowski Inquires About White House Proposal Changing Fisheries Jurisdiction
WASHINGTON, D.C. – Senator Lisa Murkowski today asked Secretary of the Interior Ken Salazar what he made of the recent White House proposal to have the National Oceanic and Atmospheric Administration (NOAA) move under the authority of the Interior Department. Secretary Salazar told Senator Murkowski he sees "synergies" in the concept and that reports indicate it is a good idea.
"On the question of NOAA and the Department of Interior, there are synergies that could be developed if there was such a consolidation but we're not looking at it until we get the authority from Congress to move forward," Salazar told Senator Murkowski. "I've seen studies from outside groups that indicate that it would be a good idea."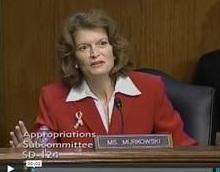 Senator Murkowski responded that "if fisheries were under the Secretary's jurisdiction, we could probably ensure better salmon dinners."
Senator Murkowski had the opportunity to ask the question during a hearing of the Senate Appropriations Subcommittee on Interior, Environment and Related Agencies – where she is the ranking Republican.
###
---