04.27.16
Land Transfer Legislation to Improve Healthcare Access Passes Senate Committee
Today the Senate Committee on Indian Affairs passed S. 2421, legislation introduced by U.S. Senators Lisa Murkowski (R-AK) and Dan Sullivan (R-AK) directing the U.S. Department of Health and Human Services (HHS) to convey property to both the Tanana Tribal Council and Bristol Bay Area Health Corporation. This land will be used in connection with health and social services programs in both Tanana and Dillingham. The land transfers will allow the Tanana Tribal Council develop a Community Wellness Center and the Bristol Bay Area Health Corporation to continue expansion of their stand-alone dental clinic.
As a member of the Senate Committee on Indian Affairs, Senator Murkowski spoke on the importance of this bill before it was ultimately passed unanimously out of the committee, saying:
"This legislation will help increase access to much needed healthcare to Alaska Natives and non-natives in two rural regions of my state. I am hopeful the administration will continue its support of both of these efforts in this proposal. Across Alaska we face many barriers to offering quality and affordable healthcare. One of these barriers is simply proximity…we must do what we can to allow tribes to provide the best healthcare possible, and whenever possible in their home communities."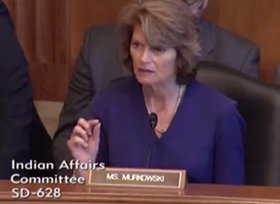 (Click image to watch video of Senator Murkowski discussing land transfer legislation.)
Julie Roberts-Hyslop, Vice President of Tanana Tribal Council, and Robert Clark, President/CEO of the Bristol Bay Area Health Corporation, testified in front of the Senate Committee on Indian Affairs in support of this legislation. The bill now heads to the floor for consideration by the full Senate. Congressman Don Young (R-AK) has introduced companion legislation in the House of Representatives.
---