10.30.13
"Marines Do This for the Marines to Their Left & the Marines to Their Right"
Murkowski Honors 25-year Marine, Kenai Peninsula Veteran Advocate
WASHINGTON, DC – Senator Lisa Murkowski is today releasing her 17th Veteran Spotlight installment today, featuring Soldotna resident Colonel John Pollock, who served in the U.S. Marine Corps from 1985 to 2010. Since serving, Pollock has been on the cutting edge of military intelligence gathering in Afghanistan and has devoted himself to helping young veterans make the most of their military benefits at Kenai Peninsula College.
During his Veteran Spotlight interview, Pollock recalls being in Quantico, VA when the Twin Towers were hit during the September 11th attacks and recalls knowing he would be gone "a long time." He says he lost a decade with his family while serving our country, as did many of the Marines he served with.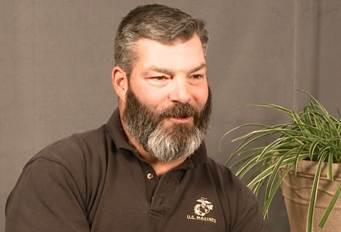 COL. John Pollock, U.S. Marine Corps veteran.
(CLICK HERE for the extended interview)
"As proud and as happy as I am with my military service, there is this gap in my life that I can never get back," said Col. John Pollock. "Still, I have absolutely no regrets about my military service. They were the best 25 years of my professional life. Marines do this for the Marines to their left and the Marines to their right."
During his 25 year Marine Corps career, Pollock did tours in Somalia and Kosovo as well as three tours in Iraq. A month after his retirement in 2010, Colonel Pollock was in Afghanistan working for General David Petraeus in the Counterinsurgency Advisory and Assistance team and the Defense Advanced Research Projects Agency. Pollock would spend the next two years traveling throughout Afghanistan perfecting intelligence operations and technologies for the U.S. Military. Today, Pollock works as the Veteran Services Coordinator for Kenai Peninsula College – a job he says is more fulfilling than he could have imagined.
"I understand the veteran students who walk through my door. I spent the last 25 years with them so I think I read them better than most just because we have a shared foundation and some shared experiences," said Pollock. "Being able to help them with their benefits, understand their benefits and get access to their benefits has been a really nice way to close out my professional military career. I have been able to give something back to a group that gave so much to me over the last 25 years. It kind of closes the circle on my career and I am probably happier doing this than anything I have done in a long, long time."
"Col. John Pollock's story is one of an American hero," said Senator Murkowski. "He has had a long and distinguished Marine Corps career that includes receiving three Legion of Merit awards and the Bronze Star. He has not only shown exemplary leadership on the front lines, he continues to serve on the home front, helping young veterans navigate their GI Bill benefits and in some cases, navigate the sometimes scary reality of PTSD. We owe it to veterans like John to honor them through sharing their stories, and we owe it to the rest of us to learn from the high levels of patriotism, commitment and service they demonstrate for us."
The "Veteran Spotlight" project is Senator Murkowski's monthly focus on an Alaska veteran of American conflicts worldwide to honor and draw well-deserved attention to Alaska's men and women who served. Today's installment is the seventeenth in the series that began on Memorial Day weekend of 2012. Every month, Sen. Murkowski posts a biography and an interview with an Alaskan who served our country abroad in conjunction with the Library of Congress' Veterans History Project. You can watch them all by clicking here.
Senator Murkowski invites all Alaskans to nominate a veteran from the 49th state to be featured in the Veteran Spotlight project. If you have a family member or friend in the community you think has a story to share, email Spotlight@Murkowski.Senate.Gov.
---