03.12.12
Murkowski Addresses Int'l Boston Seafood Show: Alaska Seafood Feeds the Nation, is Economic Engine for State
Senator Requests Coast Guard Hearing to Raise Nautical Concerns
WASHINGTON, D.C. – Senator Lisa Murkowski attended the 2012 International Boston Seafood Show over the weekend, kicking off a roundtable discussion on the seafood industry's importance to the United States – highlighting the crucial role Alaska plays in the industry with the panel of industry leaders, government officials and seafood enthusiasts.
"Alaska accounts for just over half of the entire U.S. seafood harvest, directly employing more than 50,000 workers as fishermen and processors – plus thousands more in support industries," Murkowski said. "Alaska's seafood is not just an important income source for Alaskans, but our resources also provide jobs for many other Americans who are willing to venture north each year in search of fish and adventure."
The Senator has also requested a Senate Appropriations Homeland Security Subcommittee hearing to pose several questions on how the Coast Guard's 2013 budget reflects the necessary commitment to America's Arctic future.
Below are photos from the International Boston Seafood Show – the largest annual seafood show in North America – drawing more than 15,000 attendees from over 120 countries.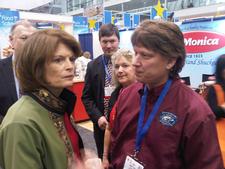 Sen. Murkowski Visits with Copper River Seafood President/CEO Scott Blake
Murkowski visits with Fred West of Tustumena Smokehouse (Soldotna, AK) and tasted his famous "Kylee's Alaska Salmon Bacon."
###
---