11.20.13
Murkowski: Alaskan Examples Bear Witness to Need for Military "Culture Change," Pushes Need for Transparency
Senator's Floor Speech: "This is Not What Zero Tolerance Looks Like"
WASHINGTON, DC — With the United States Senate debating S.1197, the National Defense Authorization Bill, Senator Lisa Murkowski today spoke on the Senate floor to continue her advocacy for S.967, the Military Justice Improvement Act (MJIA) to deliver the "culture change" on sexual misconduct within the Armed Forces that the Secretary of Defense himself has acknowledged is necessary.
Co-sponsored by Senator Murkowski in May, the bill would eliminate many obstacles faced by victims of military sexual assault who often decide not to report the crimes due to the bias and inherent conflicts of interest within the military chain of command. Repeatedly, Murkowski called for more transparency in the meting out of justice – saying that the MJIA would provide a 'breath of fresh air' in the culture.
The United States Senate is presently weighing a number of approaches to dealing with this problem, but Murkowski is backing the effort that has attracted broad political support from Senator Kirsten Gillibrand (D-NY) – the bill's sponsor – to Senators Mazie Hirono (D-HI), Rand Paul (R-KY) and Ted Cruz (R-TX).
In a floor speech meant to encourage more Senate colleagues to consider the approach taken by this bill, Senator Murkowski laid out this legislation's advantages:
The current system of military judgment relies upon the individual decisions of commanders for a decision on whether or not an offense is to be punished and which charges are to be brought. In our complex military, there are many, many commanders and while our code of military justice, may be uniform — we're seeing strong evidence that its implementation is anything but uniform.
Senator Gillibrand's approach ensures that charges will be investigated and that the charging decision will be made by disinterested military prosecutors whose only interest is that the perpetrators account for their actions, that victims' interests are protected and that integrity in the charging decisions is really paramount.
I think that this is very important. I think this is actually a breath of fresh air because the recent experiences that I have had as a Senator from Alaska with the transparency of decisions made within the chain of command I believe leave much to be desired.

Murkowski lays out advantages of Military Justice Improvement Act – Click image to watch excerpt.
Senator Murkowski then used the example of the recent fraternization and adultery investigation at Fort Greely as key reason that more transparency be introduced into how the military justice system operates. Murkowski called for a closer look at this incident where an Alaskan Guardsman was detained by his Chain of Command in order to deny his visitation rights of his child in the midst of a child custody dispute involving another Guardsman. Murkowski referred the matter to the U.S. Army Criminal Investigation Division (CID), but it was subsumed into the chain of command. Murkowski questioned this approach, asking:
Are we supposed to call this military justice? Maybe it's frontier justice. Maybe it's military justice in the last frontier. I don't like it, and I don't think that we should ever accept it. I asked the U.S. Army CID to look into this incident because it was my impression that an unlawful denial of one's freedom is a criminal offense. I understand the complaint from my office was forwarded up, but not to Army CID. It was pursued by the Space and Missile Defense Command.
I am most appreciative that an investigation was pursued. But you might legitimately ask the question, so how did it end? What's the outcome of this story? I don't know. I don't know. Alaskans don't know. We don't know. Neither I nor the individual who sought the investigation has been informed of the outcome; just we were told that the chain of command had looked into it.
Where is the transparency here?

Murkowski: Where is the transparency here? – Click image to view excerpt.
Sharing a personal anecdote, Senator Murkowski later went off her prepared remarks and shared the story of an anonymous woman who approached her at the recent 'Sochi Sendoff' event in Downtown Anchorage last weekend. The woman came to her in tears and asked Murkowski to not give up the fight to improve the protections given our men and women in uniform.
I was home in Alaska two weeks ago, it was a pretty cold Saturday afternoon, and I was at a big community event outside, where I was approached by a woman who had seen me from across the street. She was at a conference. She came across the street into the town square. She wasn't wearing a coat. I was prepared for the cold. But she wanted to make sure that I knew that she, too, had been a victim, that she had not had the strength to report. She just left, and her ask to me was, don't give up on this because I had to step down from my military career, and the perpetrator stayed on. And as he stayed on, he continued to be promoted. Here plea to me was, please don't let that continue.

Murkowski: An Alaskan woman recently told me "Please don't give up on this." – Click to watch.
Murkowski closed her floor remarks with a call to action, advocating for "profound change" in the wake of not merely the recent Alaskan examples she laid out, but decades of inaction for national accusations and controversies over the years.
I've listened to my colleagues on the floor here talk about Tailhook [scandal], we talked about so many of the other high-profile instances where we have heard our military leaders say, never again, never again – zero tolerance. They're using all the right words. But it really does cause you to question, are we to attribute this cycle that we're seeing to attention deficit on part of us here in Congress? Attention deficit on the part of our military leaders?
This is not what zero tolerance looks like.
Whatever the case, I think it's going to take some very strong medicine to break through this powerful attention deficit that we have seen historically. Incremental steps, in my view, don't cut it anymore. The young woman, again, whose military career is no longer. The woman I met out in the cold who gave up her dream and had to stand by and watch her perpetrator ascend his career ladder, incremental measures don't cut it. I think it is time for profound change.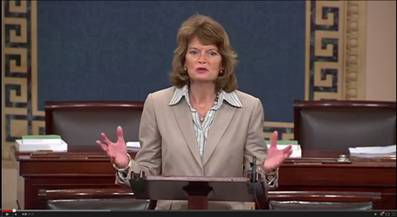 Murkowski: This is not what zero tolerance looks like – Click image for excerpt.

###
---