05.08.12
Murkowski and Young Salute USCGC Healy Captain and Crew
U.S. Coast Guard Cutter Healy Captain Briefs Capitol Hill Audience
WASHINGTON, D.C. – Senator Lisa Murkowski and Representative Don Young today welcomed the Commanding Officer of the United States Coast Guard Cutter Healy to a U.S. Capitol briefing they requested. The officer shared information surrounding the ship's emergency January mission when it cut a path for fuel delivery through miles of sea ice to Nome. Though the presentation's tone was positive, both Murkowski and Young used it as an illustration of the nation's need for a more robust Arctic fleet.
Murkowski opened the presentation by thanking Captain Havlik and her crew, observing the mission was "a reminder to us that the Coast Guard really are those every day heroes. They're the men and women who are plucking our fisherman out of the sea … They are the men and women who are making sure our fisheries are enforced. They are the men and women who are standing at the ready all the time."
"It is crucially important to remember America is not only a maritime nation – we are an Arctic nation," said Representative Young. "As the sea ice continues to thaw and the amount of vessel traffic in the Arctic increases, the Coast Guard's role will continue to grow, just as we saw earlier this year in Nome. Our investment must not and cannot stop at just icebreakers; continued investments such as a deep water port, additional shore infrastructure and communications facilities must be priorities of Congress. I look forward to working with the rest of the Alaska Delegation to ensure these investments are made sooner rather than later."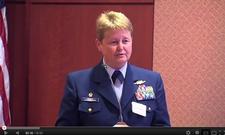 (click photos to watch video)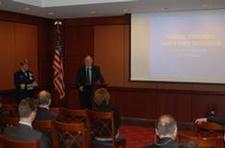 (Congressman Young's introduction)
Captain Havlik described the duties of the USCGC Healy and how soon after last November's massive storm cancelled the scheduled fuel delivery to Nome "the bottom dropped out of the thermometer" and ice formed quickly – leading to the "unprecedented undertaking" of the USCGC Healy guiding a fuel barge through the ice, with the world watching via international media.
Tomorrow, Senator Murkowski will continue to inquire about the Arctic goals of the U.S. Coast Guard at a U.S. Senate Homeland Security Appropriations Subcommittee hearing being held at her request.
###
---