06.16.15
Murkowski Assures Native Care Funding, Alaska Native Care Jobs, Rural Justice Through Interior Spending Bill
Subcommittee Chairman Leverages Position to Fulfill Trust Responsibility, Also Delivers Needed Resources to Village Built Clinics
Senator Lisa Murkowski today utilized her position as Chairman on the Interior, Environment and Related Agencies Appropriations Subcommittee to ensure that Alaska's Native health care providers will have fully funded contract support costs for the second year in a row. The forward-looking bill also separates the resources relied upon for contract support costs (CSCs) from other programs to avoid the prospect of funds being redistributed to other agencies.
Murkowski also redesigned how funding is allocated towards CSCs – after years of fighting the Obama administration's chronic underfunding of these vital programs – by programming the funds at the initial budget request, but adding that there can be "more funds as needed" if budget underestimates occur. Short-changing these programs at the Bureau of Indian Affairs (BIA) and Indian Health Service (IHS) leads to Alaska Native health facilities frequently sitting partially empty, unable to hire technicians or assistants to deliver health care.
"If last year was a promise delivered, this year is a promise fulfilled. While it was a tremendous success last year to fully fund Alaska Native hospital operations – and other tribal health centers nationwide – after years of fighting the administration to fulfill its federal trust obligation, changing the design of how these programs are funded ensures that other departments and agencies cannot touch these priorities," said Senator Murkowski. "This does two important things in Alaska: it allows the health centers to be run as they were designed to be without worrying about next year's budget, but it also provides hiring certainty and creates jobs for trained professionals to deliver first class care for our First People."
Background: Despite a Supreme Court ruling requiring it to fully fund B.I.A. and I.H.S. health facilities, the Obama administration repeatedly short-changed these programs at roughly 70 cents on the dollar, undercutting medical treatment and the hiring of staff. Through the Interior Appropriations Subcommittee and the Indian Affairs Committee, Senator Murkowski consistently pressured the Obama Administration to fully finance this legal obligation as part of the nation's trust responsibility with Native Americans, Native Hawaiians and Alaska Natives – finally breaking through with a full funding arrangement last year.
Village Built Clinics Get Upkeep Funds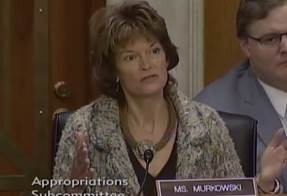 (Senator Murkowski questions Indian Health Service director on village built clinics, 3/2015)
Senator Murkowski was also able to allocate an additional $2 million to fund maintenance efforts for Alaska's approximately 150 village built clinics. Senator Murkowski has consistently pushed the Indian Health Service to support their maintenance needs and not compel them to spend medical funds on this upkeep. Some of these health centers have had to close down due to safety hazards due to lack of funds, and they are often the only source of medical care available to Alaska Natives in rural areas. Last November, Murkowski told the Indian Health Service that Alaska was running out of patience on this issue. In March, she told the I.H.S. she didn't know how much "more forceful" she needed to be, in the face of the agency's budget proposal not including maintenance funds.
Alaska's Tribal Courts See Needed Investment
Last week, Senator Murkowski decried the state of rural safety in Alaska – pointing out the shortcomings faced by victims seeking justice. In today's spending bill, Senator Murkowski was able to direct $10 million to pilot programs in the six states (PL-280 states) where the state has jurisdiction for justice procedures, to improve law enforcement and criminal justice proceedings, as was recommended by the 2013 Tribal Law and Order report.
###
---