11.15.13
Murkowski Bill Would Arm Soldiers With Information on Strain, Stress
Senator Introduces Military Mental Health Improvement Act, To Combat Suicides By Reducing Stigma Through Better Information
WASHINGTON, DC — As the United States Senate prepares to debate the National Defense Authorization Act – authorizing military pay, benefits and some policy initiatives – next week, Senator Lisa Murkowski is prioritizing our men and women in uniform by introducing S.1703, the Military Mental Health Improvement Act. This bill would clearly and comprehensively communicate exactly how their mental health records can be accessed or used throughout their career to service members when they enter the military – so that misinformation that would make them more reluctant to share problems is not given a chance to take hold.
"Military service on American soil and aboard is an intense and often life-changing experience for our troops, resulting in unseen scars that too many believe they must tolerate in deafening silence," said Murkowski. "There is a considerable stigma attached to seeking psychological help to treat the spectrum of stress and depression – where soldiers incorrectly believe their file will be flagged and their military career path will be hurt. One of the bravest things someone can do is to ask for help; I believe that improving the information flow will keep soldiers from believing they must choose between their career and their health."
More members of the U.S. military took their own lives (349) in 2012 than the number of combat casualties in Iraq and Afghanistan combined, which many mental health care providers and active duty military trace back to the stigma of seeking the care of a psychologist and the rampant myths that making that call or appointment would impede one's professional advancement pursuit.
Murkowski's introduction of the bill has already been appreciated by veterans groups nationwide. The Veterans of Foreign Wars wrote her "Although service members readily seek care for physical injuries, many are still reluctant to seek out mental health care. It is clear that the negative stigma associated with mental health problems remains a significant challenge … the VFW commends you for your leadership on this issue." The Iraq and Afghanistan Veterans of America lauded Senator Murkowski's launching of the bill in the Senate. "By relaying this information to officers and enlisted personnel at the initial stages of their military training, the bill seeks to eliminate any misunderstandings service members may potentially have should they encounter any inaccurate information during their time of service," said IAVA Chief Executive Officer and Founder Paul Rieckhoff.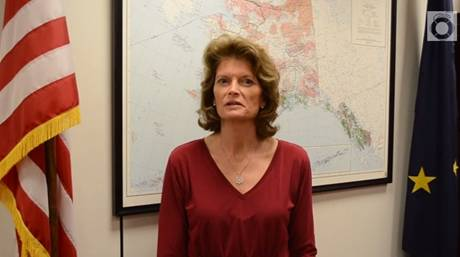 (Senator Murkowski also recently taped a mental health PSA, to provide veterans a number to call)
Senator Murkowski has made advocacy for veterans a signature issue for her, whether it be through expanding health care closer to home in Alaska, introducing legislation to ease the risks facing veterans, spreading awareness through her Veteran Spotlight or events like listening sessions and field hearings across Alaska spanning her Senate career.
---