07.17.12
Murkowski: Campaign Finance Tranparency "Critically Important"
Senator Commits to Create Balanced, Fair Solution
WASHINGTON, D.C. – Senator Lisa Murkowski today took to the Senate floor as the United States Senate considered proceeding onto the DISCLOSE Act, legislation that would require a greater degree of disclosure when it comes to sums donated to political causes. In a speech prior to the vote, the Senator noted she is very concerned about the rising influence of SuperPACs, but that the bill contained too many inconsistencies to support. Senator Murkowski closed by pledging to address this issue on a bipartisan basis with her Senate colleagues.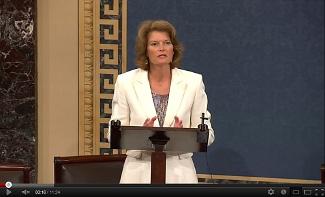 (Senator Murkowski speaks about the DISCLOSE Act on the Senate floor – CLICK to watch)

Key Excerpt:

"What we should be trying to address here is 'where is the balance' or 'where is the fairness.' Given that a $2,500 contribution to me as a candidate has to be disclosed, I don't understand why this DISCLOSE bill sets the bar for disclosure of a contribution to an independent effort to $10,000. That doesn't make sense to me.
"So where am I at this point in time? I do think that all of these issues need to be addressed in a future DISCLOSE bill. But that's not going to be happening here. .. There's no way you can reconfigure things even with the support of Lisa Murkowski that we could proceed to this bill and make those changes…
"I've already said that this is a critically important issue, but it is an issue that we will not resolve today. We should accept that fact; we have a lot to do. What I intend to do is continue the work begun months ago with colleagues on the other side of the aisle to work and resolve some of these issues."
# # #
---