05.15.14
Murkowski Celebrates National Book Week with 9,500th Book Donation to Alaskans
Senator's Deep Belief in Reading, Intellectual Development Seen in Giving
WASHINGTON, D.C. – Senator Lisa Murkowski this week is proud to commemorate National Book Week by donating her 9,500th book to Alaskan schools, libraries, tribes, and non-profit agencies that request materials. The donations have been made possible through a partnership with the Library of Congress.
"So much that I have accomplished in my life can be traced back to the love of learning that was instilled in me in Wrangell through my first grade teacher encouraging me to pick up a book and find out about the world," said Murkowski. "As a Senator, I read hundreds of pages of documents a week in order to best serve Alaska; as a mom, I read Harry Potter aloud to my sons and encouraged them to pick up a book whenever they got the chance. I'm proud to be able to promote this love of the written word across our state."
(Students at Peterson Elementary in Kodiak thank Senator Murkowski)
During her time in the Senate, Murkowski has been responsible for over 9,500 books distributed throughout the state. One of the most memorable donations was to the Alaska National Guard Operation Santa Claus, which included books among the gifts to children in Atamutluak, Mekoryuk, Northway, and Venetie. Another was a large donation to the library in Togiak, which had lost many books to an act of vandalism.
"Thomas Jefferson once said 'I cannot live without reading,'" said Murkowski. "I want every Alaskan possible to share that joy."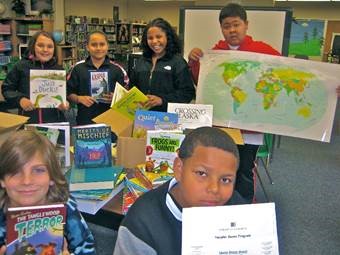 (Tudor Elementary students in Anchorage pose with their donations)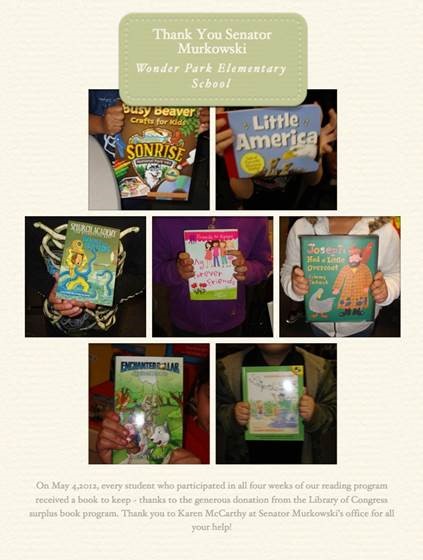 (Students from Wonder Park Elementary in Anchorage thank Senator Murkowski)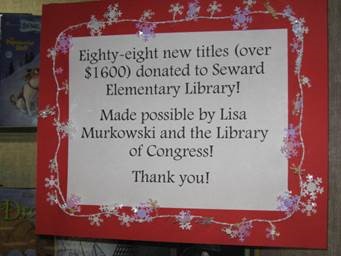 (Seward says 'Thanks' to Senator Murkowski)
---