08.04.22
Murkowski Celebrates Whittier Land Conveyance
Signals Development for Enhancing Tourism in Southcentral Alaska
U.S. Senator Lisa Murkowski (R-AK) announced the U.S. Army Corps of Engineers (USACE) signed the land conveyance for the site known as the Whittier "Tank Farm" at the Head of the Bay of Prince William Sound. Senator Murkowski championed the original legislation authorizing the land conveyance in 2009 and has advocated since for the completion of the land transfer.
The transfer of the property to the City of Whittier is a key piece of Whittier's efforts to transform and develop its waterfront for the economic benefit of the community. The transfer will enable Whittier to lease the conveyed parcels to the Huna Totem Corporation to begin cruise dock development, an investment into the tourism industry and will enhance visitor experience. A Memorandum of Agreement to develop cruise ship berthing and upland facilities in Whittier was recently signed between Huna Totem Corporation and Norwegian Cruise Line Holdings Ltd., a global cruise company which operates the Norwegian Cruise Line, Oceania Cruises, and Regent Seven Seas Cruises brands.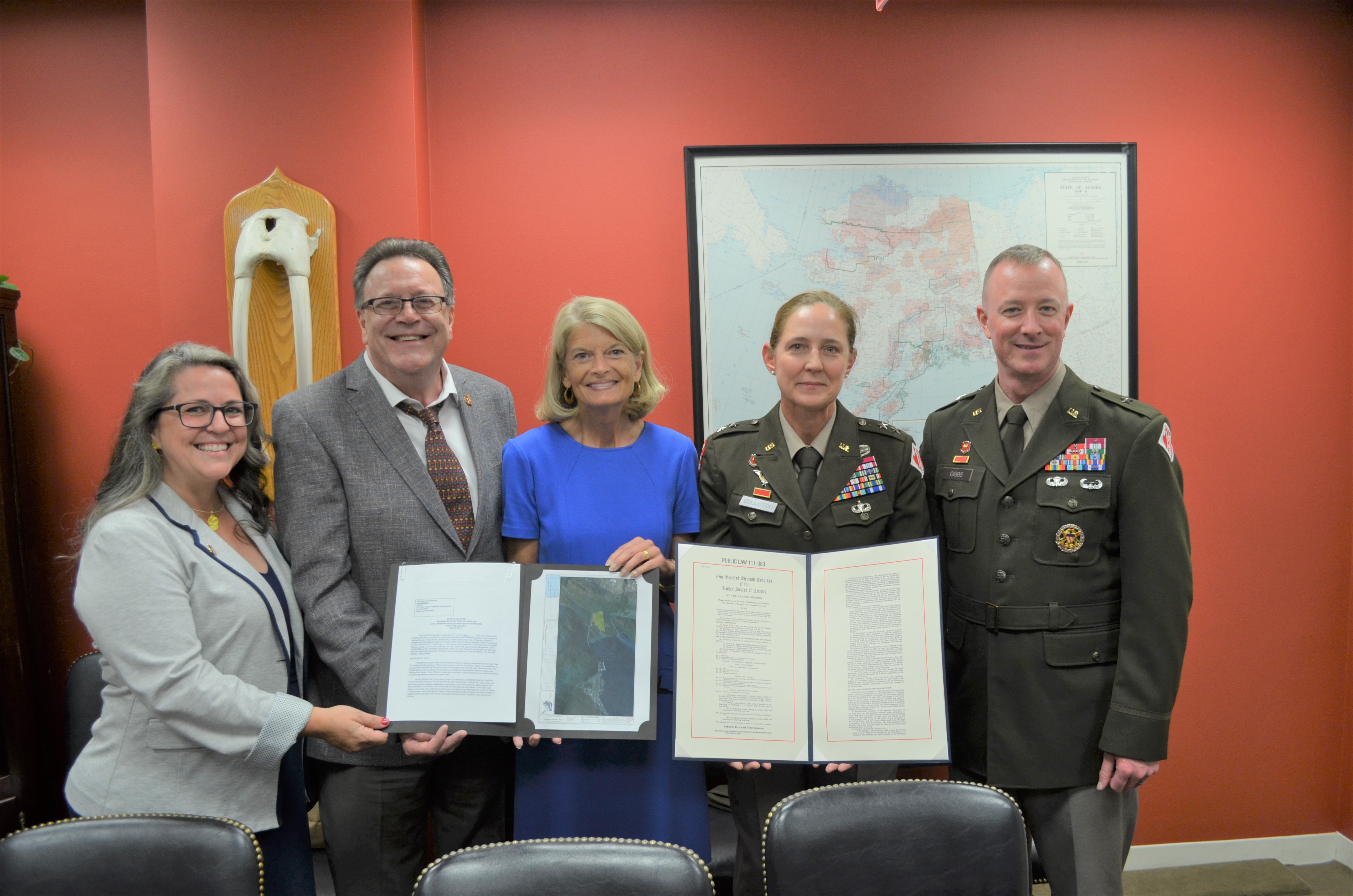 Celebrating the handover of the deed from the Army Corps of Engineers to the City of Whittier.
"Whittier has worked hard to make this project a reality. This facility will provide another cruise destination, which will not only benefit Whittier, it will bring more tourism to Alaska while alleviating the congestion we can see in Alaskan towns during the cruise season," said Senator Murkowski. "Finalizing this deed transfer to the City of Whittier is well-overdue, but it just goes to show the importance of dedication to seeing a project through from start to finish. Now that Whittier has procured this land, I look forward to seeing the next steps as a result—the work that will go into constructing a docking facility for cruise ships as well as structures for rail and bus access. The development that will go into this region is a win-win—for the visitors who come here and the economic viability of our Southcentral communities."
"We are encouraged to get to this point with the conveyance of the 'Tank Farm' as this has been a project many years in the making. This land transfer, with Senator Murkowski's help, is such a key component for our eco-economic development project with Huna Totem and Norwegian Cruise Line in making Whittier at tourism destination at the Head of the Bay. The benefit to our community, and tourism in Alaska, is immeasurable," said Jim Hunt, Whittier City Manager.
---