07.24.12
Murkowski Comment on Expanding Natural Gas Use in Vehicles
WASHINGTON, D.C. – U.S. Sen. Lisa Murkowski, R-Alaska, today spoke about the potential benefits of increasing the use of natural gas in the transportation sector, as well as the danger that government intrusion in the marketplace could jeopardize continued increases in natural gas production.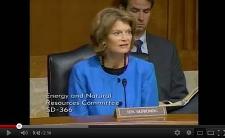 Click photo to play video
"Our interest today is in hearing about both the existing federal barriers but also in what federal policies threaten the ability of entrepreneurs and innovators to compete in the marketplace for vehicles," Murkowski said.
Murkowski made her comments at Tuesday's hearing of the Senate Energy and Natural Resources Committee. Murkowski is the ranking Republican on the committee.
###
---