03.07.19
Murkowski Congratulates Don Young on Becoming Longest-Serving Republican in History
U.S. Senator Lisa Murkowski offered her congratulations to her Alaskan colleague Congressman Don Young, who reached the milestone of becoming the longest-serving Republican in the history of Congress. Congressman Young has honorably served in the House of Representatives for 46 years.
"My dear friend and colleague Congressman Don Young continues to make history. Congressman Don Young is now officially the longest serving Republican member of Congress in history and the 9th longest serving member overall. Don has clearly made his mark in the House. When you think about the legislative accomplishments for Alaska --- there is nothing that Don Young didn't lead on in the House, whether it's on issues such as ANWR, King Cove, and the Trans-Alaska Pipeline, or so much else." said Senator Murkowski. "Don Young has truly earned this distinction and working alongside of him has been an extraordinary privilege. I thank him for what he has done for all of us over all these years, and continues to do to this day. Congratulations again to Don – our Congressman for all Alaska."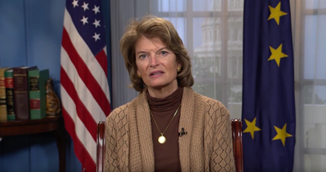 Click the image above to watch Senator Murkowski's remarks.
Background: Congressman Don Young earned the honor of Dean of the House in January of 2018 after becoming the House of Representative's longest current serving member. According to Congress.gov, Congressman Young has sponsored 1,110 pieces of legislation and co-sponsored 5,640 bills.
---