03.15.11
Murkowski Congratulates John Baker and His Team on Winning the Iditarod in Record Time
WASHINGTON, D.C. – U.S. Sen. Lisa Murkowski, R-Alaska, today congratulated John Baker and his team on winning their first Iditarod Sled Dog Trail Race:
"I congratulate John and his team on their amazing victory in this year's Iditarod sled dog race. After ten days of racing the extraordinary 1049 mile span of terrain from Anchorage to Nome, John Baker of Kotzebue has crossed the finish line to victory ahead of his 61 fellow competitors. His team of four-legged athletes gave an amazing performance from start to finish through freezing temperatures, punishing hills, howling winds, and snow."
"Today marks a special day for all Alaskans and particularly those who live in Northwestern Alaska, and I wish I could be home to celebrate. Each year, the Iditarod celebrates the unique history of our great state and reminds us that in Alaska, the impossible is possible and that fearless courage makes heroes. I send my very best wishes to John and his family today as he celebrates his well-deserved victory in Alaska's great race."
Attached are photos of Sen. Murkowski with John Baker and his team of canine athletes at the ceremonial start of the Iditarod in downtown Anchorage.
###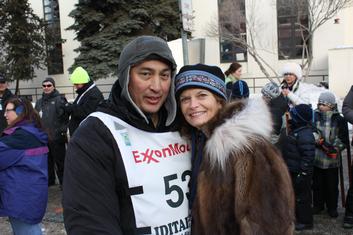 ---