07.10.14
Murkowski Critical of Administration Governing By Crisis
Senator: Do We Have a Strategy and a Plan Moving Forward?
Senator Lisa Murkowski today questioned a number of Cabinet officials about the crisis at the U.S./Mexico border – as tens of thousands of unaccompanied minors are entering the U.S. from Central America – asking why they waited for the slow-motion migration to reach "emergency" status to seek a $3.7 billion increase in funding to combat the problems.
At the outset of her questioning, Murkowski noted the gradual rise of the numbers of youth entering the country illegally over the years indicating the administration should have addressed and resolved this issue long ago, rather than coming before Congress and portraying the request as a sudden development.
"We've seen these numbers grow from 24,000 in 2012 to 38,000 in 2013 to 52,000 in 2014 and actually now 57,000. I'm frustrated and I'm concerned … and can't understand why we have not had you before us prior to this time," she told Secretary Johnson. "Why is it now part of an emergency supplemental request, and to hear the testimony from both secretaries about the very immediate need to act" before Congress departs for August.
The appropriations request is part of a two-prong strategy announced by the President last month to stop the flow of illegal immigrants from Central America. The second part is legislation to make it easier to deport those without legitimate claims to asylum in the U.S. The administration still has not submitted that legislative proposal.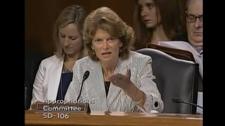 (Murkowski: "Frustrated and concerned" by crisis at the border – Click to watch.)
Later, Murkowski asked point blank if the administration had a plan to go along with its multi-billion dollar request, saying "My question to you, Ms. Burwell, is do we truly understand what the strategy and the plan is going forward beyond August? We haven't seen legislation from the administration, we're making the assumption the numbers are going to continue to grow, and that's why we're going to need the request that you have in your budget."
When Secretary Burwell attempted to answer Murkowski's question by saying the administration hopes to be able to stem this tide through the legislation, Murkowski interrupted her by saying "We need to do more than hope for a policy."
---