03.07.12
Murkowski Discusses "Road Map to the Arctic" With U.S. Navy
Senator Asks U.S. Navy Secretary Mabus about Arctic Future, Need for Law of Sea Treaty
WASHINGTON, D.C. – Senator Murkowski today asked Secretary of the United States Navy Ray Mabus whether the Navy is fully considering Alaska's evolving Arctic opportunities in its future plans – particularly with the shifting focus towards Asia and the Pacific.
"We've got 5,580 miles of coastline that touch the Arctic and Pacific Oceans. As we all know, this coastline is becoming more accessible – which presents opportunities, but challenges as well," said Murkowski. "Can you inform me what the Navy has been doing to get up to speed on the changing Arctic and what the near term holds for Navy involvement?"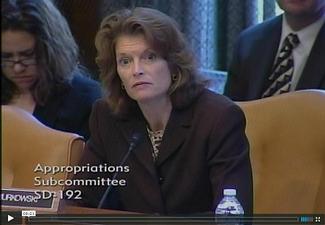 (Click video to watch)
Secretary Mabus told the Senator that the Navy has a "Road Map to the Arctic" plan they are following for the future, doing submarine exercises in the Arctic and conducting at least three ongoing operations in the Arctic – but that ratification of the Law of the Sea Treaty would be helpful in giving them a "seat at the table" and allowing them to stake claims and move forward to enable new military and commercial operations.
###
---