11.29.13
Murkowski Encourages Alaskans to Shop Small this Saturday
Alaska's Small Businesses "Know Us Because They Are Us"
WASHINGTON, D.C. –
Senator Murkowski shared a message supporting Small Business Saturday.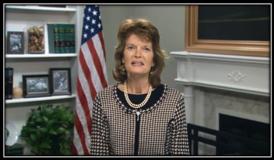 Click on the image above to watch her video message
"This Saturday, November 30th, is small business Saturday across America. We know by now that the Friday after Turkey Day is known affectionately as Black Friday. With people who set their alarm clocks way too early and shoppers stampeding for bargains at the same big box stores. But I'd like to urge you, on Saturday, to get out and support the local businesses that rely on continued community support to thrive.
"Small business Saturday is an opportunity to revitalize each and every Alaskan. Local businesses understand the community better than most and their connection to all of us can be seen in their selection of products and services. They know us because they are us.
"Because they are us, when you and I visit a local small business and support them. That money stays home, it stays in Alaska. It doesn't go to the corporate offices in the lower 48. It stays with the employees, with the owners, with the managers and it gets pumped right back into the local economy.
"So I encourage you to enjoy the local business community to the fullest. Start your day with a cup of coffee from your favorite barista with a great blend roasted there in town. Go find that unique Alaskan holiday gift that you're not going to find any national chain carrying. Buy it for your loved ones and celebrate - say this is homegrown, this is local. Or start a new home improvement project with a can of paint from the local hardware store.
"Empower local businesses this Saturday and connect to your community. I know that's what Verne and I are going to do."
###
---