07.18.12
Murkowski Gets Transparency Pledge from Next USAF Chief of Staff
Welsh Tells Senator to Expect a Different Kind of General
WASHINGTON, D.C. – Senator Lisa Murkowski today met with General Mark Welsh III, recently nominated to be the next Chief of Staff of the U.S. Air Force. Over the course of the meeting, Welsh agreed with Murkowski that recent developments in Alaska have created a level of tension – committing to a higher level of transparency and collaboration. Senator Murkowski said Alaska's relationship with the military remains strong, and looks forward to working with him.
In a meeting held at Senator Murkowski's request, the two discussed at length the Pentagon's new Asia Pacific vision for military focus – and Alaska's prime position in that new worldview. General Welsh said he expects his first official trip will be to the Pacific Area, if confirmed, and he is looking forward to a first-hand tour of Alaska's Air Force capabilities.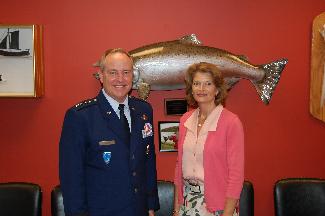 (Senator Murkowski and U.S. Air Force Chief Nominee General Mark Welsh III)
Welsh told Alaska's Senior Senator – who sits on the Senate Defense Appropriations Subcommittee – he believes the F-22 fleet is properly positioned in Alaska's skies, and that the JPARC training facilities are the source of growing interest from our coalition allies because of Alaska's singular environment and geography.
Senator Murkowski continued to advocate Alaska as a prime location for the Air Force's new KC-46 refueling tanker, a basing decision that should be determined during General Welsh's tenure as Chief of Staff of the Air Force.
In the wake of the tumultuous decision-making process surrounding the proposed move of the F-16 Aggressor Squadron, Senator Murkowski observed that this was a "difficult time" in the Alaska-Air Force partnership. General Welsh responded that he plans to be a different kind of General and pledged to work more openly with Alaska's delegation and the Alaskan communities.
General Mark Welsh III is set to be confirmed by the Senate Armed Services Committee on Thursday.
---