12.13.13
Murkowski Helps Bring State of the Art Cancer Technology to Alaska
Senator Cuts Through Red Tape, Allows Procedures to Start Next Week
ANCHORAGE, AK – Senator Lisa Murkowski's office this week helped a local cancer treatment center bring a state of the art machine online that will allow for the treatment of some brain cancers without ever cutting into the patient's skull.
It is called a Gamma Knife, and it focuses 200 tiny beams of radiation directly at a tumor with minimal impacts to the surrounding, healthy tissue. Previously, Alaskans needing this type of brain cancer treatment were forced to travel to Seattle on their own dime; paying for travel, hotel, meals for 3 to 4 days plus the emotional toll of being away from home and family during a major treatment for a serious disease.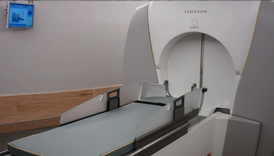 The Gamma Knife at the Anchorage Radiation Therapy Center
(Click on the image for video of doctors discussing the importance of the Gamma Knife in Alaska)
Bringing the technology to Alaska has taken years and a specially designed bunker had to be constructed to house the machine at the Anchorage Radiation Therapy Center. But last minute bureaucratic hurdles from the Nuclear Regulatory Commission threatened its operation. Red tape Sen. Murkowski's office found a way to overcome. Now, four Gamma Knife procedures, the first of their kind in Alaska, can happen as scheduled next week.
"We were under the impression from the Nuclear Regulatory Commission that everything was a go, and then they discovered that there was some additional paperwork that they needed," said Dr. Stephen Settle, Medical Director of the Gamma Knife Program at the Anchorage Radiation Therapy Center. "That was going to take some great length of time to resolve and Sen. Murkowski cut through that very quickly. Now those patients who are scheduled for procedures next week can still get them thanks to Sen. Murkowski."
"With this machine and this technology, we hope to treat 50 to 75 patients a year," said Dr. Richard Chung, President of the Anchorage Radiation Therapy Center. "That means 50 to 75 Alaskans who won't have to travel out of state to get the treatment they need. This would not have been possible without the Senator's help."
# # #
---