05.05.20
Murkowski Honors National Day of Awareness on Missing and Murdered Indigenous Women
Calls for Moving from Awareness to Action
Building on her years-long effort to shine a light on the crisis of missing and murdered Indigenous women (MMIW), U.S. Senator Lisa Murkowski (R-AK) joined U.S. Senator Steve Daines (R-MT) in introducing a resolution to designate May 5 as the National Day of Awareness for Missing and Murdered Indigenous Women and Girls. The resolution acknowledges the lack of data on the number of missing American Indian and Alaska Native women and calls upon Americans to commemorate the lives of those missing and murdered and to demonstrate solidarity with the families of victims in light of those tragedies.
Today, on this day of MMIW awareness, Senator Murkowski spoke on the Senate floor to speak to the reality facing Indigenous women and girls in Alaska and across the nation, to honor the those who have been lost to the crisis or are still missing, and to speak to the need to move beyond awareness, to action.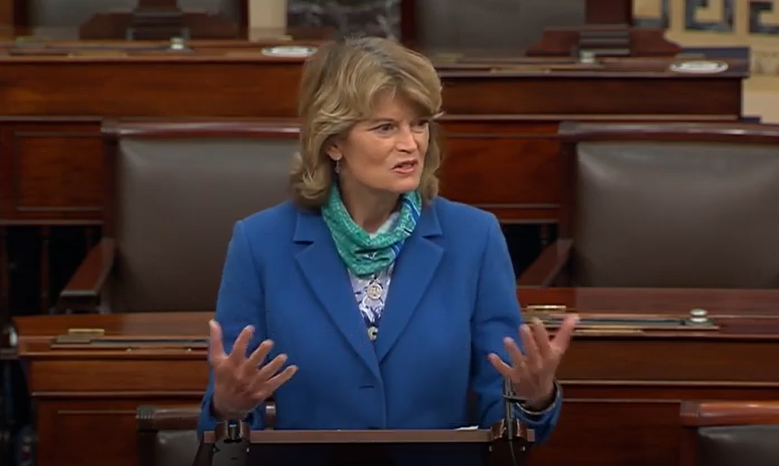 (CLICK HERE for video of Senator Murkowski's full floor speech.)
"Today we recognize the devastation that so many families have seen when it comes to those that they love who have been murdered or gone missing. And unfortunately for far too long there has been silence on this issue. There has been a failure to act in face of what we know—and sometimes not knowing what—we are dealing with, because we haven't asked the questions, which is equally problematic. We should mourn the promise these missing or murdered women meant to our communities as the next generation of mentors, role models, and change makers. So when we designate a day as a day of awareness, awareness of those that have gone missing or have been murdered, it has to be more than awareness, it's about action."
During her remarks, Senator Murkowski thanked her Senate colleagues for prioritizing the need to urgently address the crisis of missing, murdered, and trafficked Indigenous women by taking up and passing Savanna's Act and the Not Invisible Act, both bills she led with Senator Cortez Masto to combat the epidemic. Murkowski stressed the need for the House of Representatives to now act on these legislative measures so they can be signed into law. Murkowski also spoke to the impact of COVID-19 shelter in place orders on domestic violence rates in Alaska, and urged for addressing the uptick in cases to be a top priority.
"Unfortunately and sadly, the order to shelter in place—or the terminology "safer at home" used by some communities—does not necessarily mean safe at home for far too many. Shelter in place is not necessarily a safe shelter. We are seeing increased calls to police departments during this time, but interestingly enough what we're not seeing is an increase in those who are seeking help or shelter in our women's shelter," said Senator Murkowski. "At a time when people feel fragile, and yet are afraid to seek that help because of the exposure it may give them to something else. We have work to do in this area and that's something that I intend to focus on in the days and weeks to head."
BACKGROUND:
On March 11, 2020, the U.S. Senate unanimously passed Savanna's Act and Not Invisible Act, both led by U.S. Senators Lisa Murkowski and Catherine Cortez Masto (D-NV). The bills are now before the U.S. House of Representatives for consideration.
Savanna's Act, sponsored by Senator Murkowski and co-led with Senator Cortez Masto, improves coordination among all levels of law enforcement, increases data collection and information sharing, and empowers tribal governments with access to the necessary law enforcement databases in cases involving missing and murdered indigenous women and girls, wherever they occur. The legislation, originally introduced by former U.S. Senator Heidi Heitkamp of North Dakota with Murkowski as a cosponsor, is named for Savanna LaFontaine-Greywind, who was abducted and killed in 2017 in Fargo, North Dakota.
Not Invisible Act, sponsored by Senator Cortez Masto and co-led with Senator Murkowski, improves engagement among law enforcement, tribal leaders, federal partners, and service providers. The bill also designates an official to coordinate efforts across agencies and establishes a commission of tribal and federal stakeholders to make recommendations to the Department of Interior and Department of Justice on combating the epidemic of disappearances, homicide, violent crime and trafficking of Native Americans and Alaska Natives.
In addition to legislative efforts, Senator Murkowski has worked as an appropriator to secure funding to address the crisis. In December of 2019, the President signed into law a funding package which included for the first time, funding secured by Senator Murkowski to address the crisis of missing, trafficked, and murdered Indigenous women. Specifically, $6.5 million is included for the Bureau of Indian Affairs (BIA) to take a comprehensive look at the issue across the BIA and Indian Health Service (IHS), which includes funding for cold case work, background checks, equipment needs, training, and a directive for the IHS regarding forensic training. The bill also includes language directing coordination and data collection among Tribal, local, state, and federal law enforcement.
---