08.24.23
Murkowski Hosts Attorney General Garland in Galena and Anchorage
Department of Justice Reaffirms Commitment across the Federal Government and with Alaska Native Communities to Meet Public Safety Challenges
U.S. Senator Lisa Murkowski (R-Alaska) recently welcomed U.S. Attorney General Merrick Garland to Galena and Anchorage on a rural and public safety tour of Alaska, highlighting the need for the Department of Justice to continue its commitment to supporting public safety and justice solutions.
Senator Murkowski, who played a leading role in the 2022 reauthorization of the Violence Against Women Act, highlighted the immense law enforcement and justice challenges that rural and Native communities in Alaska face. She shared with Attorney General Garland the devastating statistics that show staggeringly high rates of interpersonal violence, domestic violence, and sexual assault that are occurring in rural communities. While rural Alaska faces a dire public safety crisis, there are still as many as one in three Alaska Native villages that lack any law enforcement presence.
Galena – Anchorage
While in Galena, Senator Murkowski and Attorney General Garland participated in a community roundtable with leadership from the area, including Chiefs from Louden, Huslia, Tanana, and Minto; Galena's Mayor and City Manager; and the Tanana Chiefs Conference Chief/Chairman and Public Safety Manager. The roundtable allowed for leadership and public safety staff from the tribes, city, and state to highlight the unique logistical law enforcement challenges facing villages off the road system. Participants discussed the way the Department of Justice can continue and improve efforts to support rural law enforcement, public safety infrastructure, and Tribal self-determination.

Attorney General Garland and Senator Murkowski at a roundtable in Galena.
Attorney General Garland and Senator Murkowski also participated in a tour of Galena, where they visited students at the Sidney Huntington School. They also viewed innovative energy projects in the community, the local store, Galena courthouse, and the Yukon-Koyukuk Elder Assisted Living Facility.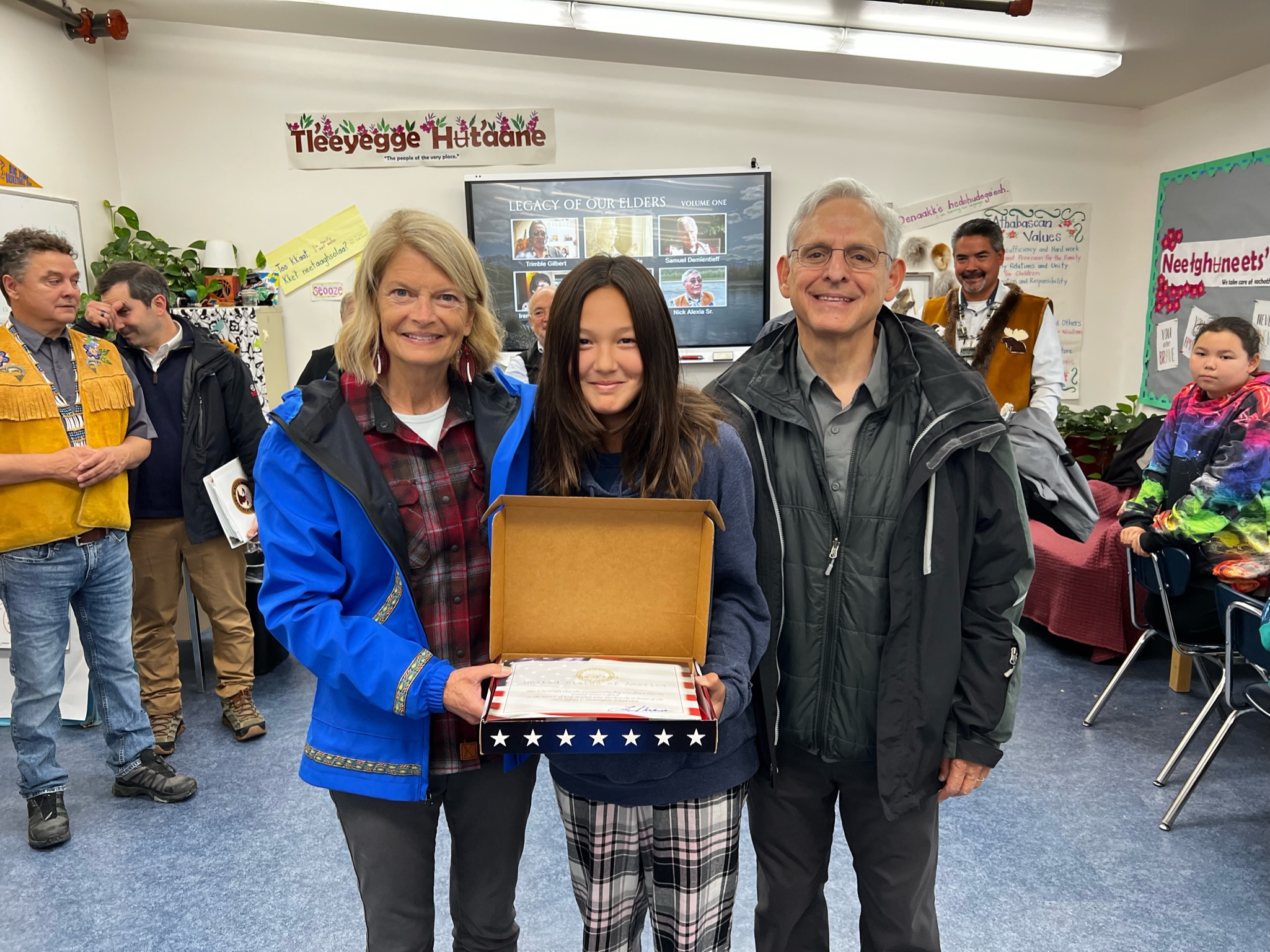 AG Garland and Senator Murkowski present a flag to Sidney Huntington School in Galena.
AG Garland and Senator Murkowski with the students of Sidney Huntington School in Galena.
AG Garland and Senator Murkowski visit a grocery store in Galena to examine the high cost of groceries.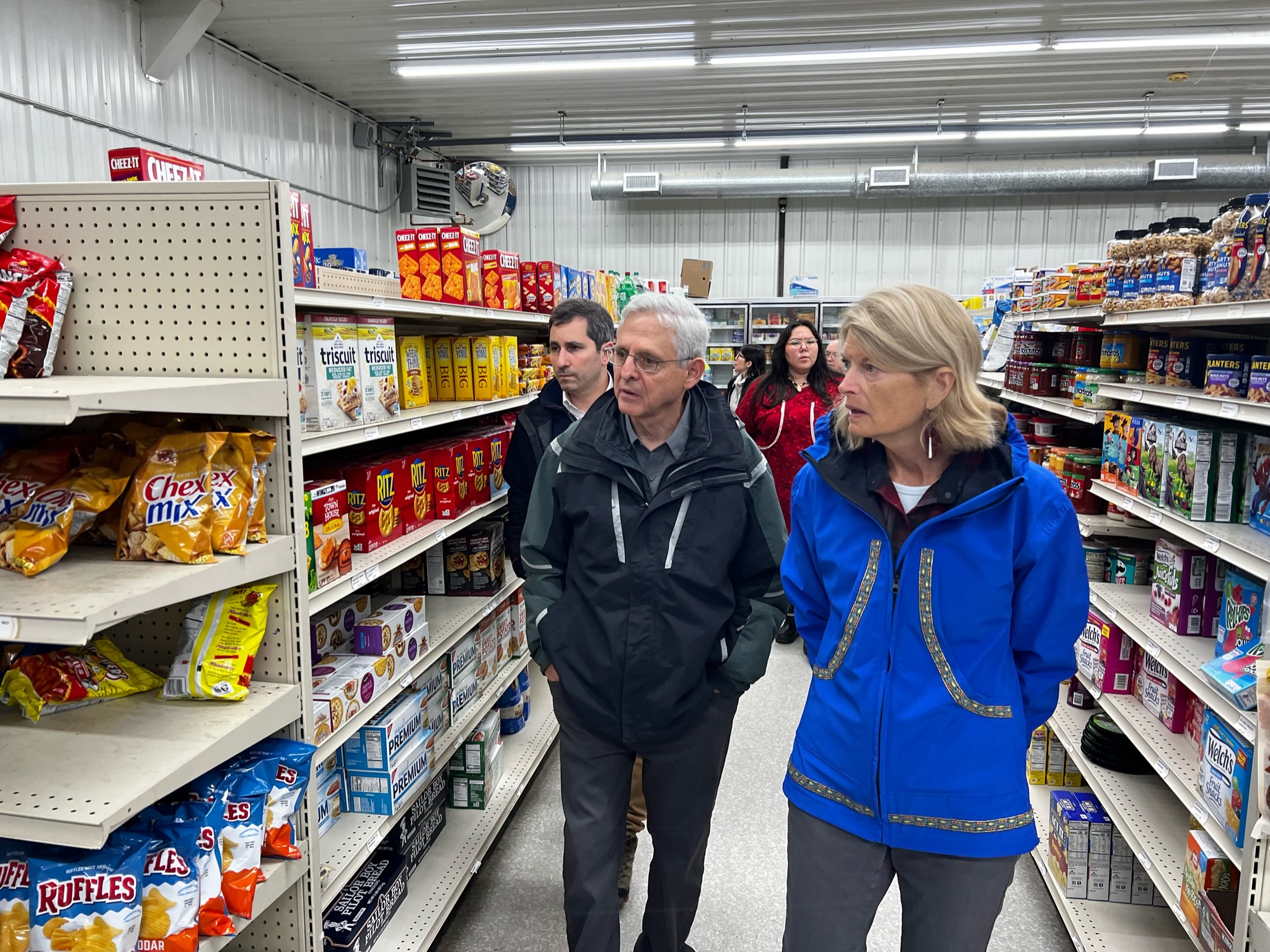 Attorney General Garland and Senator Murkowski ended the day in Anchorage, where they met with Alaska Native leaders and advocates in a roundtable focused on working together to create a path forward in addressing the public safety crisis in Alaska. At the roundtable, Attorney General Garland recognized that Alaska Native families and communities have faced persistent and high levels of violence and that women and girls have borne that brunt of that violence. At the roundtable, he reaffirmed the Justice Department's commitment across the federal government and with the Alaska Native communities to meet these urgent challenges.  He also announced $22 million in grants through the Justice Department's Office of Victims of Crime that will work serve victims of crime in communities across Alaska.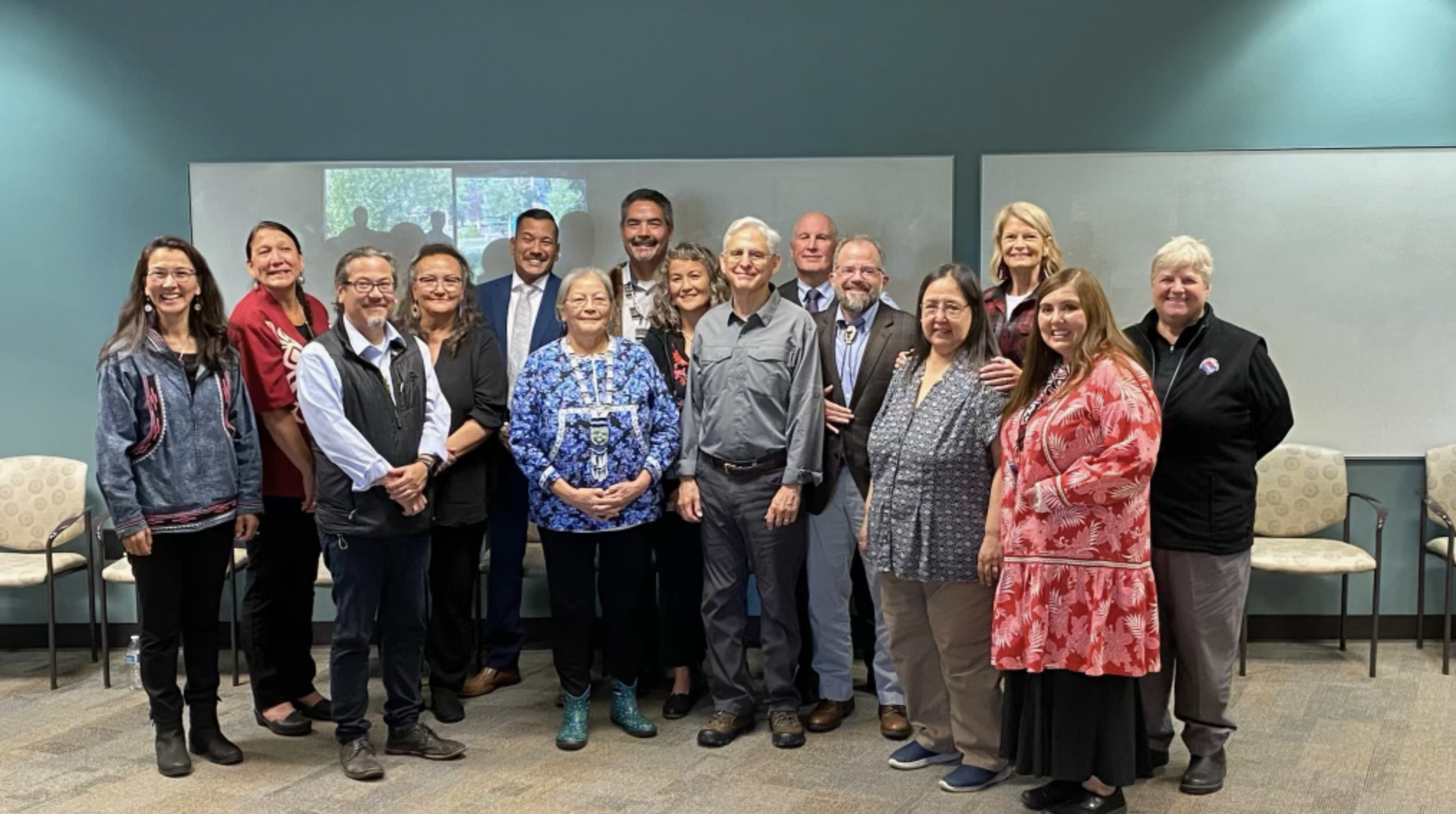 Roundtable participants included: Senator Murkowski, Attorney General Garland, U.S. Representative Sattler Peltola, Joe Nelson, and  Ana Hoffman, AFN Co-Chairs; Brian Ridley, Tanana Chiefs Conference, Chief/Chairman; Julie Roberts-Hyslop, Tribal Chief, Tanana; Alex Cleghorn, Alaska Native Justice Center; Tami Jerue, Executive Director, Alaska Native Women's Resource Center; Michelle Demmert, Not Invisible Commissioner; Vivian Korthuis, President, Association of Village Council Presidents; and James Cockrell, Commissioner, Alaska Department of Public Safety.
---