06.04.19
Murkowski Hosts U.S. Attorney General William Barr in Alaska
Rural Trip to Bethel and Napaskiak to Discuss Public Safety, Law Enforcement
U.S. Senator Lisa Murkowski (R-AK) recently welcomed U.S. Attorney General William Barr to Alaska for a visit focusing on law enforcement and public safety issues. During Attorney General Barr's four-day trip, Senator Murkowski facilitated meetings in both Bethel and Napaskiak to emphasize the public safety challenges faced across Alaska due to the lack of local law enforcement as well as to help shed light on the severity of the issue of missing and murdered Native women and girls.
"It was an honor to have Attorney General Barr in Alaska, and I thank him for making so much time to make this significant trip. It's important to discuss these issues in Washington D.C., but it is so impactful to see them firsthand and to hear directly from those who have suffered due to the lack of public safety," said Senator Lisa Murkowski. "This visit made clear to the Attorney General that the system that is currently in place to provide basic public safety is just not working for many rural Alaskans. That's something that we can and must work collectively with tribes, local residents, the state, and at the federal level to address. These communities aren't asking for all the bells and whistles—they are just asking for the most basic needs and basic human rights, to be met."
"It is my responsibility as the Attorney General to serve all people of the United States and to ensure that our justice system is working for people in every state and in every community across America," Attorney General William P. Barr said. "That is why I was pleased to join Senator Murkowski in visiting Bethel and Napaskiak, Alaska. As we heard repeatedly during our visit, rural communities face unique law enforcement challenges, including scarcity of resources. Nowhere are these challenges more acute than in Alaska. After our visit, we are more determined than ever to work together to overcome these challenges and to provide every Alaskan with the safety and peace of mind that they deserve. I would like to thank Senator Murkowski for highlighting these issues for me and the Department of Justice."
While in Bethel, Senator Murkowski and Attorney General Barr toured the Tundra Women's Coalition (TWC), one of only two women's shelters in the Yukon-Kuskokwim region (the size of the state of Oregon), which works to empower women and provide a safe environment for women and children. Following their tour of the facility, Murkowski and Barr held a roundtable discussion with members of the TWC staff to discuss their efforts to get women in danger to safety and to remove barriers to justice for victims of domestic violence.
Viewing an examination room at the Tundra Women's Coalition.
Taking part in a roundtable discussion with the Tundra Women's Coalition staff.
In Bethel, Senator Murkowski and Attorney General Barr also joined a roundtable discussion hosted by the Association of Village Council Presidents (AVCP), a regional non-profit tribal consortium that represents the 56 federally recognized tribes of the Yukon-Kuskokwim Delta. James Paul, AVCP Vice Chair from Napaskiak, shared alarming stories that occurred in their communities as a result of a lack of law enforcement—ranging from violence against women and children to the death of community members. AVCP presented Senator Murkowski and Attorney General Barr with an in-depth, culturally relevant proposal which aims to develop seven sub-regional public safety centers across the region.
Sitting down with AVCP to discuss public safety initiatives for the YK-Delta Region.
Taking part in the traditional "Qaspeq Friday" photo, after AVCP gifted Attorney General Barr with his first Qaspeq.
Following their time in Bethel, Senator Murkowski and Attorney General Barr traveled to Napaskiak, a village of 500, accessible only by riverboat in the summer or snow-machine in the winter. According to a study conducted by the Anchorage Daily News and ProPublica, at least one in three communities in Alaska have no local police and the number of Village Public Safety Officers is at an all-time low. Napaskiak is one of many communities in Alaska that suffers from a lack of local law enforcement.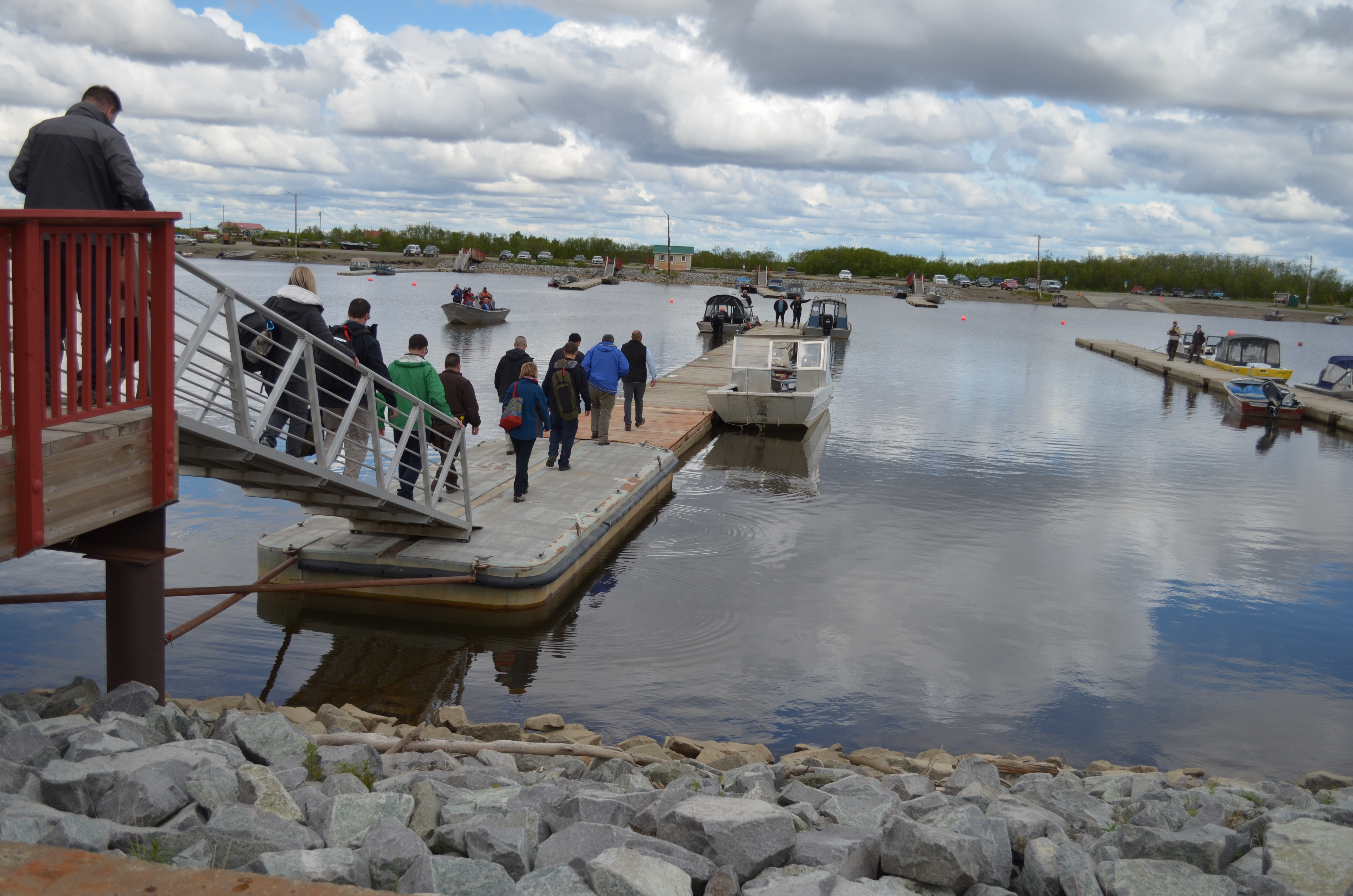 Senator Murkowski and Attorney General Barr loading boats in Bethel to travel to Napaskiak.
While in Napaskiak, Senator Murkowski and Attorney General Barr met with local law enforcement—two new Tribal Police Officers, neither of whom have received any training, both under the age of 21—who are equipped with only handcuffs to help restrain disorderly individuals. Murkowski and Barr also viewed the police department's holding cells, used to detain criminals and hold intoxicated individuals until they are sober enough to return to the community.
Holding cells inside of the Napaskiak Police Station.
Discussing public safety Tribal Police Officers and local law enforcement.
Attorney General Barr and Senator Murkowski also joined a community meeting at the local school where they heard compelling testimony from Steven Maxie Jr, Napaskiak's tribal chief, who emphasized the severity of public safety issues. Other leaders who spoke echoed his sentiment and asked for more federal support for local law enforcement to help counteract the impacts of substance abuse and domestic violence. Murkowski and Barr also heard from youth leaders and watched Napaskiak youth perform traditional songs and dances.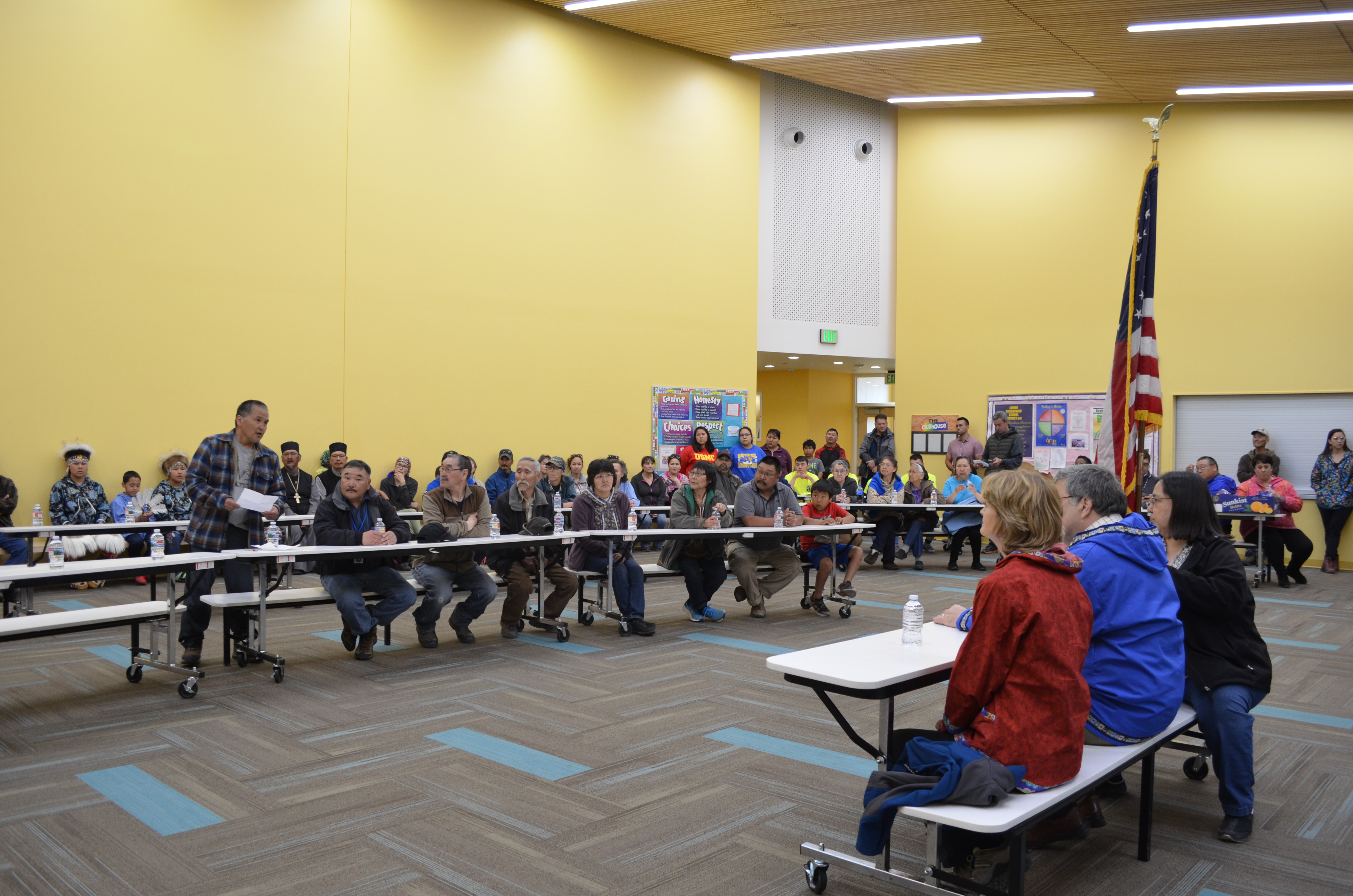 Taking part in a community meeting in Napaskiak.
Visiting with the Napaskiak youth following their performance of traditional song and dance.
Local children helping escort us throughout the village.
---