11.14.13
Murkowski "Incredulous" at Indian Health Service's Failure to Fully Fund Native Health Clinic Contracts
"I Feel Like I Am Fighting the Administration" to Abide by Supreme Court Ruling
WASHINGTON, DC — Senator Lisa Murkowski today had a candid exchange with the Director of the Indian Health Service over the Obama administration's continuing refusal to fully fund the contract support costs for tribal health care providers nationwide, saying she is "incredulous that we are still living through this" fight. Contract support costs are the operational costs of tribes to manage tribal health programs –including personal management systems, liability insurance, and facility support costs. Last year, the Supreme Court ruled in the case Ramah vs Salazar that tribes should be fully compensated to for the operation of self-governance contracts in delivering the promises of the Federal trust responsibility.
Murkowski also rebuffed President Obama's recent comments at the White House Tribal Nations Summit acknowledging his administration is shortchanging native tribes but seeking answers. "I went to the summit to focus on what the President would say about Contract Support Costs. The President said 'I hear you loud and clear and we need to find answers,'" recalled Murkowski in her introduction. (clip below) "We don't need to find answers; I think the Supreme Court laid it out very clearly – full reimbursement must be provided."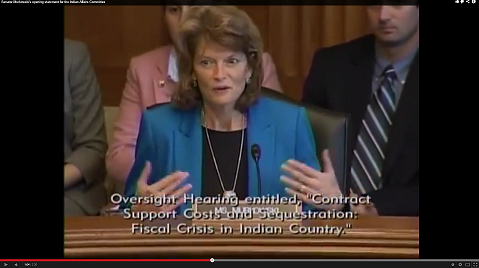 (Murkowski on Obama claim: Supreme Court's decision requiring full funding was "unequivocal" – click image to watch statement.)
When the time came for questioning witnesses, Murkowski again referred back to the Ramah ruling when she opened her line of questioning. She focused on the administration's continuing practice of shortchanging tribes despite the Supreme Court ruling. "I am still incredulous that we are still living through this. I had to work with my colleagues here in the Senate and on the House of Representatives side of Capitol Hill to keep that language out of the current continuing resolution (CR) because the administration was insisting on putting it in," Murkowski said. "You say you're listening, but you still keep capping funds in the C.R…. I want to know whether the administration is planning to propose the same language in this year's budget, capping contract support costs."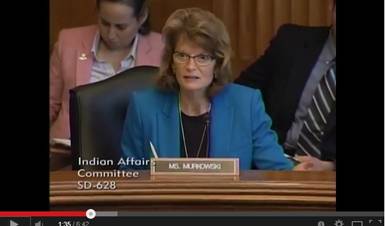 (Murkowski 'incredulous' at the continuing refusal to fully fund contract support costs – click image to watch statement.)
IHS Director Yvette Roubideaux then testified to Senator Murkowski about the extent that the agency was consulting with tribes when mapping out future budgets. Challenging the director's testimony, Murkowski said she has been informed that the "Indian Health Service is going to be limited to a 2% sequestration cut in FY14 if a sequestration proceeds under the Budget Control Act - is that your understanding?" When Roubideaux responded that she did not have final information about the funding levels, Murkowski interrupted her with a follow-up question "So our tribal health providers actually have more information than you do about this?"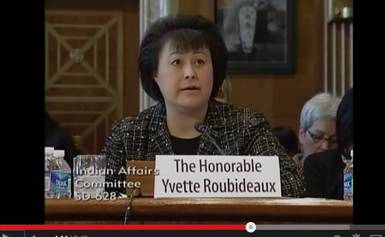 (Murkowski to Roubideaux: "Alaska tribal health providers have more information than you?" Click image for exchange.)
Roubideaux again claimed that she did not have a final determination on budget figures, eliciting a frustrated response from Murkowski. "I feel like I'm fighting the administration. You all are supposed to be working to advance this. You're supposed to be consulting with the tribes on this. You say you are listening, but I want to see that translated into advocating with us on the budget. You can't put the monkey on our back unless you're willing to step up and be that advocate with us."
After these remarks from Senator Murkowski, Roubideaux finally acknowledged that she did believe that the 2% cut figure mentioned by the Senator was correct, and promised to confirm that once she had final figures.
---