03.27.12
Murkowski: Is Air Force "Going Around" BRAC Laws?
Senator Questions Senior Defense Department Official Whether Eielson Moves Are Attempt to Evade Statutes, Where Anchorage Housing Will Come From
WASHINGTON, D.C. – Senator Lisa Murkowski today continued searching for answers to lingering questions surrounding the proposed move of the F-16 Aggressor squadron from Eielson Air Force Base in Fairbanks to Joint Base Elmendorf-Richardson in Anchorage, and the United States Air Force's announced plan to reduce personnel at Eielson by 50 percent in coming years.
Murkowski pursued her line of questioning from both ends of the envisioned move – pressing the military on the legitimacy of the Eielson move, and asking if the added cost of building new housing and hangers at JBER undercuts the savings of the USAF proposal.
Fairbanks – Is the Pentagon trying to work around BRAC statutes with its Eielson proposal?
"Many up north feel the Air Force since it was not able to get this proposal through the BRAC commission is simply trying to accomplish this through a different means," Senator Murkowski told the Deputy Undersecretary of Defense for Installations and Environment.
After breaking down how the Eielson proposal would not technically trigger Congressional involvement when a move crosses a certain legal threshold, she continued "I guess the question that I would have for you is first, whether or not you think that is what we're dealing with and whether or not we are honoring the intent of the statute."
"Whether or not we are honoring the intent of the statute." (click to watch)
The witness responded that while Senator Murkowski was conveying new information to her, she concluded "it sounds like they are doing what they can within the law outside of BRAC."
To which Senator Murkowski confirmed "without, then, triggering these statutes."
Anchorage – JBER is over capacity. Where will the potential relocations be housed? Where is the funding for new hangars?
Later in the hearing, Senator Murkowski pointed out that Joint Base Elmendorf-Richardson is presently over capacity – with many soldiers living in temporary housing – and that moving nineteen F-16s to base will require the construction of new hangars, pointing out both of these scenarios are occurring in a cost-cutting environment.
"We're already over capacity with housing, and that causes me to question whether or not we have the ability, not only to take them in, but how we will from a budgetary perspective because that's what we are talking about here," Senator Murkowski said. "Also, if new hangars are going to be needed for the F-16's as we relocate them, where do we find the funds to not only provide for the housing but to provide for the hangars?"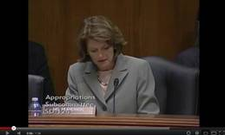 Murkowski: "Where do we find the funds" for housing/construction?
###
---