03.15.12
Murkowski: "Justice Should Be Blind, Not Blindly Ignored"
Senator Introduces Bipartisan Bill to Enforce Ethical Legal Prosecutions
WASHINGTON, D.C. – Senator Lisa Murkowski today introduced major bipartisan legislation, the Fairness in Disclosure of Evidence Act, designed to create a nationwide standard for disclosure of exculpatory evidence to defendants in federal courtrooms nationwide. Senator Daniel Inouye (D-IL) is the lead Democratic co-sponsor of the bill, introduced the same day as the release of U.S. District Court Judge Emmet Sullivan's report into prosecutorial misconduct in the 2008 trial of Senator Ted Stevens.
"While the injustices that were done to Senator Stevens may have provided the impetus for the focus on this important issue, this bill is not about seeking vindication for Ted," Senator Murkowski told assembled reporters in the Capitol. "It's about learning the vital lessons from the Justice Department's failure of his prosecution and making our criminal justice system work the way our Constitution envisioned that it would."
The bill:
Requires federal prosecutors to make early disclosure of evidence that demonstrates the innocence of a defendant, and creates a standard for the disclosure of evidence favorable to the defendant – there are currently almost 100 standards used nationwide.
Makes clear that failure to abide by Brady obligations is a serious breach of the government's responsibilities and gives judges a broad range of remedies.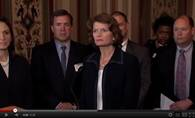 Senator Murkowski
Robert M. Cary, Stevens attorney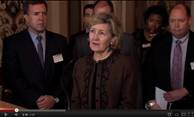 Sen. Kay Bailey Hutchinson (R-TX)
"What happened in the trial of Senator Stevens is unfortunately not an isolated incident, but most American do not have the wherewithal that he did to push back against prosecutorial misconduct," said Senator Murkowski. "While I do believe most federal prosecutors are adhering to the law, it's clear the rules in place are not preventing 'hide the ball' prosecutions in cases across the country. There are a few prosecutors out there willing to put a finger on the scales of justice to get more convictions – and this bill seeks to stop that. Justice should be blind, not blindly ignored."
"I would like to thank Senator Murkowski for her leadership with the Fairness in Disclosure of Evidence Act," said lead Democratic co-sponsor Senator Daniel Inouye of Hawaii. "This important piece of legislation will help establish uniform standards for prosecutorial disclosure. It is only fair. Also, I sincerely hope that it will help to resolve a matter that has long injured our late and dear friend, my brother, Ted Stevens."
Also co-sponsoring the bill are Senators Daniel Akaka (D-HI), Mark Begich (D-AK) and Kay Bailey Hutchison (R-TX).
Senator Murkowski's legislation has the support of the American Bar Association, the U.S. Chamber of Commerce, the American Civil Liberties Union, the National Association of Criminal Defense Lawyers and the Constitution Project.
"The American Bar Association commends Senator Murkowski for her leadership in introducing The Fairness in Disclosure of Evidence Act of 2012," said American Bar Association President William T. Robinson III. "This legislation is an important step towards consistency and fairness in our justice system. There is no reason for the Department of Justice to have 96 different discovery policies rather than one clear policy. A single wrongful conviction is a miscarriage of justice; a history of wrongful convictions because of unclear guidance is an entirely preventable tragedy."
"The duty to provide favorable evidence has often been misunderstood or ignored. Even well-intentioned prosecutors lack the clear statutory guidance necessary to ensure the full and prompt disclosure to the defense of favorable evidence," said Lisa Monet Wayne, President of the National Association of Criminal Defense Lawyers. "That lack of disclosure contributes to unjust and wrongful prosecutions and convictions. This legislation fixes that problem. A criminal trial is not a 'win at all costs' game. It is and should be about a fair presentation of all the facts. The 'Fairness in Disclosure of Evidence Act of 2012' provides clear and meaningful standards governing the prosecution's duty to disclose any and all evidence that could help the accused defend her case. Its passage would represent a giant step forward in improving the fairness and accuracy of our criminal justice system."
###
---