08.23.18
Murkowski Meets with Supreme Court Nominee Brett Kavanaugh
U.S. Senator Lisa Murkowski (R-AK) issued the following statement after meeting with Judge Brett M. Kavanaugh, the nominee to the Supreme Court:
"This afternoon Judge Kavanaugh and I met for the first time. We discussed a wide range of issues, many suggested by Alaskans who have been in touch with me about the nomination. From privacy to precedent, executive power, vouchers, Indian law, and healthcare, including women's reproductive rights and protections for pre-existing conditions –we had a substantive conversation. It also was important that I seek Judge Kavanaugh's understanding of the unique legal issues that arise in Alaska. I also appreciated the opportunity to gain more insight into his judicial philosophy.
"What I am seeking is a Supreme Court Justice with the character, the intelligence, and the balance to impartially apply the law to the facts of the case. Today's meeting represents an important step in my vetting process. That process, however, has not concluded. I look forward to learning more about Judge Kavanaugh's views during his appearance before the Senate Judiciary Committee in September."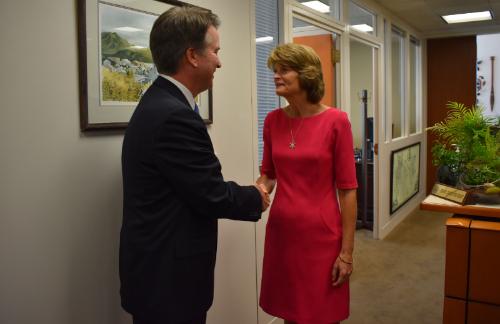 The Senate Judiciary Committee will hold a multi-day hearing to consider the nomination, beginning on September 4.
---