03.06.14
Murkowski: Military Sexual Assault is "Underside of Military Culture," Calls for Reform
Senator Mentions Alaska Incidents as Examples of "Issue that Tears at the Heart"
WASHINGTON, D.C. – Senator Lisa Murkowski today took to the floor of the United States Senate to encourage her Senate colleagues to pass legislation providing reforms to the military when seeking justice for victims of military sexual assault. After over a year of pressing the Pentagon for a 'culture change' and co-sponsoring several bills that would improve and expand victims' rights and protections, the Senate held procedural votes on two bills offering such measures to get within one step of passing the Senate.
While Senator Murkowski was frustrated that the bill she backed fell five votes shy of an up or down vote, she said that the legislation that did move forward represented progress, but that "we have a significant piece of unfinished business toward this goal" of increasing protections for future victims of military sexual assault.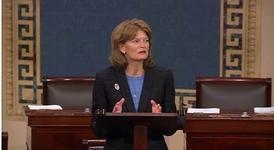 (Senator Murkowski speaks about
military sexual assault – Click image for video)
Murkowski opened up her remarks by saying:
"I join my colleagues today to discuss an issue that tears at the heart and causes great anguish. To think that those who have volunteered to serve our great nation that have agreed to put themselves on our front lines, that they would be put in a situation been put in a position where they would be made a victim of a military sexual assault and be put in a situation where they don't know where to turn. They don't know if it is safe to speak up. They don't know how to respond. Our military men and women are the most professional, they are the most highly trained, skilled and qualified – we'll match them against any. Yet when we face these troubling and difficult issues of sexual assault, it is an underside of the military culture that we haven't been able to sufficiently address and eradicate."
Though Senator Murkowski preferred S.1752 the Military Justice Improvement Act sponsored by Senator Kirsten Gillibrand (D-NY) to reform the military justice system by removing a commanding officer's authority over whether a sexual assault case goes to trial, that bill failed to garner enough to support to reach a final vote. Murkowski was pleased, though, to support another bill S.1917 the Victims Protection Act introduced by Senator Claire McCaskill (D-MO). This bill would remove the ability for commanding officers to overturn legal decisions on sexual assault crimes and heighten the punishments for offenders. S.1917 received unanimous support and will receive a final vote next week.
###
---